Lesson Plan
Carl Sandburg Through Time (Grades 3-5)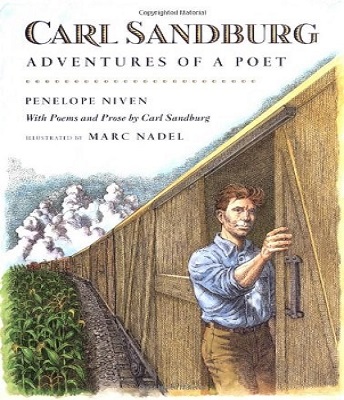 Grade Level:

Upper Elementary: Third Grade through Fifth Grade

Subject:

Literacy and Language Arts,Social Studies

Lesson Duration:

60 Minutes
Essential Question
What can poetry tell us about a person's life?
Objective
• Students will determine the tone and mood of a poem and explain what that tells me about the poet.
• Students will write an autobiographical poem.
Background
Carl Sandburg was known as the "Poet of the People." He loved writing so much that he wrote poetry, children's stories, news articles, and a biography about Abraham Lincoln, as well as an autobiography about himself. Students will read a Sandburg poem, watch a video and then write their own personal auto biographical poem.




 
Preparation
Upload the "Sandburg Through Time" powerpoint to google slides to push out to students or use in the classroom. 
Materials
The purpose of this lesson is for students to learn about Sandburg's life through his writing. Students will analyze one of Sandburg's poems and explain what his poetry tells us about his family and his life. Students will think about their own families and will write an autobiographical poem about themselves.
Download Carl Sandburg Through Time Powerpoint
Procedure
Procedure (Remote Learning)
Share with students the Sandburg Through Time Autobiographical poem PowerPoint (PowerPoint can be uploaded to Google Drive and will convert to a Google Slide).  Students will first read the poem "Mother and Child" by Carl Sandburg, next watch a video about him, and then write their own autobiographical poem to submit to the teacher.
Procedure (In Person Learning)
Activating Strategy
Share with students the poem "Mother and Child" by Carl Sandburg (powerpoint slides 3-4). Students can discuss the answer to the quesitons on the next page together or write their answers and share with the class.
Teaching Strategy
Watch the video "Where to? What next?" which shows students reading their autobiographical poems in the poetry contest. Pause video after each person reads to discuss what they learn about the poet from their autobiographical poem.
 

Share the autobiographical poem template with students to write poems about themselves. They need to think about the theme and tone they are trying to convey. The template is available in word document or PowerPoint.
Summarizing Strategy
Students will write their own autobiographical poems and share with the class.
Extension
Students can share their poem with classmates during a Google Meet or other type of video conference.  
Students can use Google Drawing to publish and illustrate their poems.
Students can make a video sharing their poem on Flipgrid and then comment on each other's poems.
Contact Information
Last updated: August 10, 2020