Lesson Plan
Carl Sandburg's Connemara (Grades 6-8)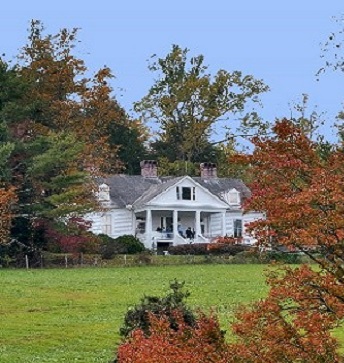 Grade Level:

Middle School: Sixth Grade through Eighth Grade

Subject:

Literacy and Language Arts,Social Studies

Lesson Duration:

60 Minutes

Thinking Skills:

Understanding: Understand the main idea of material heard, viewed, or read. Interpret or summarize the ideas in own words. Creating: Bring together parts (elements, compounds) of knowledge to form a whole and build relationships for NEW situations.
Essential Question
What inferences can you make about Carl Sandburg based on the objects he had in his home?
Objective
• I can identify how the behavoir and practices of Carl Sandburg influenced society.
• I can present claims and findings logically.
• I can present claims and findings in a coherent manner.
• I can identify how cultural values influences Carl Sandburg's relationship with society.
Preparation
Procedure (Remote Learning)
Share the Carl Sandburg's Connemara PowerPoint with your students so that they each have their own editable copy (can be uploaded as a Google Slide.) Students will watch a video and take a virtual tour of the Carl Sandburg Home NHS. Students will make inferences about Carl Sandburg based on the objects they see in his house. 

Procedure (In Person Learning)
Show students the Carl Sandburg's Connemara PowerPoint. Prompt students' interest by encouraging students to make a connection with the essential question by asking a question (slide 2). "If you were to pick just one object to describe you what would it be?" Allow time for students to share responses.
 
Materials
This Power Point file can be uploaded to Google Classroom as a Google Slide for use with digital learning.
Download Carl Sandburg's Connemara (Grades 6-8)
Procedure
Teaching Strategy
Explain that Carl Sandburg's home was named Connemara when he moved there. 
Show the students a video about Carl Sandburg's Connemara which is narrated by his granddaughter, Paula (slide 4). 

What do the students notice about the house?
How is the house similar or different from their house?
What do they notice about the objects in the house? Is there anything that surprised them?

Allow students to share what they noticed.
Show students the items in our museum collection on slides 5-7. Turn and talk about what they learn about Carl Sandburg from these three objects. Why are these objects important to Sandburg?
Summarizing Strategy
Show students the Virtual Home Tour by clicking the link on slide 8 or allow students to access it individually on their own devices.
As the students virtually tour the home, they need to select one object that they feel represents Carl Sandburg and explain what they think that object tells us about Sandburg. 
Students will write to explain what they infer about Carl Sandburg based on the object that they select. Students will need to share their inferences with each other. 
Contact Information
Last updated: August 4, 2020