Lesson Plan
Growing into Public Service: William Howard Taft's Boyhood Home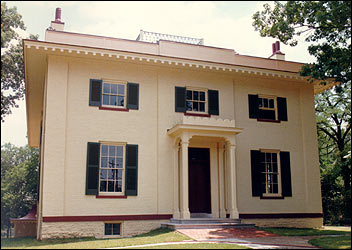 Grade Level:

Middle School: Sixth Grade through Eighth Grade

Subject:

Literacy and Language Arts,Social Studies

Lesson Duration:

90 Minutes

Common Core Standards:

6-8.RH.1, 6-8.RH.2, 6-8.RH.3, 6-8.RH.4, 6-8.RH.5, 6-8.RH.6, 6-8.RH.7, 6-8.RH.8, 6-8.RH.9, 6-8.RH.10, 9-10.RH.1, 9-10.RH.2, 9-10.RH.3, 9-10.RH.4, 9-10.RH.5, 9-10.RH.6, 9-10.RH.7, 9-10.RH.8, 9-10.RH.9, 9-10.RH.10, 11-12.RH.1, 11-12.RH.2, 11-12.RH.3, 11-12.RH.4, 11-12.RH.5, 11-12.RH.6, 11-12.RH.7, 11-12.RH.8, 11-12.RH.9, 11-12.RH.10

Additional Standards:

US History Era 4 Standard 3A: The student understands the changing character of American political life in "the age of the common man.
Curriculum Standards for Social Studies from the National Council for the Social Studies.

Thinking Skills:

Remembering: Recalling or recognizing information ideas, and principles. Understanding: Understand the main idea of material heard, viewed, or read. Interpret or summarize the ideas in own words. Applying: Apply an abstract idea in a concrete situation to solve a problem or relate it to a prior experience. Analyzing: Break down a concept or idea into parts and show the relationships among the parts. Creating: Bring together parts (elements, compounds) of knowledge to form a whole and build relationships for NEW situations. Evaluating: Make informed judgements about the value of ideas or materials. Use standards and criteria to support opinions and views.
Essential Question
How does one's upbringing influence their future?
Objective
1. To explain the role the Taft family played in the 19th and 20th centuries and the effect their civic participation had on the country;
2. To describe how Taft's family background influenced his success in achieving the posts of president of the United States and chief justice of the Supreme Court;
3. To examine how Taft's occupations before the presidency prepared him for his most prominent positions;
4. To compare the leadership qualities of current figures with members of the Taft family.
Preparation
High atop one of Cincinnati's most prominent hilltops stands the large yellow house where William Howard Taft was born and grew up. Located in the once-affluent suburb of Mount Auburn, the two-story Greek Revival house is a reminder of the elegant era when those of means could escape the dirt, heat, and crowded conditions of the lower city. Although attractive and comfortable, the house was quite modest compared to the many splendid country villas found along the slope of Mount Auburn and on the summit. During the mid-19th century, Mount Auburn was known as the city's "Fifth Avenue." Among the many examples of architecture were elaborate Second Empire homes with their two distinctive sloped roofs, rambling Italianate villas belonging to some of Mount Auburn's wealthiest residents, and Georgian Revival houses reminiscent of the grandeur of the southern states.

Walking through the neighborhood, one can imagine the sounds of horse-drawn carriages making their way up the steep hill to return well-to-do Mount Auburn residents to their homes. Now nestled among modern service buildings and other mansions that have been preserved, the Taft House reminds us of the boyhood and upbringing of a man whose career was dedicated to his country. 
Lesson Hook/Preview
William Howard Taft's father, Alphonso, was prominent both in Cincinnati and the nation. By moving his family to Mount Auburn, a Cincinnati suburb, in 1851, he provided opportunities for his children that would lead to distinctive achievements. Based on the hard work and lofty civic ideals practiced in this upper middle-class setting, William Howard Taft set a course that led him to two of the highest offices in the land (first, as the 27th president of the United States, and later, as the 10th chief justice of the Supreme Court, appointed by President Warren G. Harding), thus carving out a special place in history as the only person to serve the country in both capacities.

William Howard Taft was born in the family home in Cincinnati on September 15, 1857, and lived there continuously until he went to Yale College in 1874. After graduating from Yale, he began a meteoric rise to national prominence. He loved the law and spent his life in positions where he could practice and live by principles of law. Because he worked hard and was an able administrator, Taft served in several appointed positions. When he became president in 1909, it was only the second time he had been elected to office, the first being in 1887 as a superior court judge in his native Cincinnati. His career should be remembered as one of excellence in public service for almost half a century.
Procedure
Getting Started Prompt 
Map: Orients the students and encourages them to think about how place affects culture and society
Readings: Primary and secondary source readings provide content and spark critical analysis.
Visual Evidence: Students critique and analyze visual evidence to tackle questions and support their own theories about the subject.
Optional post-lesson activities: If time allows, these will deepen your students' engagement with the topics and themes introduced in the lesson, and to help them develop essential skills.
Vocabulary
public service
Italianate villas
Additional Resources
William Howard Taft National Historic Site
The William Howard Taft NHS is a unit of the National Park System. The park's web pages provide further information about the historic site.

American Presidents Travel Itinerary 
The Discover Our Shared Heritage online travel itinerary on American Presidents provides information about the 27th President of the United States, William Howard Taft, and his boyhood home, the William Howard Taft National Historic Site. 

Biographies of William Howard Taft
The following include:
a copy

 

of Taft's Inaugural Address;

a portrait

 from the White House Historical Assocation.
National Archives (NARA)
The Archives has placed on its web site a large number of items about William Howard Taft and his presidency. To find them, visit the 

NARA search engine

.
Beverly Historical Society
Visit the Taft Summer White House 

website

, created by the Beverly Historical Society. This Massachusetts house is where Taft spent many of his summers during his presidency. This website displays just some of the Taft related items that exist within the Beverly Historical Society's collections. It features photographs, text from local newspapers, political cartoons, and memorabilia.
Contact Information
Last updated: October 12, 2018