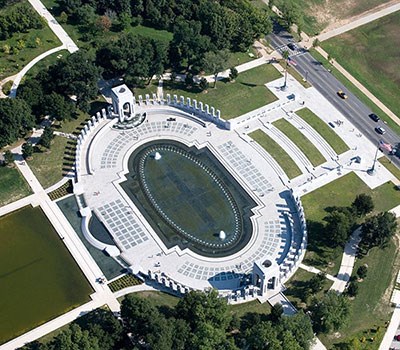 Soon after victory was celebrated in 1945, Americans began to reflect on how to honor the sacrifices of those who served and died in World War II. Early efforts began in 1947 with the creation of a federal foundation which was established to raise funds for a bronze statue to honor the veterans of Iwo Jima.
Soon memorials were being erected throughout the United States to honor all who served to include the Nisei, those who suffered the tragedy at Port Chicago, and later the Japanese American Memorial to Patriotism in Washington D.C.
Despite a national memorial for later wars in Korean and Vietnam, it wasn't until 1987, when WWII veteran Roger Durbin petitioned Congress to dedicate a spot on the National Mall for a national memorial to tell the story of all aspects of the war in Europe and the Pacific. World War II veteran Senator Bob Dole became the national chairman of the World War II Memorial Campaign and the Memorial was opened on April 29, 2004.