NPS Wilderness Stewardship Awards
Congratulations to the 2020 NPS Director's Wes Henry Excellence in Wilderness Stewardship Award Recipients

The National Park Service (NPS) Director's Wes Henry Excellence in Wilderness Stewardship Awards are the NPS's annual recognition of outstanding contributions to wilderness stewardship by an individual, a group/team, and non-governmental partner, including those involving interpretation and education; management of natural, cultural, and social resources; planning; protection; and maintenance operations. Award recipients are nominated by fellow NPS staff and selected by an interdisciplinary panel. The award recipients were recognized during a virtual awards ceremony hosted by the National Park Foundation on August 25, 2021.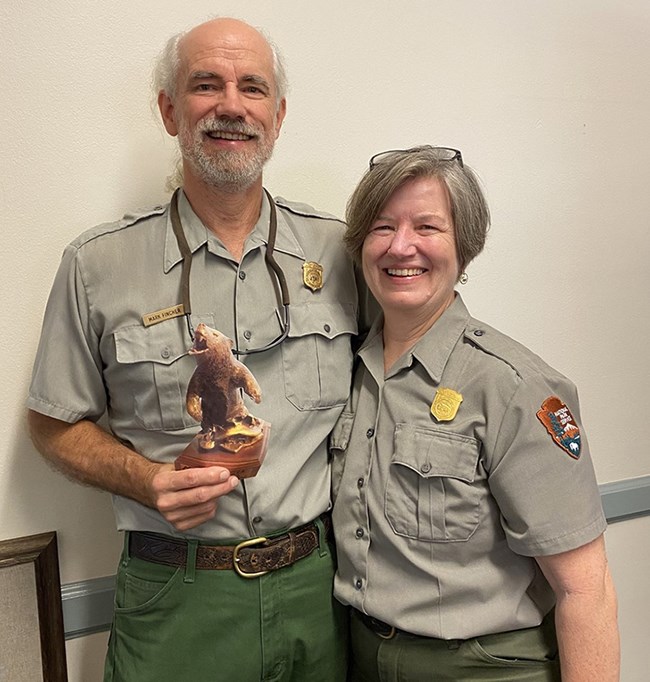 Individual Award: Mark Fincher
Mark Fincher, Wilderness Specialist at Yosemite National Park, has been and is one of the most dedicated and professional wilderness stewards in the National Park Service and in the National Wilderness Preservation System. In the last 20+ years of working in the Yosemite Wilderness, Mark has been a patrol ranger and climbing ranger, and has served as the park's Wilderness Specialist for 17 of those years. He defines the standard for personal excellence in wilderness stewardship by intimately knowing the Wilderness Act and subsequent related legislation and engaging in deep thinking about wilderness philosophy and its application in preserving wilderness character. He is an ardent protector, avid reader and writer, and engaged educator about wilderness.

Working directly with park managers and planners on a daily basis, Mark communicates in a highly effective manner on issues dealing with wilderness policy and administration. He consistently and reliably prepares for defense of wilderness issues, researching existing laws, case laws, court opinions, and policy. This was particularly evident during the preliminary stages of the Yosemite Wilderness Stewardship Plan development. Mark was instrumental in thinking through and developing the Extent Necessary Determination ideas for the Tuolumne and Merced River Plans as well as the Half Dome Trail Stewardship Plan. The latter put in place the critical day use permit system and daily use quotas that allow for access to the summit of Half Dome while protecting Yosemite's wilderness character.

Mark's command of wilderness law and policy has led to better understanding of the value of wilderness by park personnel at all levels. Though the development of Minimum Requirement Analyses (MRA) is a shared responsibility of numerous staff throughout the NPS, Mark is one of the best in ensuring quality MRAs are thoughtfully and thoroughly developed. Mark has also served as a subject matter expert on an interagency work group established in 2020 charged with developing a new and improved worksheet and instructions for the Minimum Requirements Decision Guide. This initiative aims to provide a more user-friendly guide to support the preparation of professional and legally defensible MRAs for all federal wilderness management agencies.

His ability to offer practical and informed recommendations for resolving on-the-ground management issues inspires others as they take his ideas and adapt them for use in their respective wilderness areas. Mark has worked hard to build collaboration and partnership across the Sierras to address wilderness issues in a holistic and consistent manner that affect multiple agencies and includes the Pacific Crest Trail and John Muir Trail. His presentation to the Access Fund stewardship group received the comment from them that, "It was truly a pleasure to have the opportunity to meet and hear you speak to Wilderness, what it means for the park, the implications in management challenges and the relationship to climbing." One couple stated that hearing Mark's insight about wilderness and climbing gave them valuable perspective in looking at things from new angles. Mark is also a training instructor for several courses hosted by the interagency Arthur Carhart National Wilderness Training Center, including the Regional Wilderness Stewardship Training, and the National Wilderness Leadership Training, where he co-teaches the "Preserve Wildness and Natural Conditions" session.

Mark's body of work as a wilderness steward before, during, and after 2020 serve as an inspiration to all NPS wilderness practitioners and make him highly worthy of this special recognition.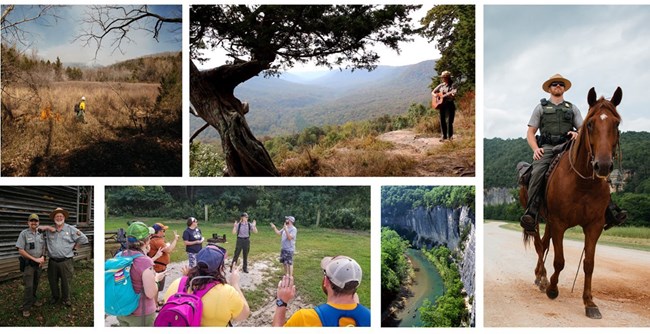 Team Award: Buffalo National River Wilderness Stewardship Team
The Buffalo National River Wilderness Stewardship Team has worked collaboratively across disciplines to help ensure the preservation of wilderness character while offering unique opportunities for the pubic to connect with the park's 36,000-acre Buffalo River Wilderness. In particular, Wilderness Ranger Lauren Ray's commitment to fostering wilderness stewardship through education and outreach was contagious and ignited a movement embraced by all park staff and stakeholders.

In 2020, Buffalo National River was designated as a Leave No Trace Gold Standard Site, joining an elite group of 12 NPS units nationwide to earn this honor. Ray's unique style of incorporating humor into her public outreach has yielded a series of very popular and well-received Leave No Trace interpretive videos that help to promote positive stewardship ethics. Ray spearheaded an initiative with the Leave No Trace Center for Outdoor Ethics to develop a 'citizen science application' intended to implement the monitoring strategies identified in the park's Boxley Management Plan. This effort will enable the public to gather data as they walk wilderness trails, recording trail width and depth, trail braiding, and visitor encounters.

To further help grow wilderness awareness, the park's 2020 award-winning Unigrid brochure specifically describes wilderness values and visually displays the three wilderness units via contrasting colors.

Seasonal Ranger Lindsay Martindale merged her passion for rock climbing with her wilderness character monitoring experience to document the increase in unauthorized climbing in the Ponca Unit of the wilderness area. Martindale developed proposed language for the Superintendent's Compendium with recommendations to better communicate climbing restrictions, improve visitor safety, and preserve wilderness character, and the park's Resource Management Team is now considering a potential Climbing Management Plan.

The park's Fire Program continued its long-term efforts to restore the Natural Quality of wilderness character, using prescribed fire to promote native species and restore glade and post-oak savannah within the wilderness. These operations are helping to slow the decline of Eastern Collared Lizards while reducing intensity of future wildfires on park and surrounding private land. Rangers have also mapped over 50 miles of social trails in the Lower Buffalo Unit of the wilderness to guide future park management decisions regarding wilderness management while simultaneously discouraging extensive social trailing. Lastly, rangers are proactively examining the nexus between search and rescue and wilderness character preservation by considering the minimum tool options that address safety and time-sensitivity challenges.

The team's wilderness stewardship achievements also included formal protection of the Frank and Eva Barnes "Granny" Henderson Farm and the Flowers Cabin by placing them on the National Register of Historic Places, and a Ranger-led trash recovery trip to the Cold Springs Schoolhouse, a popular hiking and horseback riding wilderness destination. This trip combined wilderness character monitoring and the removal of backpacks full of trash left behind by visitors.

Together, the team engaged in innovative pathways to elevate wilderness stewardship internally across interdisciplinary programs and communicate the importance of wilderness to the public. By embodying the spirit of wilderness stewardship and teamwork, the team has inspired and sustained fulfilling connections to the Buffalo National River Wilderness for park staff, partners, and visitors.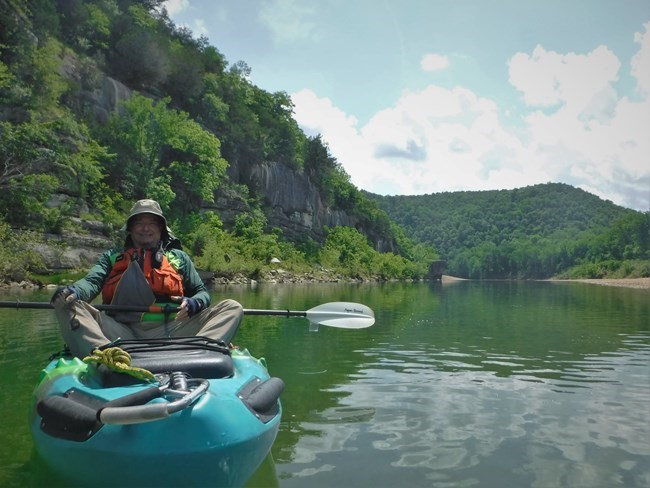 Non-Government Partner Award: Jerry Goller
2020 was an unprecedented year that, at times, made wilderness stewardship a real challenge. At Buffalo National River, trailheads and boat launches overflowed daily. Record use was documented in the park's 11 established campgrounds. Backcountry and wilderness visitation soared. For many visitors, this was their first time exploring the outdoors beyond their own backyard. Perhaps more than ever before, visitors recognized the value of their public lands and wilderness. They heard "outstanding opportunities for solitude" and flocked to the wilderness to fill their prescription for social distance! They heard "unconfined recreation" and with elation escaped their homes and cities! Here was an opportunity to cultivate stewardship for a resource that was now serving as a refuge from the chronic dread and uncertainty of the COVID-19 pandemic.

Long-time Buffalo National River volunteer Jerry Goller, who had historically focused on campground hosting and trail maintenance, switched gears in 2020 after identifying a need for bolstered preventative search and rescue (PSAR) efforts in the Ponca Unit of the Buffalo National River Wilderness, an area that was hit particularly hard by COVID-19 increased visitation. In response to a surge in emergency calls on the river and trails in the wilderness, Jerry developed an idea to record time-lapse video footage of every stretch of the Buffalo River and the most popular hiking trails in order to prepare prospective visitors for the difficulty and technicality of the terrain. These videos were uploaded to the "Plan Your Visit" section of the BUFF website and to the park's social media platforms, like this footage of paddling from Kyles Landing to Erbie in the park, a popular stretch of the river. These videos not only provide prospective visitors with an invaluable tool for trip planning, but they also improve the accessibility of the wilderness experience for people with disabilities. And anybody with internet access can now get a better idea of the Buffalo National River Wilderness experience by virtually "paddling" or "hiking" via Jerry's videos.

Jerry's ability to adapt, identify emerging trends and challenges, and offer a practical tool to help resolve these challenges while simultaneously strengthening wilderness stewardship is commendable. His thoughtful work has several direct and indirect benefits to the Buffalo National River Wilderness, the people who enjoy this place, and the staff responsible for its management.
Last updated: September 9, 2021