Winter
It might be chilly, but animals are on the move! Some animals are active during the winter months—here is a short list of what you might find. Check with your nearest park for information about wildlife watching opportunities.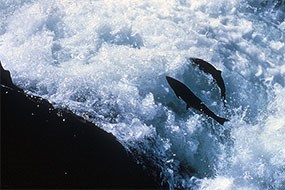 Coho Salmon at Point Reyes National Seashore, California and Olympic National Park, Washington
For thousands of years coho salmon and steelhead trout have returned from the ocean to streams where they were born. Look for salmon one to three days after a rainstorm. Traditionally, January is the best month to spot the spawning coho and steelhead. Throughout the summer and early Fall, the coho from the Pacific enter the Sol Duc River in Olympic National Park. They can be seen leaping over the cascades to get to their spawning grounds.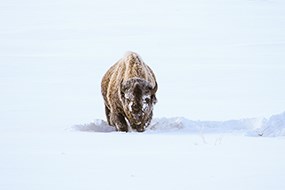 Bison in Yellowstone National Park
Yellowstone National Park is the only place in the United States where bison have lived continuously since prehistoric times. The National Park Service works with other federal, state, and tribal agencies to manage and develop policies for bison access to winter range outside the boundaries. In winter, bison can be found in hydrothermal areas and along the Madison River. Blacktail Deer Plateau, Tower, and the Gardiner Basin. Learn more about Bison.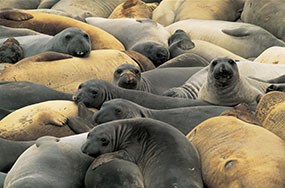 Elephant Seals at Point Reyes National Seashore, California
From December through March, park visitors can observe a breeding colony of elephant seals from Elephant Seal Overlook near Chimney Rock at Point Reyes National Seashore. Typically, the males arrive first in December, followed by pregnant females that give birth to a single pup.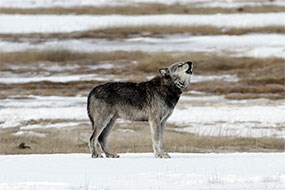 Wolves in Yellowstone National Park, Wyoming
Wolves inhabit most of Yellowstone National Park and are best seen at dawn and dusk. The best time of year to see wolves is during the late fall or winter as their dark colors allow them to stand out in the snow. Keep in mind that it gets very cold in Yellowstone during the winter and many areas in the parks are cold, so check for closures before you go and dress and pack appropriately!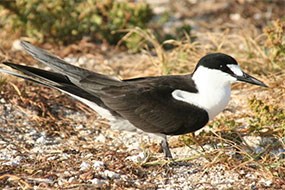 Birdwatching at Padre Island National Seashore, Texas
With more than 380 species of birds at Padre Island, you're bound to spot at least one flying by! From November to March, visitors can join driving tours with experienced birding guides. The park is a great place to find birds, as it is located on the Central Flyway, a major migration route on which birds travel during their migration to and from North, Central, and South America.
Last updated: January 31, 2019