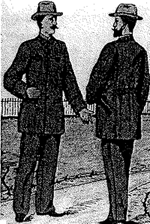 Members of the Force were first uniformed in 1900. Major Theodore A. Bingham, the officer in charge of Public Buildings and Grounds, justifiably reasoned that it would "enable the watchmen to be more easily found in case police assistance (was) required." Prior to this, the officers were only issued badges, batons, and whistles by virtue of a Congressional appropriation act approved in 1880.
The first formal uniform was dark green, fashioned after the appearance of German foresters. A three-quarter length jacket featured a half belt on the back panel and 5 brown bone buttons down the front. The trousers had a black braid stripe down the outer seam of each leg. The chevrons for sergeants were of military design for that period and were worn on both sleeves with the point of the "V" facing down.
An unforeseen problem with the original dark green uniform was its tendency to fade rapidly. In 1903, the same basic design was retained with a color change from green to dark blue. The buttons on the overcoat were now brass with the letters "U.S." displayed prominently in the center surrounded by the words "Park Police." A broad-brimmed gray felt Stetson became the officially sanctioned head gear.