Office of the Chief
The fundamental purpose of the National Park Service is "to conserve the scenery and the natural and historic objects and the wildlife therein and to provide for the enjoyment of the same in such manner and by such means as will leave them unimpaired for the enjoyment of future generations." The United States Park Police is an entity of the National Park Service (NPS), with the responsibility to provide law enforcement services to designated areas within the National Park Service, and other areas as requested. United States Park Police prevent and detect criminal activity as well as to conduct investigations and apprehend those individuals suspected of committing offenses against Federal, State, and local laws. The United States Park Police is comprised of three contingents--the Services Division, the Homeland Security Division, and the Field Operations Division.
The Chief of Police reports to the Associate Director, Visitor and Resource Protection, in the National Park Service. The Director of the National Park Service reports to the Secretary of the Interior.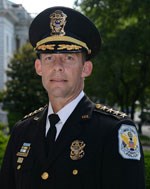 Chief Robert MacLean
Chief Robert D. MacLean is a 26-year veteran of the United States Park Police. He has held numerous law enforcement leadership positions in both operational and administrative capacities including assignments to Crime and Violence Task Forces, Media Relations, Internal Affairs, SWAT and Canine. He served as the commander of the Force's Homeland Security Division.
As the Chief of Police, he has executive responsibility for the Force's mission in the Washington Metropolitan Area, as well as its Field Offices in New York and San Francisco. This mission is intrinsically linked to the department's strategic plan and goals of protecting this nation's most symbolic monuments and memorials as well as the visitors to them.
Chief MacLean served in the United States Navy; earned his Bachelor's Degree in History from Virginia Tech; and is a proud graduate of the 225th Session of the Federal Bureau of Investigation (FBI) National Academy and the Naval Post Graduate School/Department of Homeland Security's Executive Leaders Program.
Last updated: November 6, 2018