Motorcycle Unit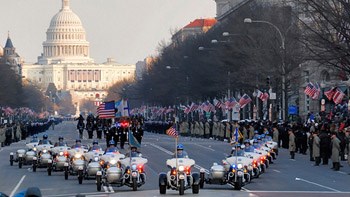 The United States Park Police purchased its first Harley-Davidson motorcycles in 1917.
In 1919, the Force acquired a major new responsibility with the acquisition of Rock Creek Park and its Parkway.
By 1920, traffic-related offenses significantly increased and additional motorcycles were added to the Motorcycle Unit.
As of 1921, two Sergeants and seven Privates rode motorcycles.
By 1925, the Motorcycle Unit had grown to twenty motorcycles for use on the "highways" of Rock Creek Parkway, as well as East and West Potomac Parks.
During the course of the 1950's and 1960's, the Unit had grown to approximately sixty motorcycle officers. The most common formal training received at that time to be "mounted" was a few laps around the maintenance yard. Today, new officers are trained by Institute of Police Technology and Management (IPTM) certified Force motorcycle instructors. Training consists of an 80-hour course, which requires both road and off road courses. Students are required to complete courses in high-speed pursuit, short obstacle maneuvers, and an officer safety and survival course. In 1996, at the personal request of King Hussein of Jordan, three members of the training staff traveled to Jordan to train the royal family and Royal Guard. In addition, the Motorcycle Unit trains and certifies agencies across the nation in the fundamentals, safety and operation of police motorcycles every year.
Officers assigned to the Motorcycle Unit are required to ride year-round. During the yearly winter period of November to March, each officer is required to ride with a sidecar. This is mandated by the nature of the Units' function as a Principal element in escort duties for the President, Vice President, and foreign dignitaries while in the Nation's Capital. The Unit works closely with the United States Secret Service, the Metropolitan Police Department for the District of Columbia and the Department of State on these escorts. The Motorcycle Unit has been escorting the President of the United States since 1921 and the Vice President since September 11, 2001. Additionally, the unit is responsible for performing various traffic and patrol duties, as well as handling numerous special events and demonstrations.
During the September 11, 2001 attacks on Washington D.C., members of the Motorcycle Unit were among the first to respond to the Pentagon, escorting members of the Government out of the city. Members of the Motorcycle Unit have been detailed to events such as the Olympics in Atlanta, Death Valley for outlaw Motorcycle gangs, Boston and Philadelphia for Governmental election conventions, and other areas where large demonstrations have occurred.
Currently, the Force has twenty assigned motorcycle Officers, two Sergeants, and one Lieutenant in the Washington D.C. metropolitan area and four assigned motorcycle Officers in the San Francisco Field Office. This creates a Motorcycle Unit that is assigned to both the East and West coasts of the United States, and that truly encompasses the name "United States Park Police Motorcycle Unit."
Last updated: March 29, 2023