Aviation Unit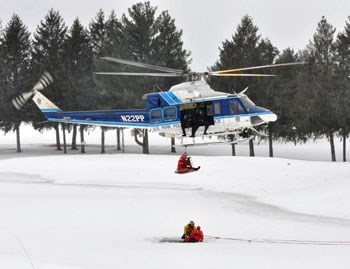 The Aviation Unit of the United States Park Police began in April 1973 and was placed under the command of Lt. Richard T. Chittick. It started with 1 Bell 206B JetRanger and a staff of 3 Pilots and 3 Rescue Technicians based at the Anacostia Naval Air Station in a shared space with the MPD Aviation Branch. A second helicopter, a Bell 206B-3 JetRanger, was added in 1975 and the Unit relocated to Andrews AFB.
The Aviation Unit moved to its present facility in Anacostia Park, the "Eagle's Nest," in 1976. In 1983, the 206B-3 was upgraded to a Bell 206L-3 LongRanger. Their first twin-engine helicopter, a Bell 412SP, and the third helicopter to carry the designation "Eagle One," was placed in service in January 1991. The Unit grew to its current staff and began providing 24-hour coverage in January 1994.
In August 1999, the Unit took delivery of its second twin-engine helicopter, a Bell 412EP. It became the fourth helicopter in the Unit's history to carry the designation "Eagle One" and the same registration number as that of an earlier aircraft whose crew effected the rescue of victims after the crash of Air Florida, Flight 90.
The missions of the United States Park Police Aviation Unit include aviation support for law enforcement, medevac, search and rescue, high-risk prisoner transport, and Presidential and dignitary security. The Aviation Unit has provided accident-free, professional aviation services for over 28 years. This is due to the dedication of the flight crews, the support from within and outside the Force, and the state-of-art equipment used in the performance of its missions.
Last updated: July 28, 2022