South Sound Prairies Youth Outreach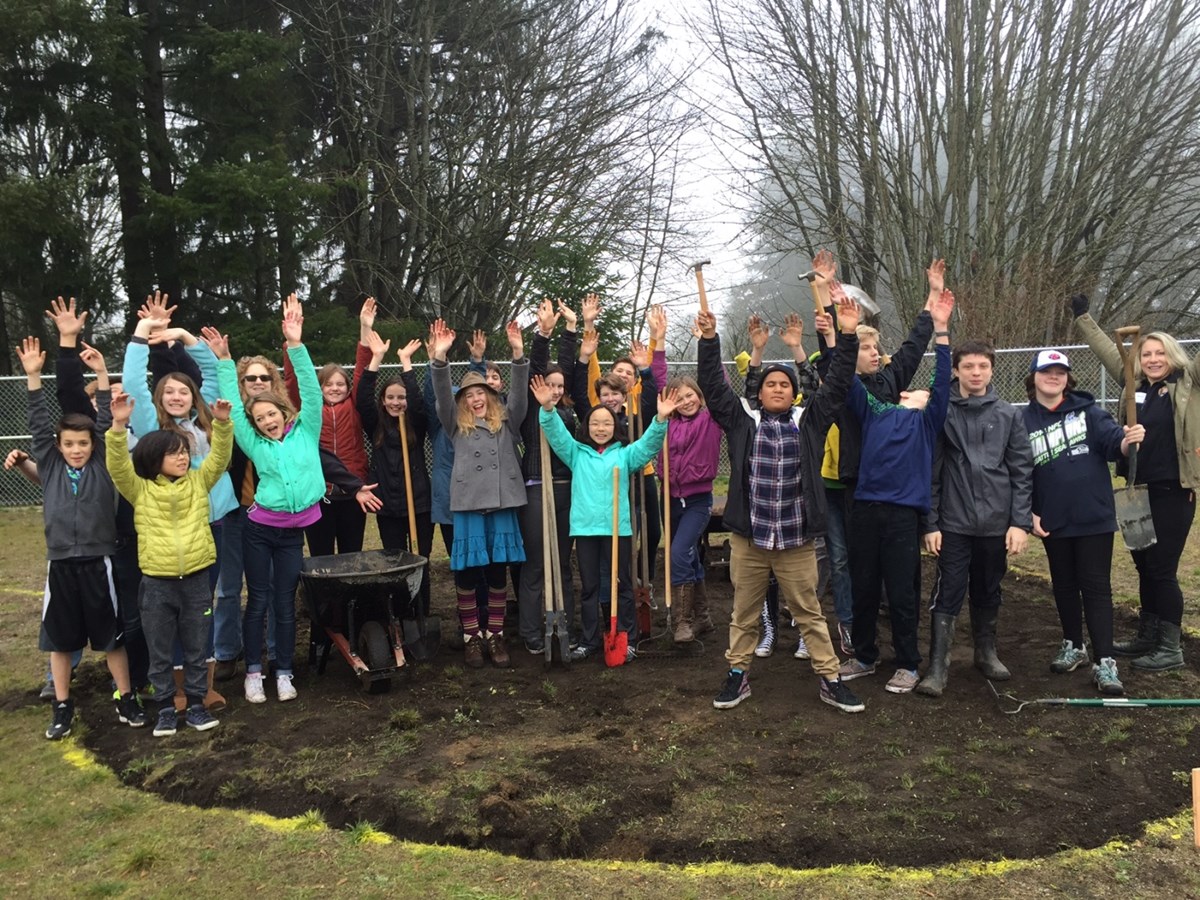 SOUTH SOUND PRAIRIES YOUTH OUTREACH
School Prairie Restoration Project
For the past six months, seventh-grade students at the Olympia Regional Learning Academy (ORLA) in Olympia, Washington have been learning how to design and build their own prairie garden to restore a barren landscape on their school campus. South Puget Sound, where Olympia is located, is home to some of the last remaining prairies in Washington State, and they are disappearing fast. Once flourishing in Western Washington, these rapidly-vanishing vital landscapes are a top priority for the South Sound Prairies Communications Partnership, a group of federal and community partners that focus on land restoration and careful stewardship that is helping bring back some of the region's most unique wildlife and plants. Three of the species found in the prairies—the Mazama Pocket Gopher, the Taylor's Checkerspot Butterfly, and the Streak Horned Lark, are on the endangered species list.
Stephanie Stroud, a community assistance fellow working for the National Park Service's (NPS) Rivers, Trails and Conservation Assistance program (RTCA), began working with Sue Abbott, a community planner with RTCA, and the South Sound Prairies Communications Partnership to develop a youth component for the prairie effort. Taylor Goforth, a member of the partnership on behalf of US Fish and Wildlife Service (USFWS), mentioned a seventh-grade teacher that she knew at ORLA who was teaching a prairie ecology class and had permission to build a prairie on campus. Goforth suggested that NPS reach out to her, and after a meeting with the teacher, Karina Champion, Stroud proposed a landscape "design/build" curriculum for the seventh-graders to learn about the profession of landscape architecture and then create their own design, which they could use to build the prairie for their school campus.
Students began the curriculum in September, when they were first introduced to the field of landscape architecture by visiting the Olympic Sculpture Park in Seattle. Hosting one of the few examples of an urban prairie in Seattle, the Olympic Sculpture Park is also the outdoor art gallery for Seattle Art Museum, and features four native Pacific Northwest landscape gardens and a naturalized beach on Puget Sound in bustling downtown Seattle. The students toured the park and learned how landscape architects created a design solution, which transformed the land: Stretching from the edge of Puget Sound to an area a few blocks from the iconic Space Needle, the park's former use was a site for an oil company, and it is now a place where people can interact with nature and learn about ecology while enjoying city life.
Students then visited the Seattle NPS PARK(ing) Day installation, which featured a "Find Your Park" themed interactive chalkboard, sound map, and pin map. Students wrote what they liked to do in their park on the chalkboard, while they listened to soundscapes from local and national parks in Washington through colorful tin cans on the sound map. They also used push-pins to locate the parks they have visited or wanted to visit on the cork maps of Seattle and Washington State. A friendly park ranger, Julie Fonseca de Borges from Klondike National Historic Park, was present to show them around and chat with them about NPS. Students learned and discovered how the PARK(ing) Day installation was a design solution, just like the Olympic Sculpture Park, and that the solution was created by NPS landscape architects to help people find their local and national parks.
After introducing students to the two examples of built landscape architecture, Stroud visited their classroom and led them through a series of lessons focused on how to conducta site analysis of their campus. First, students watched a video about landscape architecture and a video about the Highline in New York City for inspiration. Then, students turned to their own landscape, and took inventory of how people, wildlife, and cars move through their campus, as well as how the sun moves across their school ground, and other site opportunities and constraints. During the next lesson, students went to the area where there future prairie was to be, and practiced being immersed in the site by creating sketches of the existing conditions. Each student drew what they saw, and then placed their drawings on the white board with their classmates to compare and discuss their interpretations.
After becoming more familiar with their landscape, the students decided as a class how their prairie garden would be used: for rest and relaxation, recreation, conservation, and edible and medicinal plantings, and as a place for art and prairie education. Their vision for the prairie garden is not only that it will be a place for community, learning, and connection to nature, but that it will also restore the landscape to the native prairie that it once was. Next, using construction paper to articulate form and shape, they created concept plans showing how the prairie would function and what it would look like.
Students then voted to select which of their classmates' concept plans would be used to create a consolidated plan for construction. Stroud used the ideas from the selected plans to create one final concept plan, which was presented to the class. During their final lesson, the class learned how their ideas were represented in the final plan, and then immediately went outside to the site and used donated tools to stake and dig out the first phase of their prairie garden.
In January 2016, students began the first stage of prairie garden installation with help from NPS, USFWS, and the Center for Natural Lands Management. Designing and building the prairie landscape on the school campus has provided a means of self-expression for this year's ORLA students, and will be used as an educational tool for generations of students to come.
Over the next couple of months, NPS RTCA in Seattle will be developing a curriculum encompassing the design/build lesson plans used in the ORLA prairie curriculum for public distribution.
Stephanie Stroud joined the Seattle Office as an NPS Fellow in March 2015, where she is working on the South Sound Prairies youth engagement project, a neighborhood greenways project in the city of Seattle and several trail planning projects across Washington State. Stephanie has a degree in landscape architecture from the University of Connecticut and has experience with engaging youth through environmental art and landscape design/build. She has worked as a residential landscape designer and gardener in New England and Seattle, and as an assistant gardener for the Seattle Art Museum's Olympic Sculpture Park.
Last updated: February 19, 2016