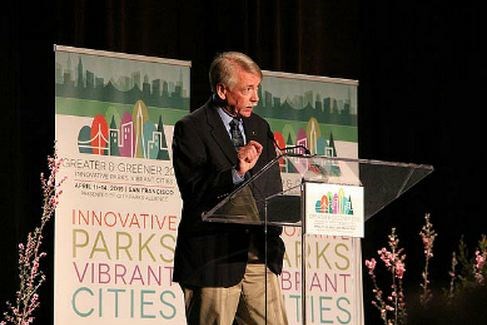 On Monday, April 13th, National Park Service Director Jonathan B. Jarvis launched the NPS Urban Agenda at the City Parks Alliance Greater & Greener Conference in San Francisco. The report released at the Urban Agenda launch includes a number of specific strategies to accomplish the goal of building relationships between urban parks and programs, but most importantly it outlines working relationships that are more intentional, more collaborative and more sustainable. While the Urban Agenda is focused on the work of the NPS in metropolitan areas, ultimately the relevancy and sustainability of every national park and program can be strengthened by this work.
As the Service aspires to meet its Centennial goals, it is now time that the NPS strategically organizes its many parks and programs to build relevancy for all Americans. As the Urban Agenda was developed, many National Park Service employees and partners shared their pioneering stories that embrace the urban mission as a critical component of our second century of National Park stewardship.
The Agenda calls all urban park practitioners to embrace three bold principles:
Be Relevant to All Americans- by reaching new audiences and stories that represent our nation's diverse history, by diversifying our workforce to become a true reflection of the American population, and by looking at "parks" in new ways as innovative urban landscapes for new uses;
Activate "ONE NPS"- by aligning NPS parks, programs, and partnerships – the full portfolio; and
Nurture a Culture of Collaboration- by working in collaboration both internally and externally to better serve communities.
As part of the Urban Agenda, ten urban areas have been selected to provide illustrative examples and demonstrations for how NPS can apply its full portfolio of resources in strategic ways. A diversity of urban areas, large and small, were chosen to reflect: (1) parks embedded in urban areas, (2) parks adjacent to urban areas, and (3) the presence of NPS program but no physical presence of a park unit.
These model areas will test new ways of working collaboratively and allow these communities to learn from each other through an urban model network that will also connect with the broader NPS. Urban Fellows placed in these model areas will play a key role in facilitating collaboration among the National Park Service, other federal and state agencies, city governments, and other partners.
The 10 model cities are:
Boston, Massachusetts
Detroit, Michigan
Jacksonville, Florida
New York City, New York
Philadelphia, Pennsylvania
Richmond, California
Richmond, Virginia
St. Louis, Missouri
Tucson, Arizona
Washington, DC
The NPS Urban Agenda aligns closely with Secretary Jewell's ambitious youth initiative, which will engage the next generation of leaders and stewards through recreation, education, volunteerism, and employment. Specifically, by 2017, the Department will convene coalitions in 50 cities across the country to create more opportunities for young people to play, learn, serve and work outdoors. The 10 NPS model cities in the Urban Agenda are part of this movement, and will play an important role in achieving the Department and NPS goals to engage new audiences.
In addition to the model cities, the Urban Matters national network will be re-launched to engage urban park practitioners and partners from across the Service in the implementation of the Urban Agenda. To join the community, read the NPS Urban Agenda, share your stories and support the principles of Agenda visit www.nps.gov/urban
The City Parks Alliance Greater & Greener Conference is a gathering global park leaders, city planning and design professionals, and urban park advocates to discover the power of parks in creating healthy, resilient, and sustainable cities. www.greatergreener.org