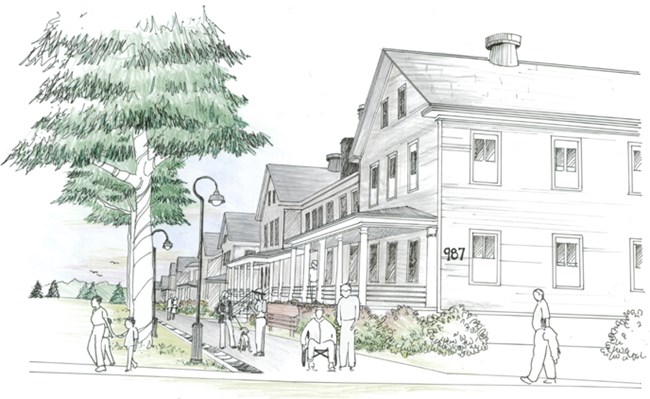 May 18, 2015
VANCOUVER, WA - Superintendent Tracy Fortmann announced today that the National Park Service has awarded an $11.28 million contract to Pacific Tech Construction, Inc. of Kelso, Washington, to rehabilitate utility infrastructure and historic buildings at Fort Vancouver National Historic Site, two of which will serve as the new home of the Forest Supervisor's Headquarters of the Gifford Pinchot National Forest.
This project is a major step toward realizing the vision of Vancouver Barracks as a dynamic, public service campus which welcomes and involves the public in creative ways while preserving the nationally significant historic barracks structures, landscapes, archaeological features, collections and histories."We have worked hand-in-glove with Forest Supervisor Janine Clayton and her staff to bring this project to fruition," shared Superintendent Fortmann. "This contract will certainly provide positive economic benefits for Southwest Washington and Oregon by supporting a variety of local jobs in our community. As importantly, long term, this is a win-win for everyone: the public, the National Forest, this urban national park, our community and the entire region."
"We are looking forward to this project moving ahead," said Gifford Pinchot National Forest Supervisor Janine Clayton. "This is a great opportunity to provide a joint presence with the National Park Service as federal land managers connecting with our public and sharing our missions."This multi-faceted project will include rehabilitation of several buildings including Building 987, a 33,000 square foot historic double-barracks;Building 404, a modern 5,000 square foot maintenance building;phase 1 utility replacement;and exterior rehabilitation of two additional large double barracks--Buildings 989 and 993. "This significant rehabilitation project will begin the transformation of the site and help new audiences find their park right here in Vancouver. Also, it will be a fitting accomplishment to help highlight and celebrate Fort Vancouver's link to the Centennial of the National Park Service in 2016," said Fortmann.
The project scope includes upgrades to improve energy performance through insulation, window enhancements, upgraded mechanical systems, and reduced water consumption. Modern interior walls and other recent alterations will be removed to achieve a more open and light-filled environment and a greater sense of historical authenticity.Other building improvements will include installation of an elevator and fire suppression and the new floor plan will facilitate better access, egress and circulation for different user groups (including visitors, employees, delivery people, and those with disabilities) while preserving historic integrity and U.S. Forest Service agency identity and legacy.
Utility work within this initial phase will focus on replacing and upgrading the infrastructure near the northern end of Vancouver Barracks and include improvements to power, water, sewer and storm sewer systems. The construction of a new water main line will provide needed pressure and flow to meet fire suppression needs for the site. The remaining two double barracks will have a restored protective envelope with new roofs and repairs to gutters, decks, and exterior walls and paint.
Get to know the visionaries making this project happen.
Tracy Fortmann: Superintendent, Fort Vancouver NHS, tracey_fortmann@nps.gov
Ray Cozby, Vancouver Barracks Project Manager, ray_cozby@nps.gov
Bob Varner, Forest Engineer, Gifford Pinchot National Forest, rvarner@fs.fed.us