Presidency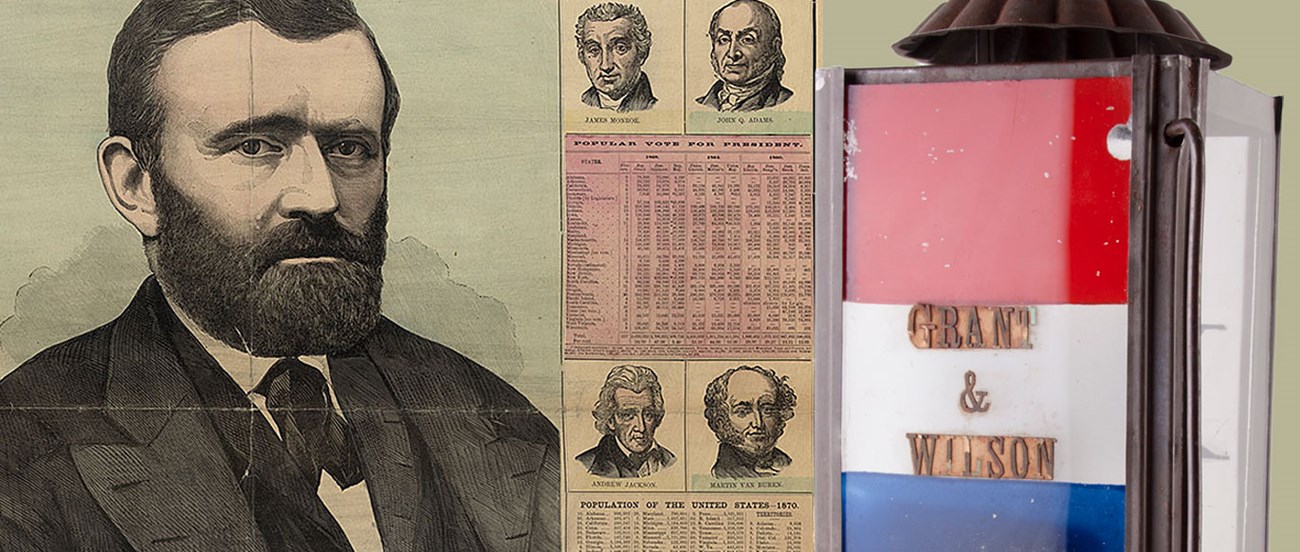 After serving as Lieutenant General and briefly as acting Secretary of War under President Johnson, Grant repeatedly rebuffed calls to run for office. However, fearing the Democratic Party would create another conflict that could lead to another civil war, Grant ran as a Republican and won the presidency in 1868 and 1872. He served two terms. President Grant authorized the establishment of Yellowstone as the first National Park in 1872.

At the age of 46, Grant was the youngest President at the time. He kept reunification of the nation at the forefront of his actions during Reconstruction. However, Grant's political naiveté left him susceptible to scandals and poor decisions that hurt his reputation. While long decried as a political failure, perceptions of Grant's presidency and his contributions to civil rights and American institutions have changed over time, and his impact on the nation is still relevant today.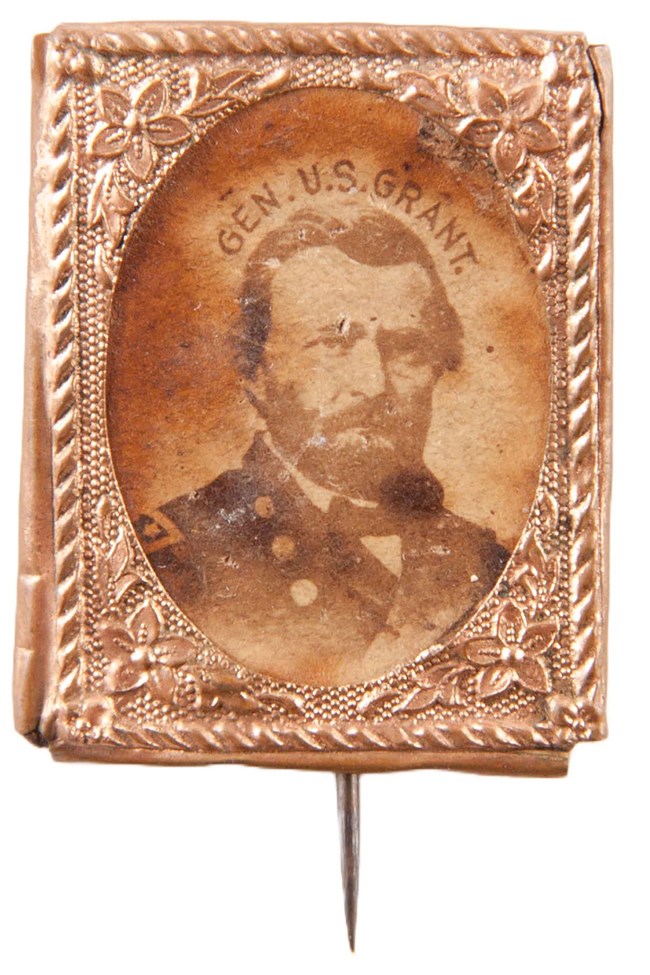 Presidential Campaigns
Grant's popularity after the Civil War gained the attention of the Republican Party. He was unanimously selected as presidential nominee, with Speaker of the House Schuyler Colfax as the Vice President candidate. The Republican Party's 1868 campaign platform argued for civil rights for all. The last line of Grant's acceptance speech, "Let Us Have Peace," became his campaign slogan. Grant was forced to respond to the backlash from General Order Number 11 during his campaign, and expressed his regret and offered an apology to the Jewish community. Grant won by a large margin over Democratic candidate Horatio Seymour.

Grant was selected as the Republican presidential nomination again in 1872, with his campaign framing him as a typical working man. The Republican Party fractured over his approach to African American civil rights and the federal government's involvement in the south. This led to the creation of the Republican Liberal Party and their union with the Democratic Party to select Horace Greeley, founder of the New York Tribune, as nominee. These opposing parties branded Grant as a drunkard, and Senator Charles Sumner coined the term "Grantism" to describe the perceived corruption and incompetence of his administration. Despite these accusations, Grant won 56 percent of the popular vote and the majority of the electoral college, and was inaugurated in March, 1873.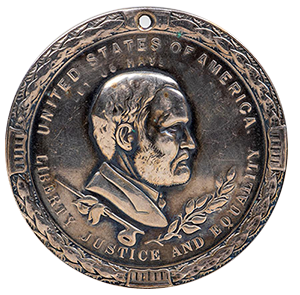 Civil Rights Policies
Grant's first term (1869 – 1873) focused on the rights of African Americans. He wrote to abolitionist Gerrit Smith on July 28, 1872 that, "My oft expressed desire is that all citizens, white or black, native or foreign born, may be left free, in all parts of our common country, to vote, speak & act, in obedience to law, without intimidation or ostracism on account of his views, color or nativity." The Fifteenth Amendment to the Constitution, ratified on February 3, 1870, prohibits states from denying any citizen the right to vote due to their race, color, or previous experience of being enslaved. It was a major accomplishment of Grant's first term.

President Grant was concerned over increased violence against African Americans in the south, including lynching, burning churches and schools, and intimidation of African American voters. He appointed civil rights advocate Amos T Akerman as Attorney General and established the Department of Justice, which presided over the conviction of more than 1000 Ku Klux Klan members between 1870 and 1876.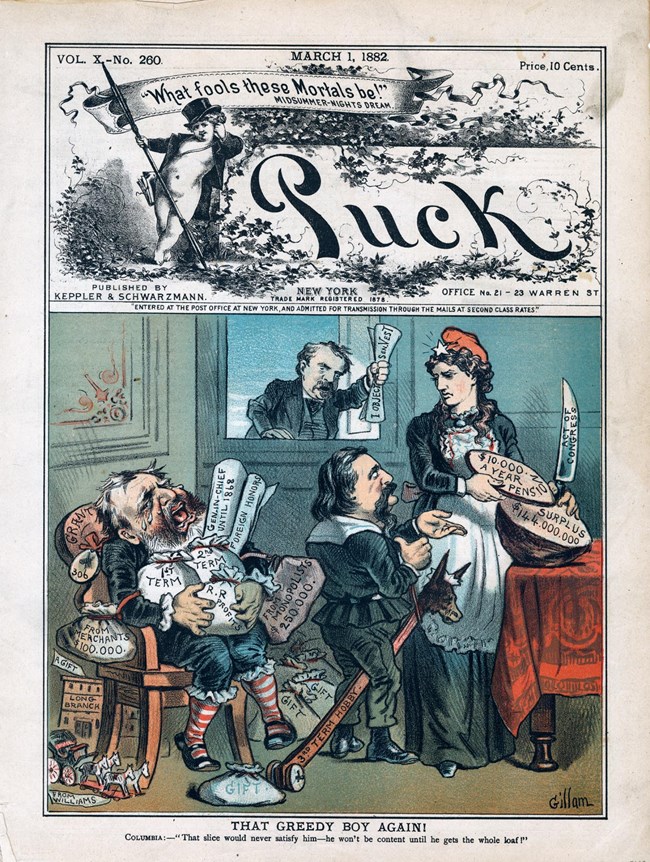 Controversies and Scandals
During Grant's first term, the Appropriation Acts of 1870 and 1871 ended the U.S. government's recognition of the sovereignty of Native American nations, making it easier for the U.S. to seize tribal lands. Grant's policies, known as the "Peace Policy," resulted in encroachment of settlers and increased Christian missionary presence on Native lands, the disruption of food sources such as the destruction of the buffalo on the Plains, and other assimilationist policies designed to "Kill the Indian, Save the Man." While intended to reduce military conflicts with Native Americans, Grant's policy contributed to cultural genocide.
Grant established the Board of Indian Commissioners with Ely Parker (Donehogawa) (Seneca) as the first Native American Commissioner of Indian Affairs from 1869 to 1871. Parker was Grant's secretary during the Civil War and drafted the surrender document at Appomattox Court House. Grant and Parker's attempts at reducing corruption in the bureau by transferring management of Indian Affairs to the War Department were unsuccessful, and opposition from within the Board of Indian Commissioners caused Parker to resign.
Grant's second term was marred by corruption, cronyism and financial scandals that reached the upper levels of his administration. He attempted to address these controversies with varying success. When he learned that Attorney General George Williams and Secretary of the Interior Columbus Delano were accepting bribes, Grant swiftly removed them from office. However, when Grant's personal secretary, Orville Babcock, was indicted in the "Whiskey Ring" tax evasion scheme, Grant testified in his favor, spurring unfounded rumors that the President was involved in the fraud. Prominent journals such as
The Nation
reported on these incidents, depicting Grant as overly naïve and his Cabinet as a party of incompetents. With his reputation severely damaged, Grant announced in 1875 that he would not run for office again. While he later became amenable to run for a third term in 1880, the Republican nomination that year went to James A. Garfield.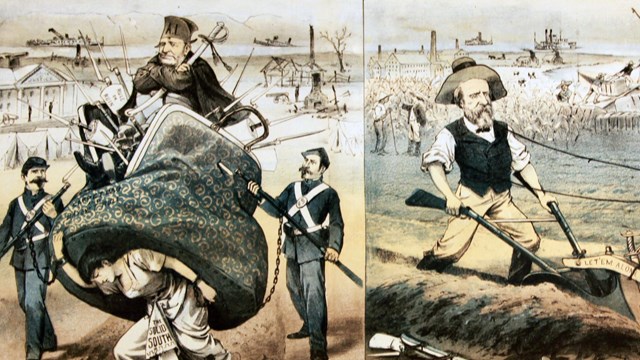 Puck Magazine color lithograph
Ulysses S Grant NHS, ULSG 7674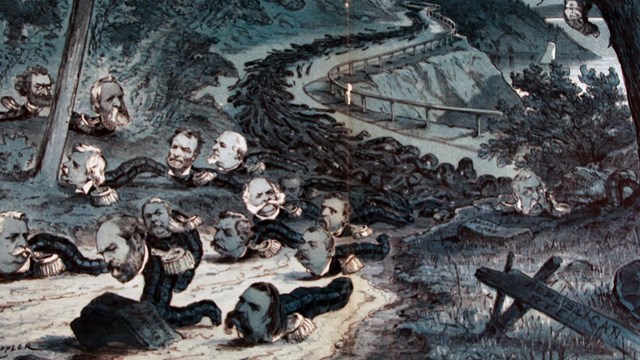 The Army Worm
Ulysses S Grant NHS, ULSG 7952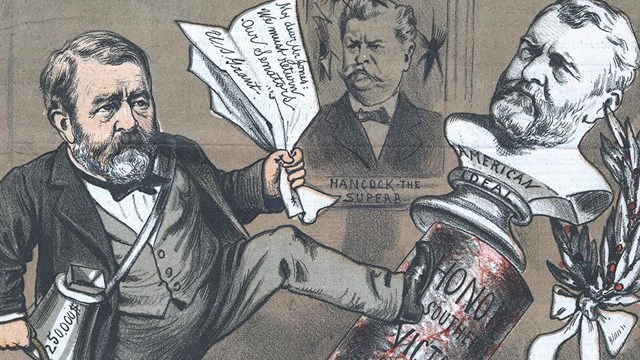 Grant as His Own Iconoclast
Ulysses S Grant NHS, ULSG 7545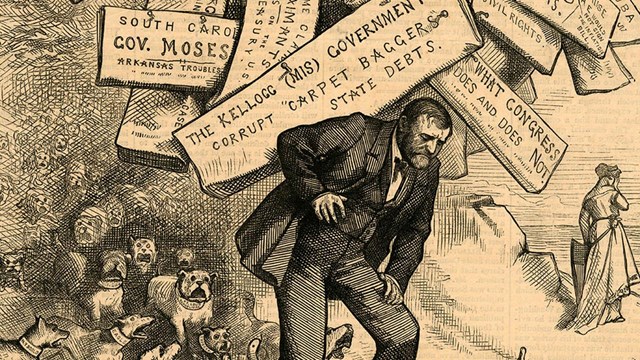 A Burden He Has to Shoulder
Ulysses S Grant NHS, ULSG 7759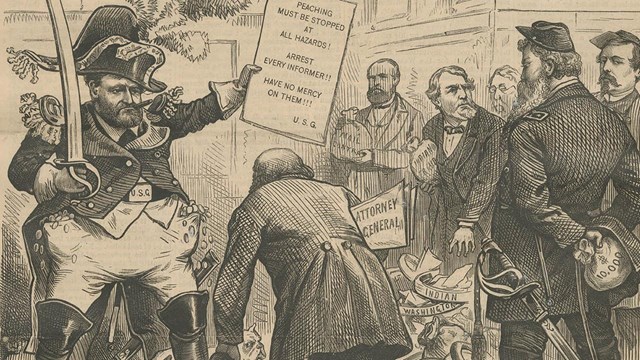 Grantism
Ulysses S Grant NHS, ULSG 7689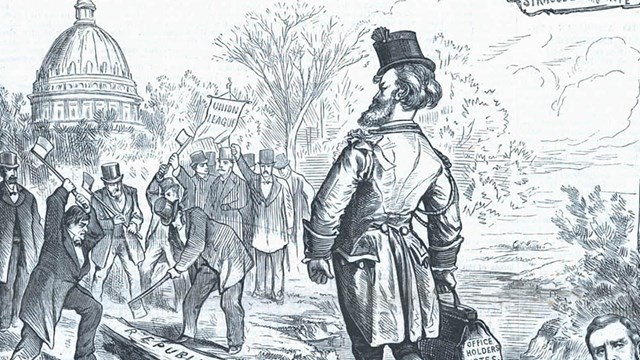 Crossing the Rubicon
Ulysses S Grant NHS, ULSG 7755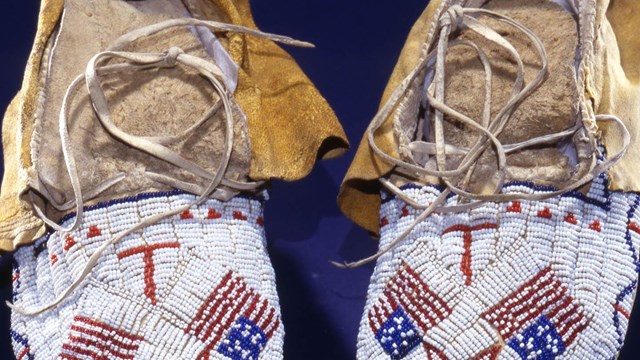 American Flag Moccasins
Smithsonian Institution, National Museum of American History, NMAH 308316.005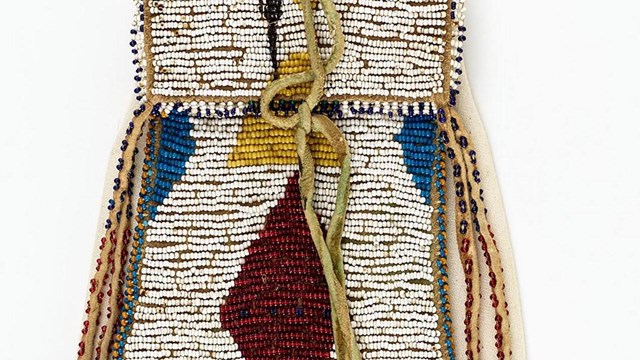 Beaded Bag
Smithsonian Institution, National Museum of American History, PL.308316.004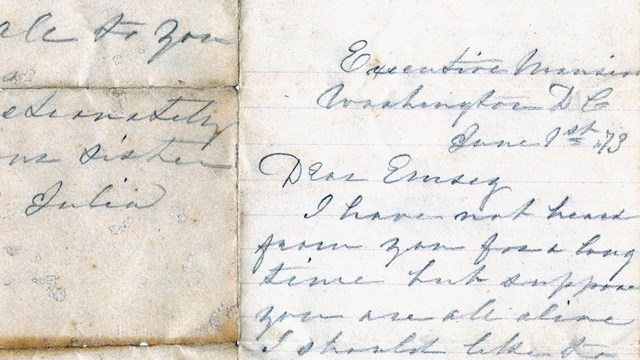 Letter
Ulysses S Grant NHS, ULSG 10
Last updated: July 12, 2022