American Latino Heritage
Hispanic Heritage Month/Mes de la Herencia Hispana
Hispanic Heritage Month is a month long celebration from September 15 to October 15 to celebrate and honor Latino and Hispanic heritage, cultures, and contributions. Latino and Hispanic history within the National Park Service runs deep... More than 500 years deep! This month and equally throughout the year we share and celebrate the past, present, and future of Latino and Hispanic Americans. ¡Pa'lante!

Check out the stories below for more information on Latino History. Visit the Hispanic Heritage Month page to continue the celebration!

El Mes de la Herencia Hispana es una celebración que dura un mes entero, desde el 15 de septiembre al 15 de octubre, donde se celebra y se honra la herencia, las culturas y las contribuciones latinas e hispanas. La historia latina e hispana está muy arraigada dentro del Servicio de Parques Nacionales… ¡Se remonta a más de 500 años de antigüedad! Este mes y durante todo el año compartimos y celebramos el pasado, presente y futuro de los latinos e hispanoamericanos. ¡Pa'lante!

Para más información sobre la historia latina, lea los escritos (artículos) que encontrará a continuación. ¡Visita la página de El Mes de la Herencia Hispana para continuar con la celebración!
Visit our keyboard shortcuts docs for details
Duration:

5 minutes, 42 seconds
Have you ever heard a salsa rhythm that just made you want to groove? Perhaps bitten into a loaded taco bursting with flavor that makes you wonder how all of these flavors got into one bite? Maybe you have heard a friend from the Dominican Republic speaking Spanish to a companion from Argentina and thought, wow are they both really speaking the same language? Take a dive deeper into the world of Hispanic and Latinx heritage! From September 15 to October 15, we celebrate National Hispanic Heritage Month. Meet National Park Service and other Department of the Interior staff as we share our heritage and get just a small taste of the immense diversity of the Hispanic and Latinx experience. Take advantage of this time set aside to learn something new about the many flavors of Hispanic and Latinx Heritage! (Video made in partnership with the Department of the Interior's National Association of Hispanic Employees and National Park Service's Hispanic Organization on Relevancy, Advising, Leadership, and Excellence.)
From Puerto Rico to California: Latino Heritage Is Everywhere
Introduction to America Latino Heritage
First generation or fifth generation — Latino heritage is a gemstone that shines differently depending on how you look at it
Making LGBTQ Latino History Visible
Gathering spaces allowed LGBTQ Latinos to find refuge, resist oppression, and create a deeper sense of community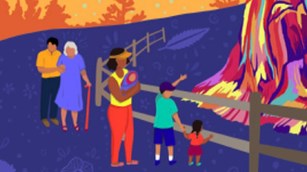 Bridging Science and Culture
Just as the sedimentary rocks of Florissant Fossil Beds are layered, Latino traditions, culture and heritage is layered and distinct.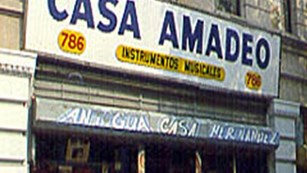 History Through Music
What does preserving the oldest music store in NY that was integral to the foundation of Salsa music and culture look like?
Latino Heritage Stories Are Abundant
Last updated: September 16, 2022