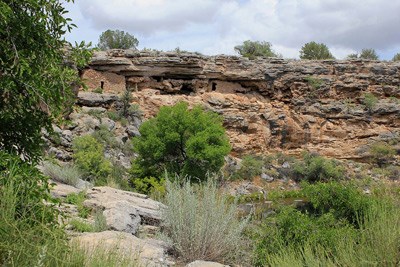 The Sonoran Desert Network (SODN) is one of 32 National Park Service (NPS) inventory and monitoring networks nationwide that are implementing vital signs monitoring in order to assess the condition of park ecosystems, provide early warning of ecosystem changes, and develop a stronger scientific basis for stewardship and management of natural resources across the National Park System.
SODN, based in Tucson, Arizona, includes 11 National Park Service units: 10 in central and southern Arizona (Casa Grande Ruins National Monument [NM], Chiricahua NM, Coronado National Memorial, Fort Bowie National Historic Site, Montezuma Castle NM, Organ Pipe Cactus NM, Saguaro National Park, Tumacácori National Historical Park, Tonto NM, and Tuzigoot NM) and 1 unit in southwestern New Mexico (Gila Cliff Dwellings NM). These units are characteristic of the upper Sonoran subdivision of the Sonoran Desert Ecoregion and the Apache Highlands Ecoregion, and range in size from half a square mile to 517 square miles (147 to 133,882 hectares).
Across these parks, SODN monitors air quality; climate; invasive exotic plants; groundwater; landbirds; seeps, springs, and tinajas; streams; vegetation and soils; and washes. In addition, SODN is part of the Southwest Network Collaboration (SWNC), a joint effort between the Sonoran Desert Network, Chihuahuan Desert Network, and Southern Plains Network to share not only monitoring protocols, but also data collection and reporting duties. The goal of the SWNC is to improve effectiveness and efficiency across all three networks.
Under the SWNC, the three networks, in varying combinations, share protocols, training, data management, and reporting responsibilities for eight different protocols: air quality, climate, invasive exotic plants, uplands, groundwater, landbirds, and surface water (streams and seeps/springs/tinajas).