Training on the Use of UAS for Natural and Cultural Resource Science and Stewardship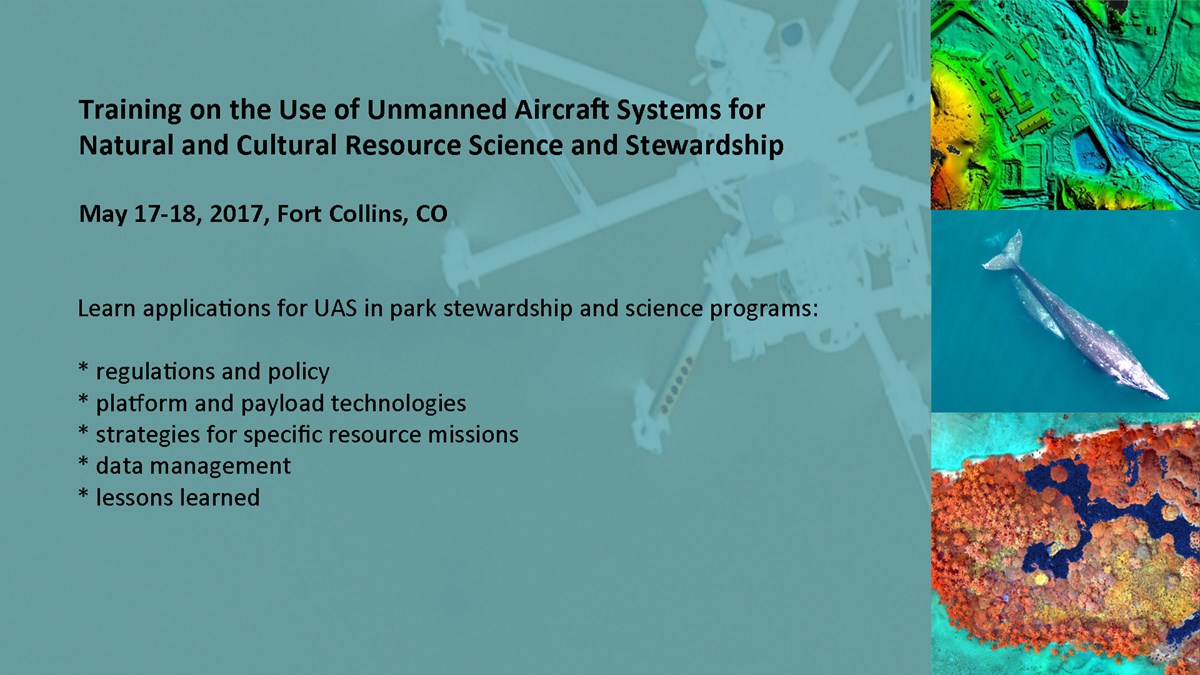 Contact the Natural Sounds and Night Skies Division
for recordings or PDFs of speaker presentations.
UAS Training Panel Speakers

Matthew Burgess, University of Florida:
- Selecting a Small UAS Platform and Payload Combination: It all depends on the question
- Utilization of Small UAS to Address Terrestrial Applications in Natural Resources

Matthew specializes in small, unmanned aircraft systems, with a focus on natural resource applications, and was the Program Coordinator of the USGS- administered Unmanned Aircraft Systems Research Program of the Florida Cooperative Fish and Wildlife Research Unit.

Chris Holmquist-Johnson, United States Geological Survey (USGS):
- Using Small UAS for Science: Providing additional tools for wildlife detection, hydrologic mapping, and monitoring river processes and landscape change

Chris specializes in field data collection, river rehabilitation and hydraulic structure evaluation, and numerical modeling for instream flow studies. His sUAS operations with the USGS Science Center's Aquatic Systems Branch relate to terrestrial wildlife, hydrologic mapping, habitat mapping analysis, and river system processes.

Brad Koeckeritz, Department of Interior (DOI), Office of Aviation Services:
- DOI UAS Policy and Regulation

Brad's 25-year career as a wildland firefighter informs his work with UAS, where he oversees policy, standardization, and fleet management as UAS Division Chief. He is also chair of the Interagency Fire UAS Subcommittee for the National Wildlife Coordinating Group

Parker Martyn, National Park Service (NPS) Inventory and Monitoring:
- Alaska NPS sUAS Fleet Activities in Support of Inventory and Monitoring, Natural Resources, and Cultural Resources Operations

Parker oversees base cartography inventories of vegetation and soils for NPS Alaska Region parks. As a UAS pilot, he works with the NPS Aviation program to bring UAS to the region in support of inventory and monitoring, natural resources, and cultural resources applications.

Arlo McKee, University of Texas at Dallas (UTD):
- Applying UAS and 3D Photogrammetry to Archaeological Sites: The delicate balance between endurance, resolution, safety, and cost-effectiveness

Arlo brings geospatial expertise surveying archaeological sites for both commercial and academic projects using a range of UAS platforms, with a focus on documenting site preservation conditions.

Wayne Perryman, National Oceanic and Atmospheric Administration (NOAA):
- Development of Small Rotary Wing UAS Platforms for Assessments of Marine Protected Species: How did we get here and where are we going?

Wayne leads the development of the APH-22 hexacopter system, which in 2016 completed more than 90% of all sUAS NOAA missions. Since the 1970s his team has worked with Aerial Imaging Solutions to develop aerial imaging systems for assessing marine protected species.

Jeff Sloan, United States Geological Survey (USGS):
- USGS Missions and Interagency Support

Jeff has worked in many areas of cartography, photogrammetry, GIS, and remote sensing in the U.S. Federal Government for the past 30 years, and has utilized unmanned aircraft systems since the USGS National Project Office was established in 2008. Projects range from proof-of-concept missions to the development of leading edge data processing techniques.

Steven Sorensen, National Park Service (NPS) Intermountain Region Aviation Manager:
- Current State of the NPS UAS Program

Since 2011 Steve manages all aviation programs involving fixed and rotary wing aircraft and crews for NPS units and monuments. He brings additional experience as a seasonal forester, wildland fire crew member, and pilot, and enjoys flying C-130s around the world!

Adam Wiewel, National Park Service (NPS) Midwest Archeological Center
- Exploring Cultural Resources with UAS and Photogrammetry

Adam honed skills operating UAS and processing aerial color and thermal infrared imagery with the Center for Advanced Spatial Technologies as a Ph.D. student. A current project with MWAC will implement an aircraft operation for use in the near-surface archeo-geophysical program.

Jack Wood, Photogrammetrist Consultant
- Using and Communicating UAS Data: Geoscience applications and ideas for UAS acquired images

Jack specializes in near-range photogrammetry for use in geoscience inventory and monitoring. Operations apply to objects ranging in size from hand-held specimens found in situ and/or in collections, to large-scale objects such as rock falls and arches.
Last updated: December 4, 2017