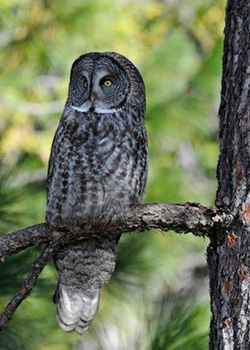 The summaries below will provide you with an idea of the importance of sound and the impacts of noise to wildlife, visitors, and cultural and historic resources.
That old expression, "the early bird gets the worm," turns out to be truer than ever in urban settings today. In fact, recent studies are finding that some birds in noisy environments have taken to singing at night in order to be heard over the din of the city (Fuller et al. 2007).
Sound, just like the availability of nesting materials or food sources, plays an important role in the ecosystem. Activities such as finding desirable habitat and mates, avoiding predators, protecting young, and establishing territories are all dependent on the acoustical environment. In order to continue with these activities, animals are being forced to adapt to increasing noise levels. Research shows that males of at least one frog species are adapting to traffic noise by calling at a higher pitch (Parris et al. 2009). This could be problematic for the females, because they prefer lower-pitched calls, which indicate larger and more experienced males. Human-caused noise has produced similar results in multiple bird species (Barber et al. 2009).
In general, a growing number of studies indicate that animals, like humans, are stressed by noisy environments (Shannon et al. 2015). The endangered Sonoran pronghorn avoids noisy areas frequented by military jets;female frogs exposed to traffic noise have more difficulty locating the male's signal;gleaning bats avoid hunting in areas with road noise (Barber et al. 2009). When these effects are combined with other stressors such as winter weather, disease, and food shortages, sound impacts can have important implications for the health and vitality of wildlife populations within a park (Ware et al. 2015).