Watersports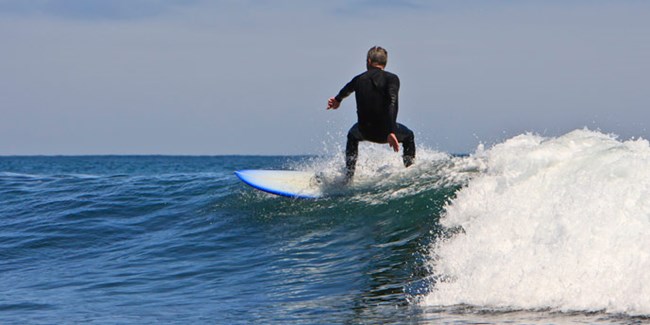 Catch a Wave in a National Park
The National Park Service mission is, in part, to preserve our country's extraordinary places and to provide for public enjoyment. When this mission was founded, its creators could hardly have imagined all the ways in which people would come to enjoy these parks. Today, watersports such as surfing, windsurfing, and kiteboarding are growing in popularity. The scenery of our coastal and Great Lakes national parks makes an ideal backdrop for these exhilarating experiences. Wind and water combine to create one of the most exciting forms of recreation our coastal and ocean national parks have to offer.
Most people aren't surprised to hear that the national parks along the California coast provide wonderful places to ride waves. What many don't realize is that parks all along our nation's coasts, from Gateway National Recreation Area in New York and New Jersey, to Great Lakes parks and far-flung spots like Alaska, to the Virgin and Hawaiian Islands, are prime locations for wind and watersports.
Many parks offer protected areas perfect for beginners just learning the sport –some even provide lessons. If you are looking for a more extreme adventure, several parks have opportunities for backcountry surfing –remote and sometimes challenging spots that are harder to access, but worth the effort for experienced surfers looking to avoid crowds and surf in some of our country's most spectacular locations.
Be sure to check with the specific park you are planning to visit for information on safety hazards and rules and regulations. Find out how you can enjoy these places today and keep them pristine so they can also be enjoyed for years to come.
Last updated: May 13, 2016