Shore Activities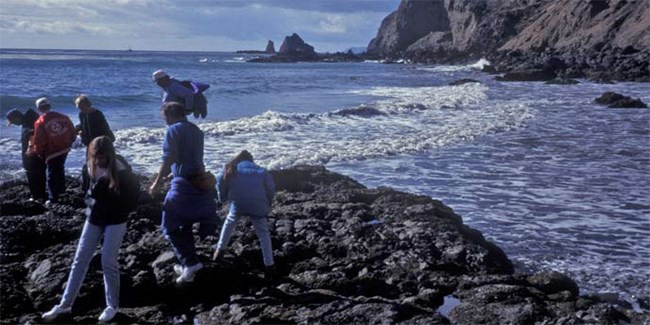 The idea of a day at the beach conjures up images of looking at shells, creating sand castles, relaxing under an umbrella, and playing in the surf. Even if you don't live near the ocean, chances are you have memories of a family trip to the beach or have pondered taking a beach vacation in the future. National parks along our ocean and Great Lakes shorelines preserve some of the most scenic beaches in the world.
Rocky shorelines and tide-pools provide a different type of shore experience. Acadia's beaches, full of multi-colored rocks and sculpted driftwood, are an artist's paradise. Rocky tidepools along the east and west coasts, from Acadia to Olympic, are unparalleled in the opportunities they provide to discover the colorful wildlife that lives just under the crashing waves.
Shore activities and conditions vary from park to park. Some have designated beaches staffed with lifeguards and allow camping on the beach, while others do not. In most cases, rock or shell collecting may be prohibited. Check with the specific parks for local rules and regulations.
Last updated: May 13, 2016