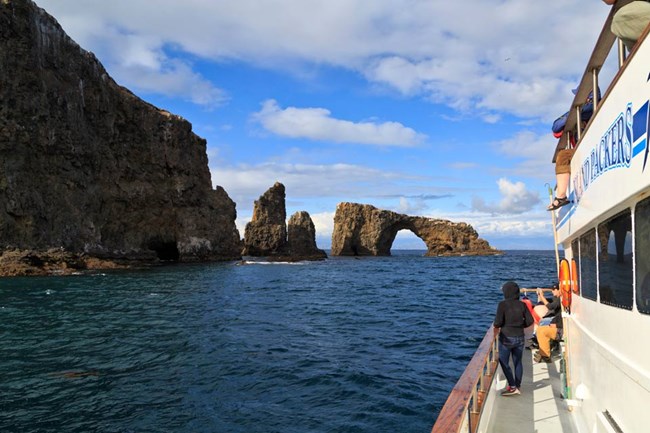 Education and Outreach
Both the national park and marine sanctuary support extensive educational and outreach programs that are designed to engage the public in stewardship of the marine protected areas. Targeted audiences for these programs include site visitors, local K-12 and college students, partner agencies, natural resource and travel-tourism commissions and councils, regional and national media markets, and international conservation communities. Classroom activities, visitor centers, wayside exhibits on coastal trails, evening public lecture series, web sites, and a series of periodic scientific conferences are all used to connect local and distant communities to natural and cultural resources in the marine protected areas.
A volunteer-based Channel Islands Naturalist Corps trains community members to interpret marine protected area resources for other members of the public on tour boats and at a variety of island and mainland venues. Park and sanctuary management and technical staffs also participate as speakers at civic organizations in the region and at national conferences.
A particularly innovative and successful educational program, begun in 1983, is a live, interactive underwater video program called Channel Island Live. Divers in the Anacapa State Marine Reserve broadcast live from the kelp forests surrounding the island in order to allow visitors in the mainland visitors center to interact with the animals and plants on the sea floor. Since 2008, the programs have also been broadcast live over the internet to school classrooms around the world, through a partnership with the Ventura County Office of Education.
Another outreach program, pioneered at the Channel Islands in 1992, is the Great Annual Fish Count. Designed to engage communities in marine protected area stewardship, this annual population assessment conducted by recreational divers quickly became a national and then international program that continues to this day. These annual fish counts are conducted during the month of July, and the resulting survey data is published on a publicly accessible web site maintained by the Reef Environmental Education Foundation (REEF) in Florida. The annual and social nature of this program helps to focus community attention on and to remind people about the connection between the public and the marine protected areas.