Stewardship of Natural Systems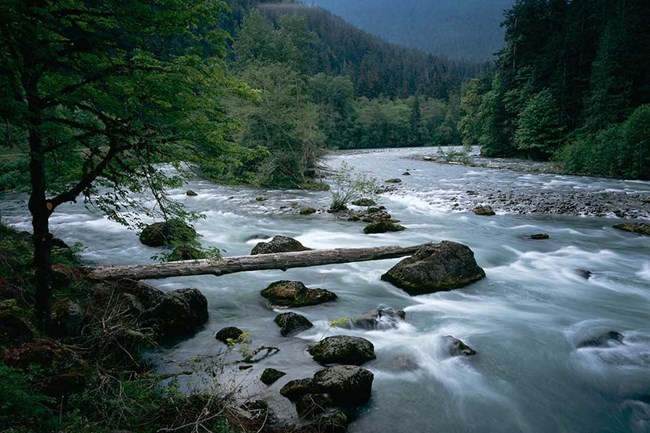 Bringing Back Coastal Ecosystems
The Elwha River Restoration project is the largest dam removal in United States history, with multiple federal, Washington state, local, tribal, and university partners collaborating on restoring the watershed. Since the removal of the Elwha Dam, adult Steelhead trout and adult Chinook salmon have been observed spawning in Olympic National Park for the first time in over 100 years.
At Dry Tortugas National Park in Florida, the Research Natural Area (RNA) sets aside 46 square miles of the park from anchoring and fishing in order to restore fish populations and protect fragile coral reefs. This still leaves over half of the park open to recreational fishing, maintaining a balance between conservation and visitor use. A joint scientific report from NPS and the state of Florida revealed that the fish within the RNA are larger and more numerous, a result of the benefits of RNA protection.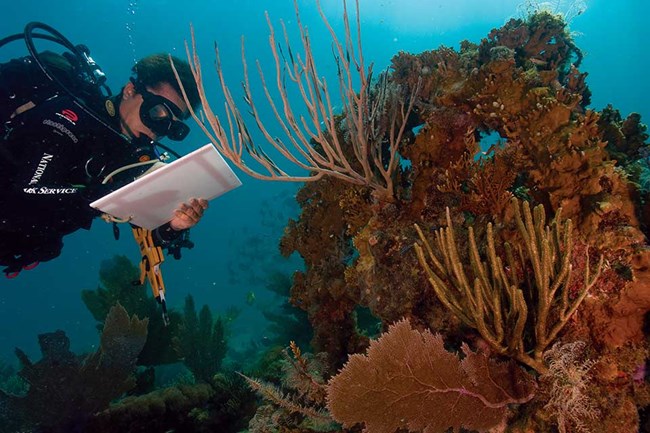 Pioneering Scientific Approaches to Coastal Climate Change
As sea levels rise and fluctuate and storms increase, the NPS is responding to the changes these impacts have on wildlife, habitats, infrastructure, and cultural sites. The NPS Natural Resource Stewardship and Science program provides technical guidance for rebuilding or relocating infrastructure and for adopting mobile facilities, to better prepare for storm inundation.
NPS Inventory and Monitoring (I&M) Networks are working on the front lines of climate change, measuring elevation data in salt marshes and tracking the shoreline changes of coastal parks on the Atlantic seaboard. During a warm-water coral bleaching event in Virgin Islands National Park, thousands of hours of monitoring by I&M Network divers revealed that disease was the primary cause of both coral death and the loss of more than 50 percent of coral cover.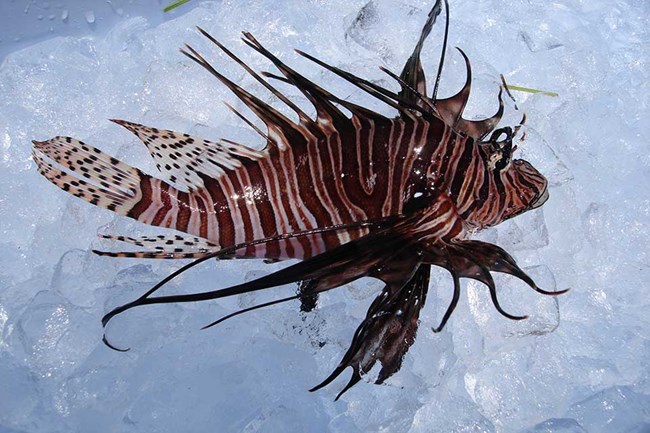 Staying One Step Ahead of Exotic Species Invasions
Aquatic invasive species damage habitats and prey on native plants and animals. The NPS works to combat these negative effects through research and restoration efforts. The invasion of the Indo-Pacific lionfish, a predator that threatens marine ecosystems and visitor safety in parks, prompted the adoption of a national
Lionfish Response Plan
that will help park managers to better assess this threat. Lionfish studies at Biscayne National Park in Florida are advancing our understanding of this new, voracious predator and of the best ways to control it.
Since 2006, thousands of shorebirds at Sleeping Bear Dunes National Lakeshore in Michigan have died from outbreaks of avian botulism disease. NPS collaborates with the U.S. Geological Survey on research to identify the environmental and biological factors that cause a botulism outbreak, in order to prevent future epidemics.
For Further Reading
Elwha River Restoration
NPS Inventory and Monitoring
Research Learning Centers
Last updated: May 25, 2017