Conservation, Research, and Management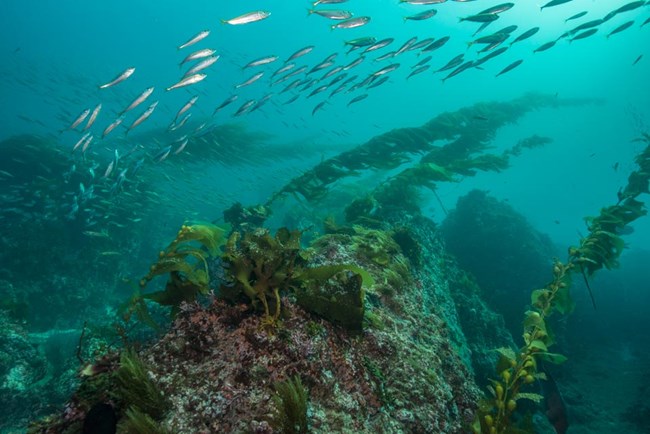 Scientific Basis for Conservation
Scientific research has informed and continues to inform conservation efforts in California ocean waters. Research collected on the population dynamics and ecology
(the relationship between a species and its surroundings)
of sea birds and pinnipeds on and around the Channel Islands, for example, has been used to guide stewardship in the region and beyond. The environmental impacts of DDT on marine ecosystems were first characterized in the 1960s by studying California Brown Pelican breeding patterns at the Channel Islands. The population rebound of six pinniped species in the rookeries of the Channel Islands from the hunting pressures of the 19
th
and 20
th
centuries dramatically demonstrated the effectiveness of protecting pinnipeds.
The creation of the Channel Islands National Park in 1980 focused the research and monitoring of ecological 'vital signs' on annual assessments of ecosystem health. After 20 years of continued assessment and study, comparisons among protected and fished kelp forests in the park revealed that fishing was not only damaging ecosystem health but also decreasing the ecosystem's capacity for self-renewal. By the late 1990s, formerly productive and stable kelp forests in fished areas had become either bare rock reefs or 'sea urchin barrens'. Kelp forests in the small, protected reserves, meanwhile, remained healthy and resilient. Since water quality and habitat protection were identical in fished and protected areas, these findings indicated that fishing was the factor that most likely caused the differences.
In 1998, as a result of this information gleaned from long-term monitoring, the National Park Service formally requested that the California Fish and Game Commission create a network of no-take marine reserves that would function as 'refugia'
(sources of replenishment)
and also provide opportunities for park visitors to experience healthy marine ecosystems.
Scientific research continues to be a guiding force for informing decisions about resource stewardship and resource allocation. Numerous long-term, persistent natural science research and monitoring programs currently study the Channel Islands Marine Protected Area Complex. Chief among these are the Southern California Coastal Water Research Project (SCCWRP), the National Park Service Vital Signs Monitoring, the Partnership for Interdisciplinary Studies of Coastal Oceans (PISCO), the California Cooperative Oceanographic and Fisheries Investigations, the California Department of Fish and Game, and NOAA.
In addition to these institutional long-term programs, over one hundred institutions of higher learning conduct research projects on individual fisheries, ecosystems, and other topics of interest to marine protected area managers. Summaries of these projects are summarized and presented in periodic California Islands Symposia, with the most recent symposium held in 2012.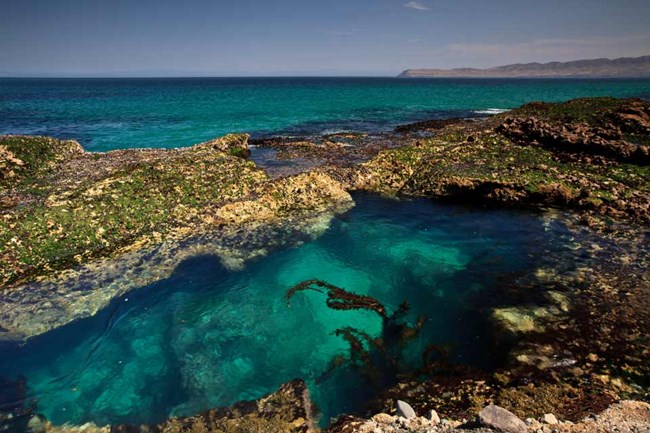 Restoration Work
The state and federal no-take marine reserves at the Channel Islands are intended not only to serve as safe havens for national park and marine sanctuary resources, but also to be ecological restoration sites for those resources. Several efforts have been made, for example, to rebuild depleted abalone populations, while several island restoration projects have worked to improve watershed conditions by removing non-native animals like cattle, sheep, and feral pigs. Removal of invasive animals from the islands and the chemical DDT from the marine food web have also helped to restore the reproductive success and stability of seabird populations.
Restoration work sometimes conflicts with making the park available to visitors and for commercial use. The strong connections between island seabird and pinniped rookeries, coastal watersheds, and the coastal ocean, as well as the fragility and sensitivity of park resources makes it necessary to limit visitor entry. The Channel Islands National Marine Sanctuary design, meanwhile, created spatial buffers between energy development, fisheries, and natural conservation areas. A network of protected areas is interspersed with areas available for serviceable areas in order to make possible the sustainable use of resources.
For Further Reading
Marine Ecological Reserve Working Group Analysis
National Park Service Vital Signs Monitoring
PISCO
California Cooperative Oceanographic and Fisheries Investigation
California Fish and Game Commission Management Review
National Marine Sanctuary Advisory Council
Last updated: May 25, 2017