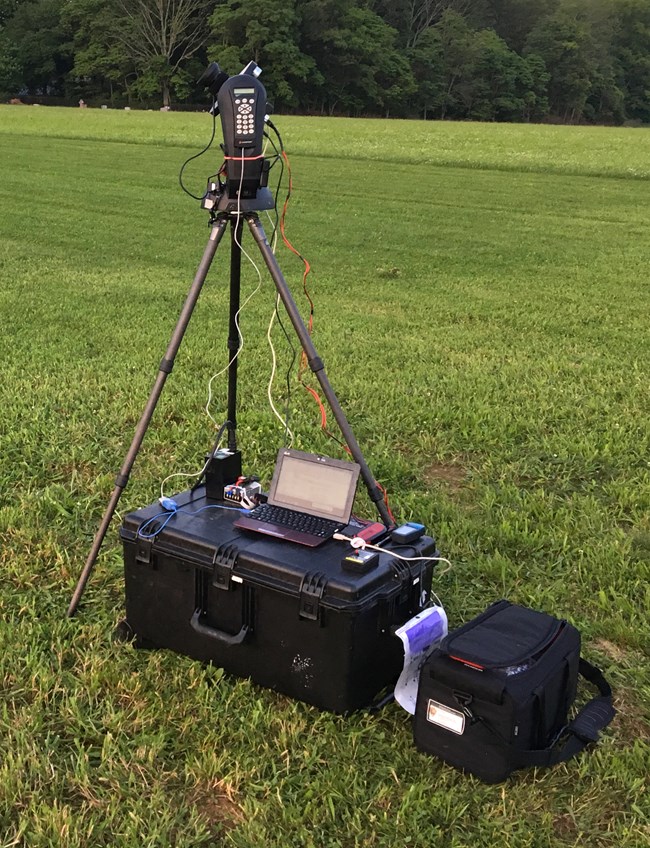 Capturing the essence of a lightscape with numerical data is complex, but advances in technology have made possible an efficient and accurate method of measuring the impact of light pollution. The National Park Service has pioneered portable instrumentation and techniques for measuring conditions in parks and since 2001 has been testing and capturing data in nearly 100 national parks. The current state of the methodology features:
Rapid capturing the night sky in a high resolution mosaic

Precise measurement of sky brightness and glare across the entire celestial hemisphere

Identification of light pollution sources, and

Separation of natural and human-caused sky brightness.
The approach is designed to measure the night sky as the human eye sees it; in doing so, we can quantify aspects of the natural lightscape.
The heart of the system is a CCD camera (charged coupled device camera)—essentially a research-grade digital camera. It is attached to a robotic mount and laptop computer. The computer choreographs the entire system, pointing the camera to pre-determined areas of the sky and capturing a series of short exposures. These images are later individually calibrated and then stitched together to form a mosaic of the entire sky that can be displayed in either a panoramic or hemispheric (i.e., fish-eye) view. Data are calibrated to stars of known brightness, allowing absolute brightness measures to be extracted from the images. The camera uses a green filter, rejecting all other light from the infrared to the ultraviolet. This green or "V-band" filter approximates human night vision sensitivity. This process is known asastronomical photometry.
Data is displayed in various measures of sky brightness (luminance) as well as ground illuminance as a result of human-caused light.