Grand Canyon Recognized with Dark Sky Status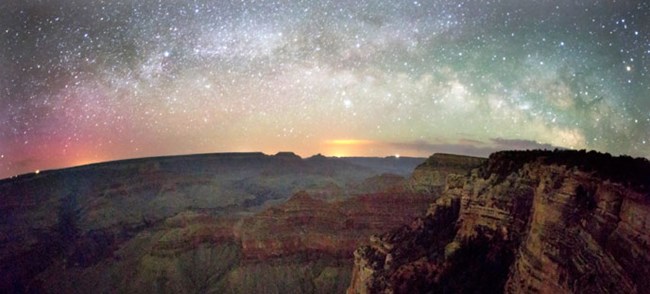 The Natural Sounds and Night Skies Division (NSNSD) works with many stakeholders, including national parks, to restore night skies from light pollution. Night skies experts measure light conditions unique to each park, such as sky glow coming into the park from nearby industries, neighborhoods and cities, and also light scattering into the sky from park fixtures.
Parks can use this information to improve their lighting and help preserve dark, starry nights. Park friendly outdoor lighting reduces energy costs and carbon footprints, increases energy efficiency, minimizes impacts to wildlife and cultural resources, and enhances visitor experiences and opportunities for local economic growth through astronomy based tourism.
At Grand Canyon's June Star Party, the National Park Service (NPS) and the International Dark-Sky Association (IDA) announced that the park is now a Provisional IDA International Dark Sky Park.
"Tonight's announcement designating Grand Canyon National Park an International Dark Sky Park is an important step in ensuring the Colorado Plateau remains a protective harbor for some of the best night skies in the country," said IDA Executive Director Scott Feierabend.
Grand Canyon's press release details this milestone achievement:
IDA established the International Dark Sky Places conservation program in 2001 to encourage communities around the world to preserve and protect dark sites through responsible lighting policies and public education. Many of the best protected night skies in the country are found within national park boundaries. Grand Canyon joins eleven other national park sites certified by IDA. Including Grand Canyon, eight of the national park sites with IDA Dark Sky Park status are located on the Colorado Plateau. The NPS especially focuses on sustainable outdoor lighting because it combines technology, design, and practice in a way that allows parks to increase energy efficiency and enhance visitor experiences.
Of all applications from across the globe, Grand Canyon's is one of the most complex IDA has seen, and includes an inventory of thousands of light fixtures on both rims and in the inner canyon. Having "provisional" status gives Grand Canyon three years from the date of today's announcement to retrofit two-thirds of the park's lights to comply with IDA's stringent lighting guidelines. At the time Grand Canyon submitted its application, about 43 percent of the park's lights already met IDA criteria. Grand Canyon plans to complete the necessary lighting improvements to receive full IDA Dark Sky Park certification in 2019- the 100th anniversary of the national park.
Last updated: June 7, 2016