Training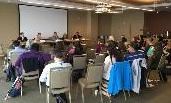 ► Watch NAGPRA Basics. It covers the background of NAGPRA, the consultation and decision making process, notices, grants, and civil penalties. Both new and veteran NAGPRA practitioners have found this training to be helpful in their work.
Additional training on the NAGPRA process is available from multiple sources.

How do I register and access webinars?
» Webinars

What types of training videos are available?
» Videos

Do you have any in person classes I can take?
Last updated: May 24, 2022