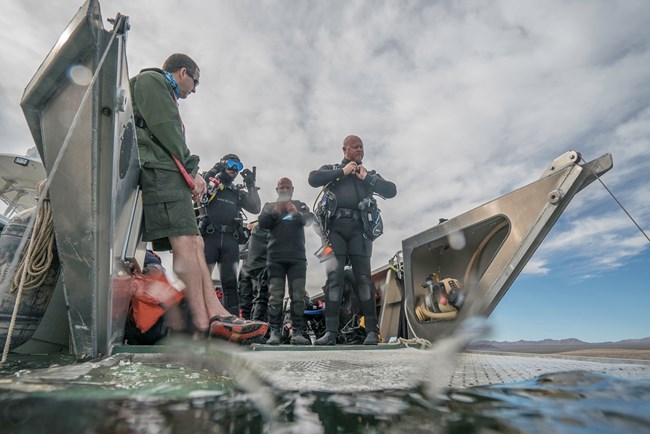 Wounded Veterans Find Healing at Lake Mead National Recreation Area
Six wounded veterans helped the National Park Service preserve the nation's history and culture at Lake Mead National Recreation Area Nov. 7-9, 2017. At the same time, they found healing.
The vets are part of the Wounded American Veterans Experience SCUBA Project, an organization that helps veterans overcome combat injuries through scuba diving. Just before Veterans Day, they teamed up with the National Park Service's Submerged Resources Center to conduct their first dive within a national park.
"We have a lot of precious resources underwater in national parks, and we need to look at them, inspect them and keep track of them," said Dave Conlin, chief of the SRC. His team visits Lake Mead National Recreation Area regularly to assess the multiple artifacts that lie beneath Lake Mead and Lake Mohave.
On Nov. 8, Army, Navy, Marine Corps, Coast Guard and Air Force veterans dove on an aerial ferry that now lies at the bottom of Lake Mohave. The ferry was suspended by cables above the Colorado River in the 1930s and was used to transport cars, people and goods from one side of the river to the other.
As the team surfaced from their dive, they bonded at the back of the boat over their experience. They shared their appreciation for diving and how it has helped them overcome their personal battles. For Jeff Pickard, diving has helped him find relief from pain. Read more about their story.