Military Leaders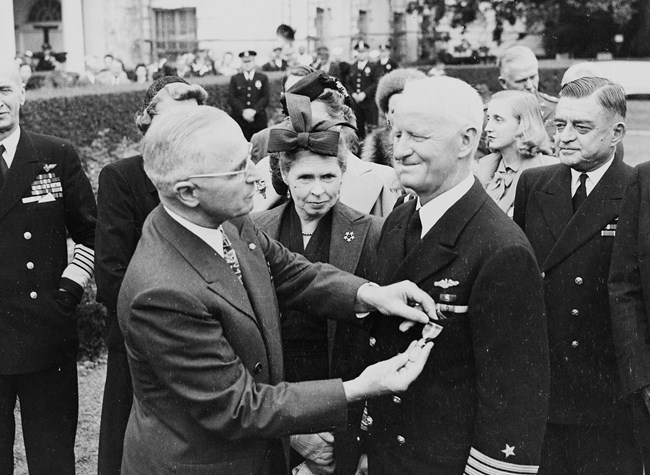 Chester William Nimitz
Fleet Admiral, United States Navy
Born: 1885 in Fredericksburg, Texas
Died:1966 in San Francisco Bay, California
Buried: Golden Gate National Cemetery, San Bruno, California
Significance: Admiral Nimitz was Commander in Chief, United States Pacific Fleet at the time of the Liberation of Guam and the attacks on Iwo Jima and Okinawa.

After graduating from the Naval Academy in 1905, he served on various ships in the Pacific. On December 31, 1941 he assumed command of the Pacific Fleet. At the end of the war, his headquarters was at Fonte Plateau, now called Nimitz Hill, in Guam. In 1944 he was promoted to Fleet Admiral and served as Chief of Naval Operations.

On September 2, 1945, Nimitz signed for the United States when Japan formally surrendered on board the Missouri in Tokyo Bay. President Truman would later decorate Admiral Chester Nimitz with a Gold Star (in lieu of a third Distinguished Service Medal) at the White House.

Last updated: February 15, 2018