Get Involved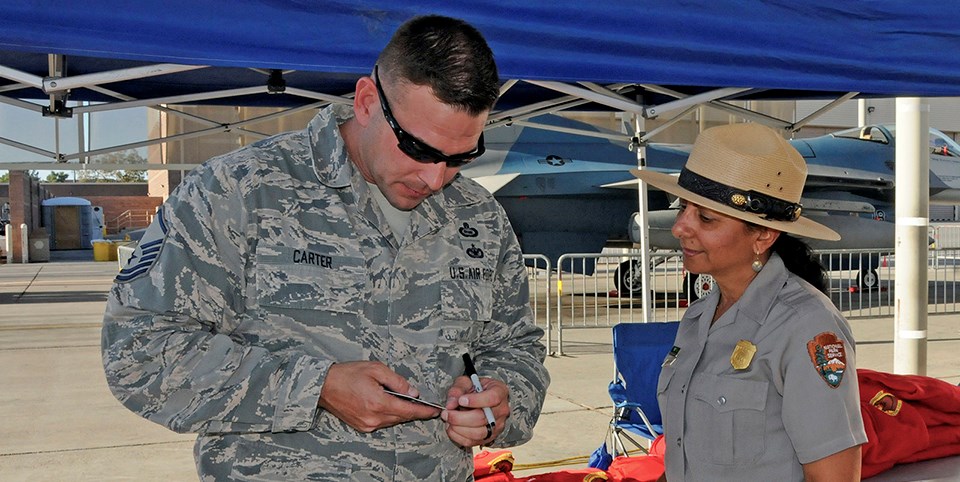 Looking for a career? Would you like to share your skills? Want to make a difference? We can answer all of these!
Work With Us
The National Park Service employs over 4,000 veterans which accounts for more than 20 percent of the paid workforce. We are committed to increasing this number and actively recruit veterans. Match your skills to our mission. Law enforcement and wildland fire are two places to start. Visits USAJOBs to search for more jobs.
Veterans Preference
If you're a Veteran who served on active duty in the U.S. Armed Forces and were separated under honorable conditions, you may be eligible for veterans' preference, as well as other veteran specific hiring options. Find out more about veterans preference, veterans recruitment appointment, and other hiring options as well as search jobs.
Volunteer
As an active duty military or family member, veteran, or even an organized group you can give your time and talent to support national parks. Contribute to the National Park Service mission by working along-side park staff to reenact periods in American history, lead nature walks, monitor natural areas, remove invasive species, assist with trails and building preservation, staff missile sites and battlefields, clean headstones in military cemeteries, and more. Continue to serve and share your skills. VIPs find many benefits:
Make new friends
Quality family time
Share your talents and experience
Serve your community
Build new skills and career experiences
Find out how to volunteer.
Partner With Us
Join forces with the thousands of partners working with the National Park Service on projects and programs in parks and communities nationwide. The NPS was founded in part through partnerships more than 100 years ago—continue the legacy and partner with us!
Give
Contributions enhance and sustain America's national parks and programs. There are several ways you can donate to support these special places. Explore options to share your support and make a difference.
Last updated: October 17, 2017