Southeast & Texas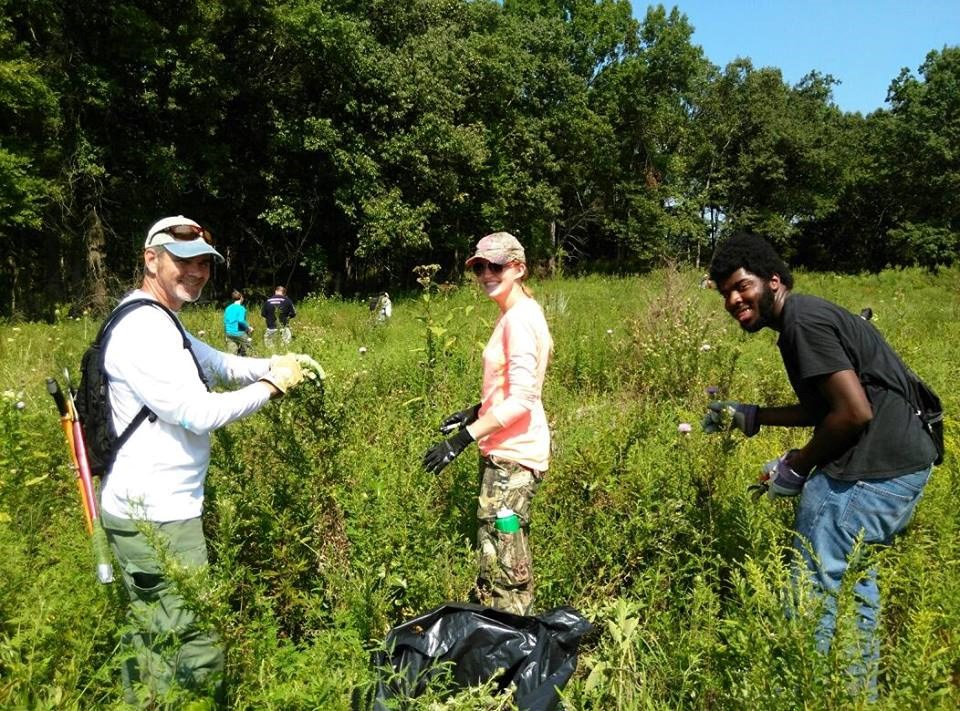 Collaboration in the Southeast Region and Texas
Work to manage invasive species is hardly ever done alone by a park. Here are the Invasive Plant Management Teams (IMPTs) work with parks in the Southeast and Texas to combat invasive plant threats.
Southeast Invasive Plant Management Team
The Southeast IPMT supports 20 park units in seven states across the Cumberland Plateau, Appalachian Highlands, and Piedmont physiographic provinces. Headquartered in Asheville, NC on the Blue Ridge Parkway, the Southeast IPMT is centrally located as a collaborative force to work among the four southeastern teams (Florida and Caribbean IPMT, Southeast IPMT, Southeast Coast IPMT, and Gulf Coast IPMT). From the cedar glades among the Civil War battlefields of Chickamauga & Chattanooga National Military Park to the world's longest known cave system of Mammoth Cave National Park, natural and cultural resources are intertwined. Invasive plants threaten federal and state listed plant and animal species and significant cultural resources. Through an integrated and adaptive resource management strategy Southeast IPMT meets long term management goals to protect these resources while complying with state and federal regulations. The Southeast IPMT functions as a self-contained, mobile strike team while fostering youth interns to become future land management professionals.
Southeast Coast Invasive Plant Management Team
The Southeast Coast IPMT serves 15 park units in North and South Carolina, Georgia, and Alabama. Partner parks range from protected seashores and forested wilderness to urban recreational areas and preserved cultural landscapes. Along the coast are the National Seashores from the lighthouses of Cape Hatteras to the wild horses of Cumberland Island, with historic Revolutionary and Civil War battle sites in between. Inland, the Southeast Coast IPMT parks include Chattahoochee River National Recreation Area in the Atlanta metro and the prehistoric settlements at Ocmulgee Mounds National Historical Park. Congaree National Park, which encompasses one of the last remnants of intact old growth bottomland forest and is approximately 80% designated wilderness, hosts the Southeast Coast IPMT. Oversight of the Southeast Coast IPMT is provided by the Southeast Region's Science and Natural Resources Management Division. Although funded differently than most IPMTs, Southeast Coast IPMT has similar goals for invasive plant management and also fosters a crew of youth interns.
Gulf Coast Invasive Plant Management Team
The Gulf Coast Invasive Plant Management Team (GC IPMT) supports eight National Park Service (NPS) units within Tennessee and four Gulf Coast region states. In Texas, the GC IPMT provides invasive plant management services for the culturally significant salt prairie and brushland ecosystems of Palo Alto Battlefield National Historical Park, shorebird habitat of Padre Island National Seashore on the undeveloped barrier island and spoil islands, the cultural landscapes surrounding the four mission churches of San Antonio Missions National Historical Park, and the ecologically important floodplain and wetland habitats of Big Thicket National Preserve. East to Louisiana, Mississippi, Alabama, and Tennessee, the GC IPMT aids in the protection of the Barataria wetlands ecosystem of Jean Lafitte National Historical Park and Preserve, the Civil War battlefield cultural landscape and surrounding natural areas at Vicksburg National Military Park, portions of seven ecoregions along Natchez Trace Parkway, and coastal mainland & barrier island areas including a federally designated wilderness area at Gulf Islands National Seashore. The GC IPMT implements invasive plant control work across all partner parks through contracts. Additionally, the team relies on partnerships to identify and geospatially map priority infestations within the parks. The GC IPMT liaison oversees contracts and cooperative task agreements, and the regional IPMT data manager provides data management support.
Florida/Caribbean Invasive Plant Management Team
The Florida/Caribbean IPMT is based in Palmetto Bay, Florida and serves all 16 National Park Service units located in Florida and the Caribbean. By expanding existing park invasive plant control efforts, the team utilizes direct control methods, education, restoration, research, and inventory and monitoring to meet its goals. The FLC IPMT utilizes contracted crews for large treatment projects within park units. Smaller projects are carried out by the team, and we partner with parks, other organizations, agencies and volunteers. The area covered includes temperate, sub-tropical, and tropical climate zones. This creates an enormous challenge with a wide array of invasive species to control. Total area covered is approximately 2.68 million acres and over 400,000 of those acres are infested with invasive species. Species treated include beach vitex (Vitex rotundifolia), pampasgrass (Cortaderia selloana), and Chinese tallow (Triadica sebifera) in north Florida, latherleaf (Colubrina asiatica), punktree (Melaleuca quinquenervia), and Brazilian peppertree (Schinus terebinthifolia) in south Florida and guineagrass (Megathyrsus maximus), seaside mahoe (Thespesia populnea), and ginger Thomas (Tecoma stans) in the Caribbean. The team consists of a liaison and the regional IPMT data manager.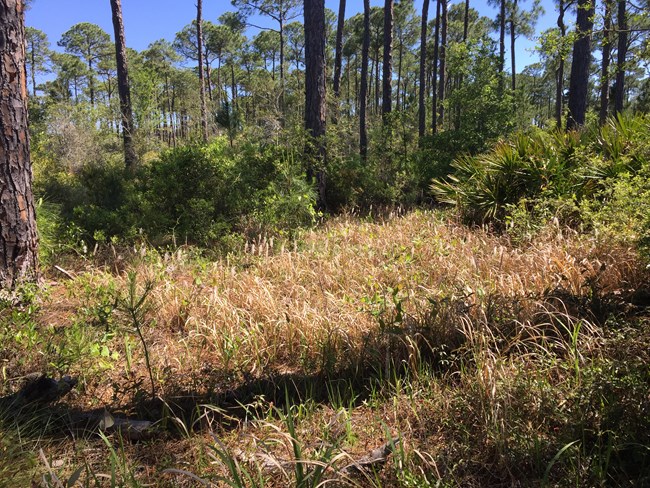 Targeted Plant Species Watchlist for the Southeast and Texas
Australian pine (Casuarina spp.)

Bradford pear (Pyrus calleryana)

Brazilian peppertree (Schinus terebinthifolia)

Chinaberry (Melia azedarach)

Chinese tallow (Triadica sebifera)

Chinese privet (Ligustrum sinense)

cogon grass (Imperata cylindrica)

common reed (Phragmites australis)

giant reed (Arundo donax)

giant salvinia (Salvinia molesta)

glossy privet (Ligustrum lucidum)

Japanese stiltgrass (Microstegium vimineum)

kudzu (Pueraria montana)

marvel grass (Dichanthium annulatum)

melaleuca (Melaleuca quinquenervia)

mimosa (Albizia julibrissin)

oriental bittersweet (Celastrus orbiculatus)

rosa multiflora (Rosa multiflora)

tamarisk (Tamarix spp.)

taro (Colocasia Esculenta)

trifoliate orange (Ponicirus trifoliata)

torpedo grass (Panicum repens)

tree of heaven (Ailanthus altissima)

water hyacinth (Eichhornia crassipes)

wisteria vines (Wisteria spp.)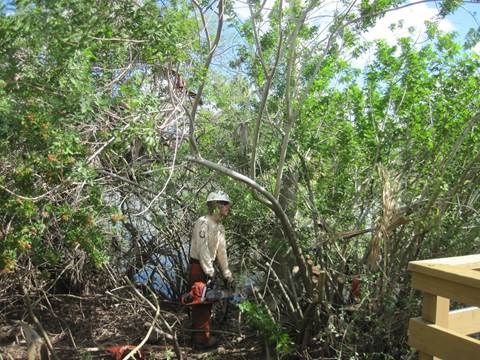 Case Study: Multi-year Habitat Restoration Partnership—Palo Alto Battlefield National Historical Park Treatments and Restoration
The area adjacent to the resaca (oxbow lake, former channel of the Rio Grande) at the Resaca de la Palma National Battlefield unit of Palo Alto Battlefield National Historical Park (PAAL) is severely infested by Brazilian peppertree. While work to control the species and restore native vegetation to the area has been successful, this work is part of an on-going, multi-year cooperative effort. American Conservation Experience assisted PAAL with initial Brazilian peppertree treatments in fiscal year (FY) 2016. The GC IPMT supported retreatments and new treatments of the area in FY 2017.
Through a partnership for restoration, the Nature Conservancy supplied the park with twelve species of native plants. Volunteers assisted with two different planting events during November FY 2016 and November FY 2018, planting tree and shrub species that included Texas sabal palm (Sabal mexicana), Brasil (Condalia hookeri), tepejuaje (Leucaena pulverulenta), anacua (Ehretia anacua), and snakeeyes (Phaulothamnus spinescens). A local news source covered the results of this successful project.
In addition to the restoration plantings, native plants have begun to naturally emerge within the previously infested area. One native plant species, retama (Parkinsonia aculeate), has been outcompeting other native species. During FY 2019, the GC IPMT treated and retreated Brazilian peppertree populations and thinned retama to reduce competition with the other native species. The ultimate goal of this project is full control of Brazilian peppertree and complete native revegetation within the boundaries of Resaca de la Palma Battlefield.
Additional Links and Resources
Contacts for Further Information
Lauren Serra
Southeast IPMT Liaison
email Lauren
Toby Obenauer
Southeast IPMT Team Leader
email Toby
Brian Lockwood
Florida and the Caribbean IPMT Liaison
email Brian
Amorita Brackett
Southeast Coast IPMT Team Leader
email Amorita
R. Dale McPherson
Gulf Coast IPMT Liaison
email Dale
Shea Bruscia
Interior Region 2 IPMT Data Manager
email Shea
Last updated: March 31, 2023