Pacific Islands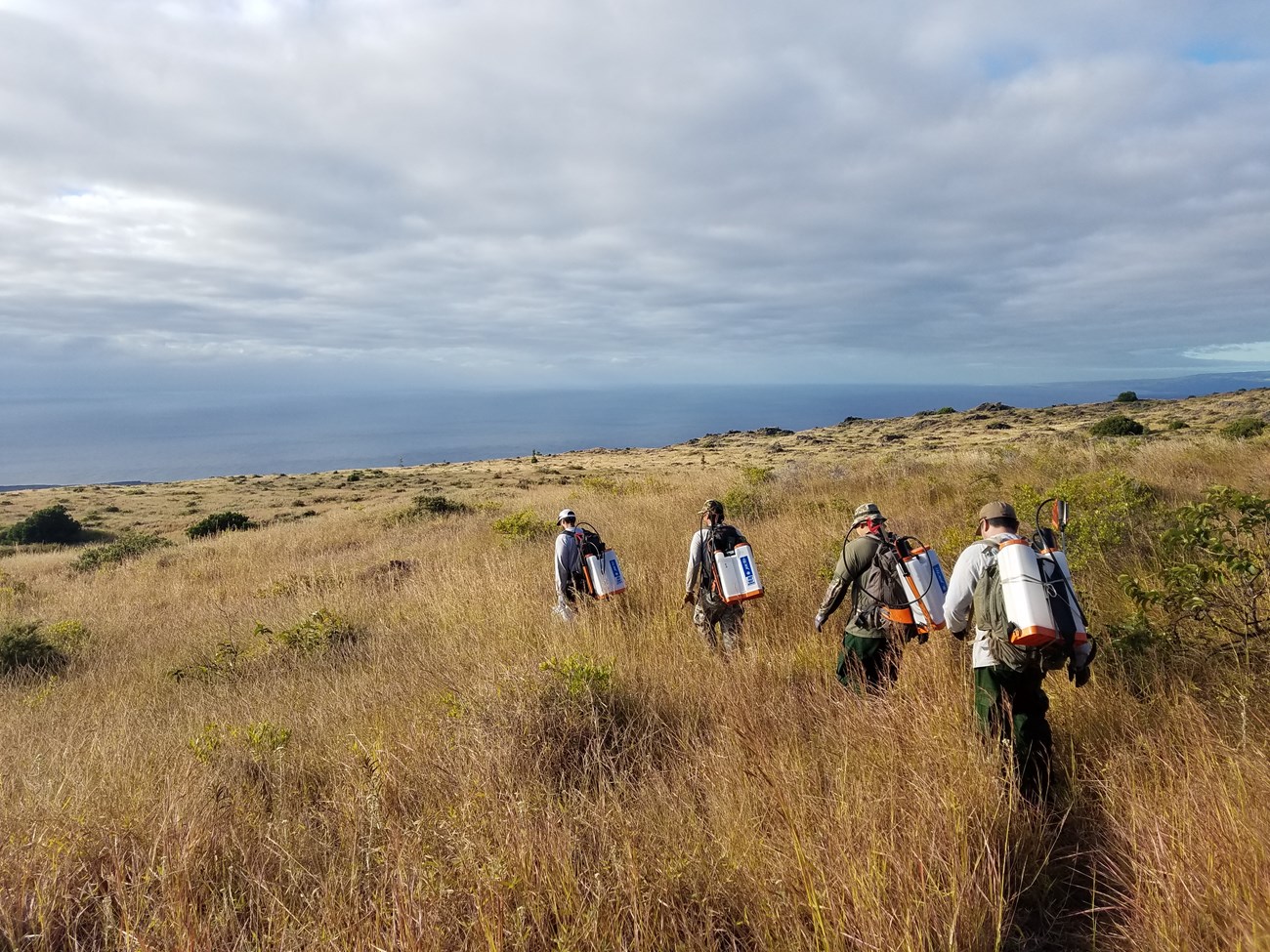 Collaboration in the Pacific Islands
Managing invasive species and restoring native ecosystems in the Pacific Islands is most often achieved not by working alone, but by engaging with wide-ranging partnerships, collaborations, and sharing of specialized expertise across landscapes and entities.
Pacific Island Invasive Plant Management Team
The Pacific Islands Invasive Plant Management Team (IPMT) focuses on managing threats to biodiverse Hawaiian ecosystems found nowhere else in the world. The Team directly serves six national park units. The IPMT has served the Pacific Islands effectively for over 20 years, spearheaded by the two largest units: Hawaiʻi Volcanoes and Haleakalā National Parks. IPMT crews from the larger parks are deployed to smaller units for priority projects, most frequently at Puʻuhonua o Hōnaunau, Kaloko-Honokōhau, and Kaualupapa National Historical Parks. Other parks in the region also receive engagement from the IPMT in the form of consultation, training and resources. 
The Pacific Islands IPMT employs three strategies to achieve results: 
Control invasive species early in the infestation process, inside and outside parks, to lessen adverse impacts 
Control priority and existing invasive plants in special ecological areas, and 
Serve as a technical support entity to parks and cooperators in the Pacific Basin to protect and restore native ecosystems, foster cooperation amongst shareholders, and ensure public safety. 
Targeted Plant Species Watchlist for Pacific Islands
Case Studies of Invasive Species Projects in the Pacific Islands
In partnership with the Hawai'i Volcanoes National Park Youth Program, PI-IPMT staff mentor and lead a crew of 6-8 youth rangers each summer to control invasive faya tree (Myrica faya) in key Special Ecological Areas. Rangers are recruited from high schools in the underserved rural Ka'u and Puna districts of Hawai'i Island. They receive training in career readiness, resume building, and resources management principles that provide them with skills for future careers in the National Park Service and elsewhere. This partnership not only builds capacity for resources management and science among local youth. It also creates connections between the community and the park for many families whose youth rangers are the first paid park employees that they know.  
At Haleakalā National Park, Student Conservation Association and Kupu interns work with PI-IPMT and park staff to tackle collaborative invasive species projects and develop skills for a career in invasive plant management. By building career skills for local students and youth, these programs also create capacity in the pool of potential future National Park Service employees.
Each year, IPMT personnel from Hawai'i Volcanoes National Park work hand in hand with staff at sister parks on the Big Island in Kona, Puʻuhonua o Hōnaunau and Kaloko-Honokōhau National Historical Parks. We collaborate on a suite of invasive species management projects that leverage the skill and power provided by the HAVO IPMT crew with local knowledge at the Kona parks. These projects range from initial knockdown of invasive vegetation, experimental herbicide treatments of incipient invasive species, to clearing firebreaks of heavy fuels and invasive grasses.
Early Detection and Rapid Response (EDRR) to incipient invasive species at Haleakalā and Hawaiʻi Volcanoes National Parks are ongoing as a part of PI-IPMT programs at both parks. Vegetation crews from the NPS Inventory and Monitoring program and botanists provide support for identifying new and incipient weeds. IPMT staff build a program of target areas and revisit schedules to detections to ensure eradication. Through a partnership with the Spatial Data Analysis and Visualization Lab (SDAV) at the University of Hawaiʻi Hilo, incipient species like faya tree and guinea grass are located using specially developed algorithms to analyze imagery from helicopter-mounted camera arrays, increasing the efficiency of response to these ecologically damaging threats.  
Developed by PI IPMT and deployed by parks action.

Through technical assistance provided by the PI IPMT, precision aerial spray techniques have been developed to treat invasives in remote and rugged terrain at multiple parks. These aerial spot-spray techniques have greatly increased the efficiency of treatments for incipient individuals of guinea grass (Urochloa maxima) and fountain grass (Pennisetum setaceum) in the vast expanse of the dry, fire-prone coastal landscape of Hilina Pali at Hawaiʻi Volcanoes. On the slopes of Mauna Loa, in the recovering burned footprint of the 2018 Keauhou Fire, aerial spray and monitoring is a key tool for detecting and treating banana poka (Passiflora tarminiana) in thick mesic forest dominated by native koa trees and 'a'ali'i shrubs.  
In areas that are too steep for ground crews to safely access at Haleakalā National Park, PI-IPMT-innovated aerial spray techniques have successfully treated over 5,000 invasive pine trees (Pinus radiata) on the slopes of Haleakalā Crater. If left untreated, the incipient trees threatened to turn the scenic desert landscape of the crater into a pine forest. After 5 years of treatment cycles, the invasion has been successfully controlled.
Rapid 'Ōhiʻa Death (ROD) has killed thousands of native ʻohʻia trees on the island of Hawaiʻi in the past 8 years and is one of the greatest threats to the integrity of native forest at Hawaiʻi Volcanoes National Park. In partnership with the SDAV Lab at the University of Hawai'i Hilo and the Big Island Invasive Species Committee (BIISC), the Pacific Islands IPMT is tracking the evolution of disease progression of Rapid 'Ohi'a Death at Hawai'i Volcanoes National Park. This will allow us to better understand and contribute to the evolving ROD situation on Hawai'i Island and develop mitigation strategies to stop the spread. PI-IPMT staff use a helicopter-mounted set of cameras to collect imagery of priority areas, and SDAV lab technicians analyze the imagery to identify suspect trees. This optimized workflow improved the accuracy of detection and reduced workloads, promising to be a valuable tool for managers dealing with the threat of ROD.   
In turn, park staff work with crews from the Big Island Invasive Species Committee to test suspect trees for the ROD fungus. Suspect trees in areas of new infection are felled using special procedures to mitigate the spread of disease to healthy forest.  
Data collected from helicopter flights and ground validation directly supported research that suggests exclusion fencing for non-native ungulates (hooved mammals) is one of best management tools to prevent ROD infestation. This conclusion is being used to support funding for ungulate fencing across conservation areas in Hawaiʻi. IPMT staff continue to work with the SDAV lab, BIISC, important federal partners at USGS and USFS, and other researchers to identify areas where ROD presents a threat to native forest and watersheds.
Contact Information
Jeremy Gooding
808-281-4781
Pacific Islands IPMT Liaison
e-mail us
Last updated: February 24, 2022