Northeast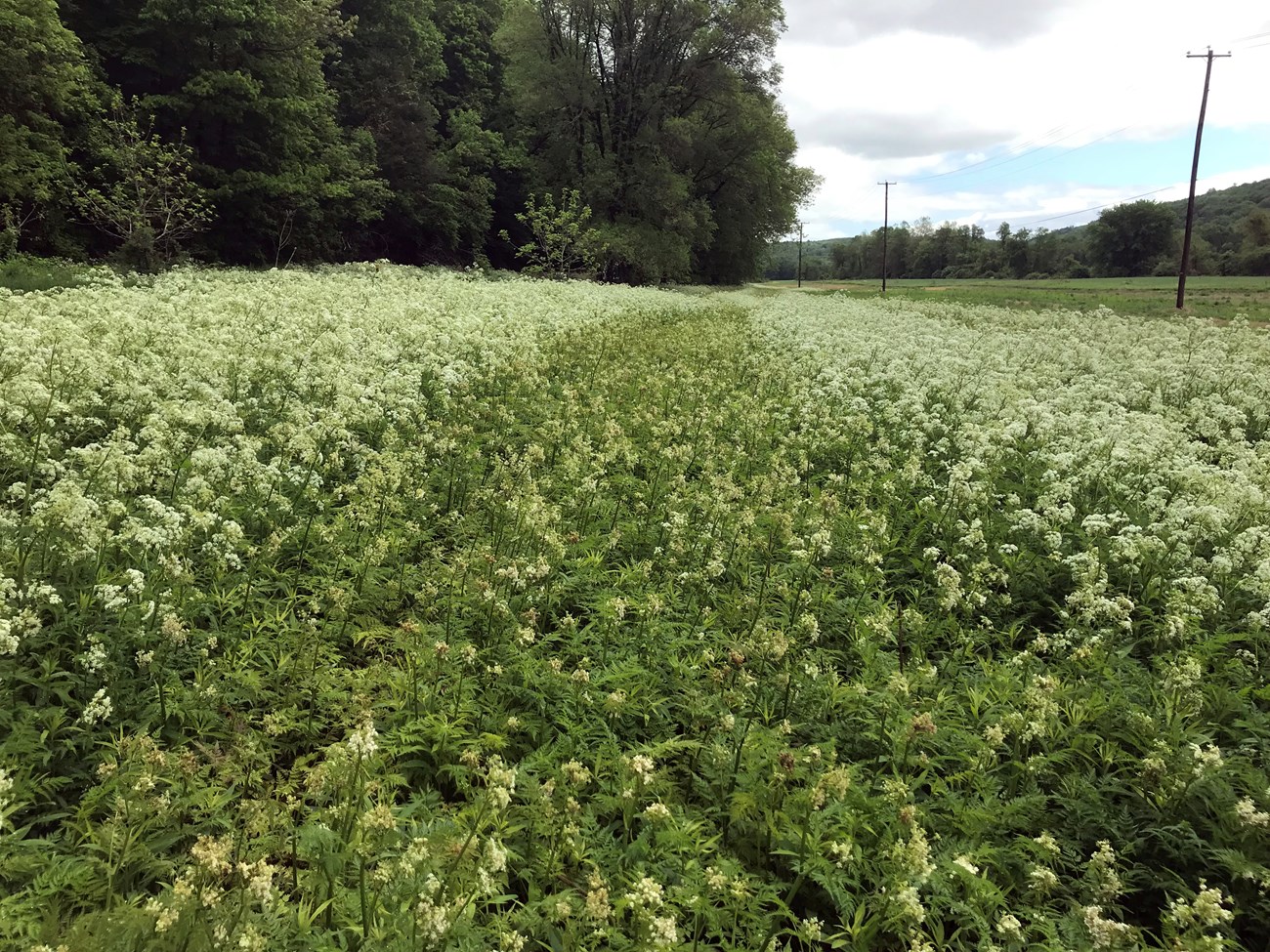 Collaboration in the Northeast
Work to manage invasive species is hardly ever done alone by a park. Here are some helpful organizations that work with parks to combat invasive threats.
Mid-Atlantic Invasive Plant Management Team
The Mid-Atlantic Invasive Plant Management Team (MA IPMT), stationed at Shenandoah National Park, began in 1999 as the Virginia Invasive Vegetation Management Team (VIVMT). The VIVMT supported nine National Park units located in Virginia. In 2003, to address the growing need for invasive plant management at a national level, the MA IPMT was established along with six additional IPMTs. The MA IPMT now provides invasive plant management support to twenty one units in Maryland, Pennsylvania, Virginia, and West Virginia. The goal of the MA IPMT is to incorporate integrated pest management strategies and best management practices to provide the most effective, efficient, but least toxic management solutions to control invasive plants and ensure the protection of its staff, park visitors, and the valuable resources within the team's partner parks.
Case Study of Invasive Species Projects in the Mid-Atlantic: Cedar Creek and Belle Grove National Historical Park Meadow Conversion 
The MA IPMT will convert 25 acres of former agricultural land to native grass and wildflower habitat at Cedar Creek and Belle Grove National Historical Park. Establishing native meadowland allows the park to meet its goals of creating habitat for native pollinators and grassland birds, improving the cultural viewshed to better evoke the 1864 landscape, and reducing non-native invasive plant species. Interpretive signage to inform visitors of the importance of native pollinator habitat as well as describe the connections between natural resources and the cultural landscape will be provided along the trails.  MA IPMT staff and volunteers will conduct long term monitoring of plant, insect, and bird populations to evaluate the success of the project and help drive future management decisions. Project implementation begins March 2022.  
National Capitol Area Invasive Plant Management Team
The National Capital Area Invasive Plant Management Team (NCA IPMT) supports parks from the center of the District of Columbia to the foothills of the Appalachian Mountains. In addition to National Capital Area parks, the NCA IPMT assists non-National Capital Area parks and non-NPS partners: the U.S. Fish and Wildlife Service (at the National Conservation Training Center), and the Virginia Department of Conservation and Recreation (at Crow's Nest Natural Area Preserve).
The National Capital Area Invasive Plant Management Team:
Preserves habitats using Early Detection/Rapid Response;
Controls invasive plants impacting ecologically sensitive areas;
Restores native habitats by removing exotic pest plants and reestablishing native plants and natural processes; and
Prevents the spread of invasive species through training and careful stewardship of tools and equipment. The NCA IPMT works closely with our partner parks and agencies to inventory and monitor invasive plants, train staff and volunteers, implement treatment and restoration efforts, and share resources and information.
National Capital Region PRISM (Partnership for Regional Invasive Species Management)

US Fish and Wildlife Service, National Conservation Training Center

Appalachian Conservation Corps
Northeast Invasive Plant Management Team
The Northeast Invasive Plant Management Team (NE IPMT), duty stationed at Delaware Water Gap National Recreation Area (DEWA), was established in 2003 and serves 25 partner parks in eight states, from Pennsylvania to Maine, in the National Park Service's (NPS) Northeast Region. The NE IPMT serve parks that range in size from nine acres to over 100,000 acres. The majority of these parks have relatively small acreages, with mandates to preserve and interpret culturally significant sites, including National Battlefields and National Historic Sites.
The NE IPMT works effectively with parks to define and rank invasive species priorities and establishes management goals on projects that are achievable, cost-effective, and produce measurable results over time. Beginning In 2016, the NE IPMT adapted its approach to ensure that parks continue to receive high quality technical support and continuity of service from the team. In addition to site visits with a reduced crew, the team also provides small grants directly to parks through a competitive proposal and ranking process. As a result, six invasive plant management projects were funded at eight different parks. Additional treatment, training and technical support was provided by the NE IPMT to parks in the region.
Targeted Plant Species Watchlist for the Northeast
Brown Knapweed (Centaurea jacea)
Common Chervil (Anthriscus sylvestris)
Autumn Olive (Elaeagnus umbellata)
Japanese Sandsedge (Carex kobomugi)
Black swallowwort (Cynanchum louiseae)
Chinese wisteria (Wisteria sinensis)
Japanese stiltgrass (Microstegium vimineum)
Mile-a-minute vine (Polygonum perfoliatum)
Porcelain berry (Ampelopsis brevipedunculata)
Winged burning bush (Euonymus alatus)
Poison Hemlock (Conium maculatum)
Japanese Knotweed (Polygonum cuspidatum)
Common Reed (Phragmites australis)
Tree of Heaven (Ailanthus altissima)
Wavyleaf Basketgrass (Oplismenus hirtellus spp. Undulatifolius)
Giant Hogweed (Heracleum mantegazzianum)
Siebold's viburnum (Viburnum sieboldii)
Beach vitex (Vitex rotundifolia)
Case Study of Invasive Species Projects in the Northeast: Invasive Plant Management Support at Minute Man National Historical Park
Minuteman National Historical Park (MIMA) was awarded a grant of $15,000 by the NE IPMT for invasive plant management for the 2017 field season. The park focused on control efforts in four areas including the Battle Road, which is the route of the first battle at the outset of the American Revolution on April 19, 1775.
The program focused on chemical, mechanical, and manual removal of 12 species of invasive plants. Chemical methods included foliar and stump treatments by licensed NPS and contract applicators. Contractors provided 80 hours of mechanical treatment with a variety of heavy equipment. Numerous volunteer groups and individuals provided 1,170 hours of manual removal.
The $15,000 grant was used to partially fund an American Conservation Experience intern, and to fund mechanical removal by four contractors. Including all other matching and supplemental funds, the park leveraged an additional $67,446 to support invasive plant management activities.
MIMA staff, Margie Coffin Brown and Geoff Grossman, and two MIMA interns, Lars Boyd and Lyndon Langthorne, made significant contributions to this effort. Similar future support will ensure continued success.
Contacts for Further Information
Nick Stevenson
Northeast IPMT Team Lead
570-588-0534
email Nick
Emily Booth
Mid-Atlantic IPMT Supervisory Biologist
845-653-1466
email Emily
Aleksandra Voznitza
National Capitol Area IPMT Liaison
202-339-8317
email Aleksandra
Last updated: March 31, 2023