International Cooperation
In a 1916 letter from Interior Secretary Franklin K. Lane to first NPS Director Stephan Mather, the Service was directed to maintain contacts with national park authorities in other nations and to stay informed on their developments in order to identify areas for improvements in the U.S. National Park System.
Since that time, the National Park Service International Program has continued to promote and facilitate collaboration in preserving and understanding natural and cultural heritage throughout the world.
Sharing expertise with visiting park and conservation professionals, in addition to the National Park Service's overseas technical missions, demonstrates the full-range commitment of the Park Service in its contributions to global environmental conservation.
As such, the NPS Office of International Affairs is going places. We're working with our parks and partners to increase environmental and cultural awareness throughout the world. These are some of our current or recent projects: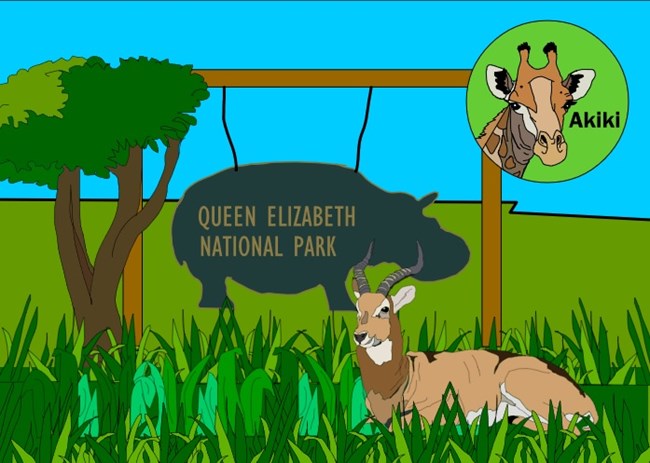 The NPS Office of International Affairs (OIA) is helping Uganda's Queen Elizabeth National Park in development of a Junior Ranger program. OIA has provided developmental guides on how to create a Junior Ranger program and created an on-line introductory animation for the park.


Iceland
As part of an ongoing program of collaboration coordinated by the National Park Service (NPS) Office of International Affairs (OIA) and the Icelandic Ministry for the Environment and Natural Resources, an NPS specialist was sent to the country to provide training to staff on strategies to address visitor safety concerns in national parks and protected areas across the country.

Two Rangers from Vatnajokull and Snaefellsjokull National Parks in Iceland also trained at New River Gorge National River last October. The Superintendent had visited several Icelandic parks the year before and was familiar with issues affecting them. She was eager to provide learning experiences to help the two rangers gain perspectives on NPS's park management. New River gave the Icelandic rangers an overview of operations, including visitor services, interpretation, resources management, special events, concessions, and risk management. Both the park staff and the Icelanders found comparing each other's systems fascinating. The new perspectives that each side gained gave them new insights into their work.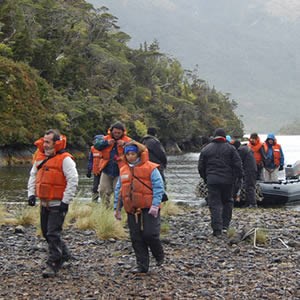 Chile
NPS and the National Oceanic and Atmospheric Administration are working together on a State Department-funded program to support Chile's network of marine and terrestrial parks and protected areas. To date, this work has included the development of several "sister park" partnerships, workshops on marine spatial planning and visitor management, and study tours of U.S. coastal and marine conservation programs.
NPS provided surplus camera trap equipment to the US Peace Corps in Paraguay, allowing Peace Corps volunteers and their Paraguayan counterparts to begin wildlife surveys in and around national parks.
The NPS sent a park planner and a GIS specialist to a Peace Corps/Mexico workshop focused on helping parks and protected areas plan for climate change impacts, while also exploring ways to help Mexican protected areas increase their public outreach and education efforts. NPS and Peace Corps are exploring other ways to collaborate (both in Mexico and elsewhere around the globe).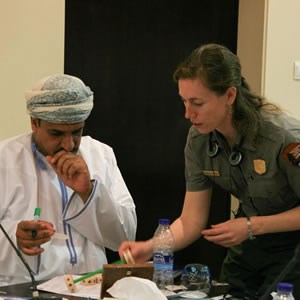 Oman
In collaboration with the Smithsonian Institution, the National Park Service recruited two interpretive park rangers to provide training to guides in Oman's national museums. Many guides had never received basic instruction on how to interpret displays or resources to visitors, answer questions or use story-telling to relate the museum pieces to visitors. The NPS interpretive rangers, along with a Smithsonian specialist, taught the four day class using leture, role-playing, and simulations to teach the class.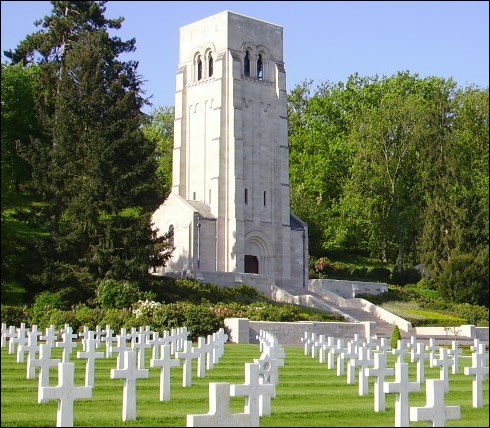 Europe
NPS Assistance to the American Battle Monuments Commission
Staff from NPS's Historic American Building Survey (HABS) and Historic American Landscape Survey (HALS) undertook fieldwork necessary to
create documentation in the form of measured drawings and historical reports for the Aisne-Marne American Cemetery, and a historical report for its associated monument in Chateau-Thierry, as well as historical reports for Oise-Aisne American Cemetery. The
comprehensive documentation package
produced by HALS and HABS will provide ABMC with baseline information needed to maintain and preserve the historic integrity of these significant resources in this year marking the 100th anniversary of America's entry into World War I.
India
Support on Heritage Preservation Training
In 2015, NPS's National Center for Preservation Technology and Training (NCPTT) signed a Letter of Intent to Collaborate with Ahmedabad University on the Development of
Heritage Management Programs
. Working through US/ICOMOS, the first concrete project to come out of this cooperation was NCPTT's hosting Chirashree Thakkar for an 8 week internship. Ms. Thakkar, a practicing architect with more than 25 years of experience, worked with NCPTT Architecture and Engineering staff on a stone database, while also being introduced to all of NCPTT's programs and the wide range of work NCPTT does with partners across the U.S. With other US/ICOMOS interns, she also participated in a study tour of sustainable architecture and preservation projects in Louisiana.
Libya
NPS Provides Assistance to Libyan Department of Antiquities
Given the dire situation in Libya, in addition to a civil war and antiquities smuggling, archeologists and preservationists must deal with the lack of a well-established legal system and uncertainty about the place of historic preservation in a post- Gaddafi Libya. An NPS archeologist travelled to Tunisia to provide training for archeologists from the Libyan Department of Antiquities, a project initiated by Dr. Susan Kane of Oberlin College, with support from the U.S. State Department's Ambassador's Fund for Cultural Preservation
.
The Libyan archeologists were being trained in digital photogrammetric methods for preserving archeological sites, landscapes, and artifacts, which may represent one means for capturing the breadth of the archeological record at this pivotal time in their history. Nearly concurrently, the U.S. Embassy in Libya and Oberlin College sponsored an "Illicit Trafficking of Antiquities" workshop, in Rome, Italy, meant to benefit archaeologists from Libya. Among the U.S. experts was a National Park Service special agent, who made presentations in evaluating archaeological site damage, assessing the impact of that damage, and preparing documentation to make a claim for investigation and repatriation of Libyan cultural artifacts appearing in the US market. He also assisted in guiding hands-on practical exercises that were part of the workshop.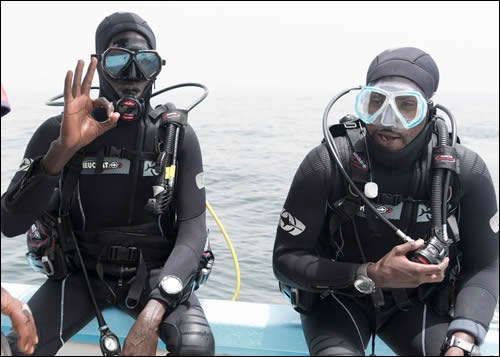 Senegal
Capacity Builidng for Submerged Cultural Resources
NPS Submerged Resources Center (SRC) staff joined Cheikh Anta Diop University (UCAD) staff and post-graduate students in Dakar, Senegal to provide technical assistance at the request of the State Department, UCAD, and other partners for underwater archeological training and capacity building.
This project is part of the larger NPS/State Department/Smithsonian/George Washington University partnership entitled
Protecting Slave Related Sites and Antiquities
(PSRSA). While in Senegal, SRC staff contributed to ongoing marine remote-sensing survey, site location, and wreck documentation efforts surrounding Goree Island near the capital city of Dakar. However, the primary objective was to further train and better equip the seven UCAD students (who will be Senegal's first underwater archeologists) to conduct further research and lead the search for submerged cultural heritage without assistance. This ongoing work and training will continue to build the Senegalese capacity and foster the protection, preservation, and study of maritime heritage sites associated with the international slave trade.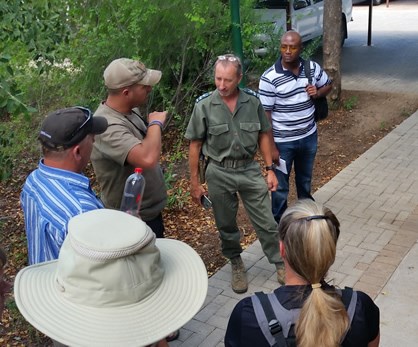 South Africa
NPS Supports Anti-Poaching Workshop at Kruger National Park
U.S. Army chief scientist Stephen Lee organized a workshop in South Africa's Kruger National Park to highlight US Army and NPS methods to combat poaching. The target audience was mid and senior South Africa National Parks (SANParks) staff along with two rangers from Namibia. NPS & US Army staff also learned about the variety of programs that SANParks employs to alleviate its shortage of rangers in the field, including drones, sound coordinating equipment and canine tactical deployments. Both sides discussed future collaborations to share lessons learned in search and rescue, tactical emergency medical operations, fire management and community involvement.
Last updated: April 10, 2020