STLPG Bulletin Information
Information about Historic Preservation Fund Grant Programs
The
State, Tribal, Local, Plans & Grants Division (STLPG) bulletin
provides information about our grant programs and is intended for both current grantees as well as anyone wanting to know more about available grant funding opportunities. When we are accepting applications, we regularly send out links to the Notice of Funding Opportunity (NOFOs) for our grant programs and other related information.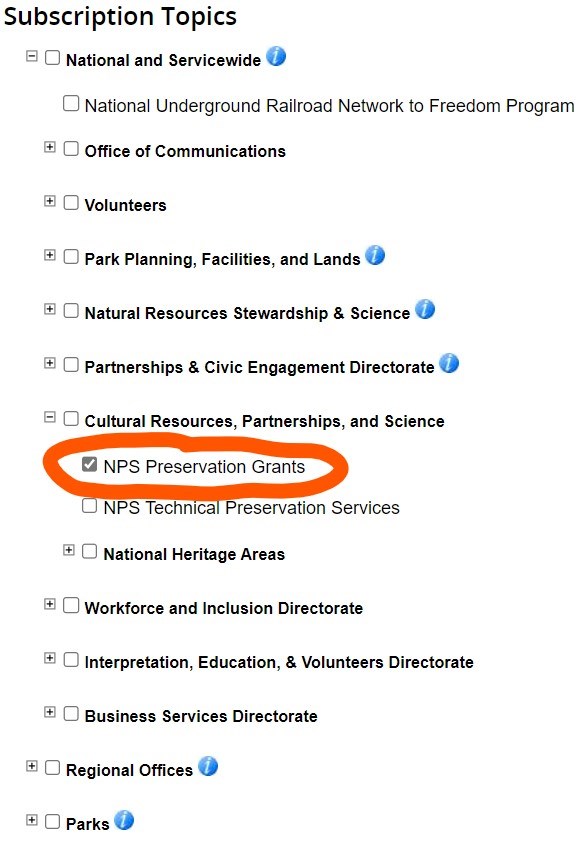 How to Subscribe
The National Park Service uses one system to manage subscriptions for program and park newsletters and bulletins. This means that you will need to select the newsletters or bulletins to which you wish to subscribe. Subscribing is a two step process:
Go to the subscription portal page and enter the email address you would like to add as a subscriber
Next, under the Subscriptions Topics menu, go to the Cultural Resources, Partnerships, and Science section and check the box next to NPS Preservation Grants and click "Submit"
How to Unsubscribe
We certainly do not want to send you emails that you do not want to receive. You are welcome to unsubscribe at any time. Unsubscribing is a two step process:
Sign in using your email address to the subscription portal page and enter the email address you would like to remove as a subscriber
Click on subscriber preferences and then check the box(es) next to newsletters or bulletins to delete your subscription
Reminders About Managing Subscriptions and Unsubscribing
If you forward your copy of the newsletter and the people to whom you forward the bulletin unsubscribe, this will unsubscribe you, as the original subscriber
Pay very close attention if you are subscribed to multiple NPS bulletins and you decide to unsubscribe to make sure you aren't unsubscribing from all bulletins
Last updated: October 28, 2022