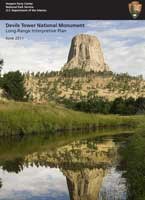 Long-Range Interpretive Plans (LRIPs) provide a vision for the future (5-10 years) of interpretation, education, and visitor experience opportunities. They identify and analyze interpretation, education, and visitor experience goals and issues. They recommend the most effective, efficient, and practical ways to address those goals and issues. LRIPs address both non-personal services (interpretive media and facilities) and personal services (programs, personal contacts). Plans match interpretive media to messages to make sure they work well individually and collectively. The interpretive planning process is sensitive to which park resource experiences should be made accessible to visitors. Negative impacts on resources are minimized, and active stewardship is encouraged.

Download Sample LRIPs
NOTE: You MUST be logged into the DOI network to access this link. If you do not have access to the DOI network, and would like to request a specific LRIP, please call Interpretive Planning at 304-535-6106.