Interpretive Planning
*Note - Printing this page will open all tabs
What is Interpretive Planning?
Interpretive planning is a strategic process that defines the overall interpretation and education goals of a park. Effective interpretive planning defines visitor experiences, recommends ways to facilitate those experiences, and ensures their accessibility. Decisions are based on current research, rooted in subject matter expertise, apply appropriate interpretation and education methods, and reflect current data and social science about visitor expectations, demographics, social trends and needs.

The interpretive planning process includes park and other NPS staff, key partners, and stakeholders; and begins with a comprehensive analysis of interpretation and education needs so that the plan reflects a variety of relevant services, facilities, and programs to best communicate the park's significance and themes while protecting and preserving park resources. See Steps to an Interpretive Plan below for specific details about the process.

The interpretive plan outlines goals and actions to create meaningful visitor experiences, meet management goals, and balance resource protection with visitor use and enjoyment. It establishes a foundation for long-term direction, short-term problem solving, and annual work plan preparation. To ensure actions can be carried out and success measured, an interpretive plan includes practical strategies for implementation and describes funding, management, and staffing alternatives. It is also reviewed annually and updated regularly.
NPS managers, staff, and partners regularly make decisions that individually and collectively affect visitor experiences. Interpretive planning is a valuable tool that helps managers, staff, and partners make deliberate, informed choices.

Specific benefits of interpretive planning are:

1. A Direct Visitor Connection: Interpretive planning directly affects every one of the 330 million annual visits to national park units and more than 162 million virtual visits through nps.gov. Few NPS planning documents directly affect so many facets of public use, enjoyment, and experience.

2. Fiscal Accountability: Interpretive planning increases fiscal accountability and transparency. It informs the use of federal and other funding. Planning prioritizes and recommends how parks allocate operations funding (and other fixed costs) and invest in media and interpretive services. Planning recommends what programs, services, and media should be funded and why as well as which investments collectively and strategically will provide long-term public benefits.
Participants in planning efforts report that the primary benefit of planning is the process, including relationships and mutual understanding that are built. Planning provides opportunities for discussion and collaboration. Additional benefits include:

Public: Interpretive plans envision current and future relevant services, programs, and experiences that are the core of the NPS mission to provide for public enjoyment.

NPS Leadership and Park Managers: Interpretive plans provide NPS leaders and park managers with realistic goals and actions that lead to better organizational and individual accountability. In addition, an interpretive plan has focus, provides direction, sets priorities, and reflects informed choices.

Workforce: Interpretive plans provide park staff and partners with mutual understanding and a common direction. As a result, participants feel engaged in planning the park's future interpretive and educational programs and services. They also strengthen personal and professional relationships, share responsibilities, and recognize realistic perspectives.

Partners: Interpretive planning strengthens formal and informal partnerships. The process brings increased understanding of each organization's respective role and niche within the interpretive and educational program, its networks, and communities. Interpretive planning illuminates the intersections where value is added by partnership and collaboration.

Regional and WASO Program and Fund Managers also benefit because interpretive planning identifies priorities that help allocate scarce fiscal resources. Planning also encourages administrative efficiencies, can save time and effort, and increase individual and group accountability.
Authority and Policy
The authority for Interpretive Planning comes from chapters two and seven of NPS Management Policies (2016). The authority is reiterated in Director's Orders #2: Planning. Interpretive planning is required by Director's Order #6: Interpretation.

Authority for NPS interpretive and educational programs is contained in the 1916 National Park Service Organic Act; the 1935 Historic Sites, Buildings, and Antiquities Act (16 USC 462(j)); the National Environmental Policy Act of 1969 (42 USC 4332(G)); the National Parks Omnibus Management Act of 1998 (16 USC 5911); and the National Park Service Centennial Act (2016). Some parks have specific mandates from Congress to provide public interpretation and education experiences in their enabling legislation or other establishment authority.

NPS Management Policies specify that, "Other interpretive plans, such as education plans, exhibit plans, wayside exhibit plans, publications plans, historic furnishings plans, and scope of sales will be based on the Long Range Interpretive Plan."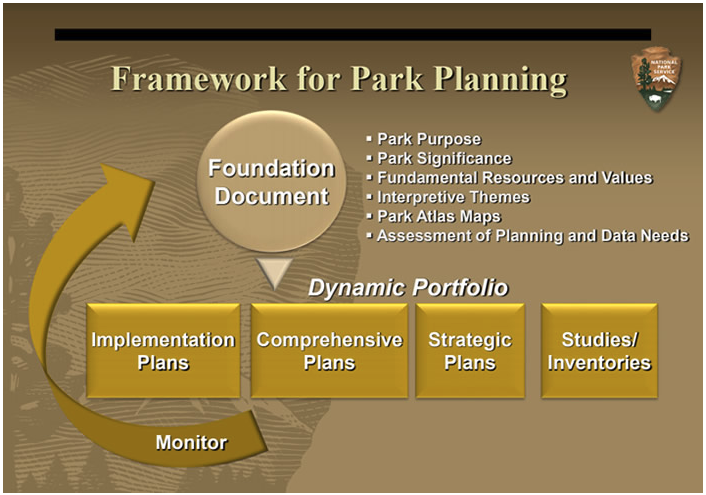 This graphic, adapted from the NPS Planning Framework, shows how interpretive planning (a strategic plan) aligns with the NPS Framework for Park Planning:

The Visitor Use Management Plan (VUM Plan) is a plan designed to examine current and potential visitor opportunities and develop long-term strategies for enhancing access, connecting visitors to key experiences, and managing use to protect desired conditions.

A VUM Plan can help address the following:
assess the opportunities for and appropriateness of new visitor activities

enhance opportunities to connect visitors to the park's fundamental resources and values

minimize impacts to resources and visitor experiences caused by visitor use

manage visitor demand at popular destinations

balance tradeoffs between different visitor use management strategies
The visitor use management planning process examines current and potential visitor opportunities and use patterns and identifies implementable management strategies. Depending on the specific opportunities and needs, the visitor use management plan may include the following elements:
documentation of desired conditions along with relevant indicators, thresholds, and visitor capacities

an analysis on the feasibility and appropriateness of providing new or expanded recreation opportunities (e.g., more direct access to key visitor experiences, introducing new recreation activities in an area)

detailed guidance on providing for and managing particular visitor activities or changes to existing facilities (e.g., climbing, boating, overnight use, motorized use)

an assessment of the need for new visitor use facilities or changes to existing facilities (e.g., campsites, trails, day use areas)

identification of strategies for addressing various visitor use issues (e.g., crowding, visitor conflicts, resource impacts)
While a VUM Plan identifies desired conditions for a range of things including resources, visitor experiences, and facilities, it has a different but complementary function within the NPS planning framework than a strategic plan for interpretation and education (i.e., interpretive plan).
The Interpretive Planning Process
While all park units are required to have plans, not all parks are equally prepared to begin planning. Readiness makes the difference. Prepared parks typically complete other studies and assessments (e.g., historic resource studies, historic furnishings reports, trail management plans, accessibility assessments, transportation plans, etc.) that inform the development of, or are intended to be implemented through an interpretive plan. Regional offices can advise and help parks determine if they are ready to begin the interpretive planning process.

Some questions to consider before the planning process begins may include:
Are key management positions vacant (especially the superintendent and chief of interpretation)?

Do the park leadership team and the interpretation and education team work collaboratively?

Does the park have established, effective relationships with formal and informal partners? With local community organizations and constituents (e.g., tribal nations, other federal or state managed lands)? Or, will a planning workshop be the first-time park and partners meet?

Parks must consider staff capacity and skills. Does the park have time to commit to an 8 to 12-month planning process? Before the planning process begins, does the park have the time and resources to provide any necessary training?
Starting the Process
Gather data (what data is available, important, needed?)

Conduct existing conditions assessment (what's working/not working?)

Identify and engage key stakeholders
Produce the Plan
Confirm the elements of the Interpretive Plan

Foundation for Planning: The Foundation Document components of purpose, significance, fundamental resources and values, and interpretive themes inform the development of the interpretive plan. Each park assesses current interpretive themes and identifies a vision for the future, target audiences, and challenges and opportunities.

Recommendations: Recommendations define the interpretive and educational goals and actions for the next 5 to 7 years. Goals and actions should be practical, achievable, realistic, and sustainable. Recommendations describe the blend of existing programs and services that will continue to be offered as well as future opportunities.

Implementation Strategy: A timeline outlining when the park will address goals and actions during the next 5 to 7 years. The support and funding opportunities required to achieve the goals and actions are sometimes identified.

Define the process: Hold workshops to gather input from interdisciplinary teams

Write, edit, produce, and approve the Interpretive Plan
Closeout and Evaluation
Conduct immediate, 6-month, and 1-year evaluation

Debrief project
Implementation and Annual Planning
Prepare annual work plans

Update implementation chart annually or as needed
For more information, see
Appendix 1
for a process chart that describes the interpretive planning process.
Are Interpretive Plans Customizable?

While all interpretive plans have standard elements in common, each can be customized to meet an individual park's needs, conditions, and situations. Interpretive planning is intentionally flexible, interdisciplinary, and responsive to park needs. Discussion about parks needs is a critical element in the intitial phases of the planning process.

The interpretive planning process and interpretive plan framework may be adapted to meet park needs. Here are some examples:

- HATU: Interior Region 1 (NER) creates and provides a planning document to newly established parks that identifies the most immediate (1-2 years) goals and actions.

- PRWI and CATO: Interior Region1 National Capital Area (NCR) works with parks to update Long-Range Interpretive Plans when most of the existing plan is still applicable.

- ADAM: The interpretive planning process was structured to include other planning studies such as a transportation study and a specifc site plan to creat an overall "visitor experience plan."

- ZION/PISP/CEBR: THe Zion Foreve Project (cooperating association, friends group, and philanthropic partner) used the interpretive planning process to produce a strategic plan that aligns with park interpretation and education goals.

- MOCO: a site-specific LRIP was produced (using interpretive planning steps and elements outlined above) by BLRI and partners to inform a 5-year capital campaign.

- GLBA: In cooperation with the Huna, the Huna Tribal House LRIP was produced to identify and implement individual and collective interpretive and educational goals and actions for both the Huna and park.

-GWCA: During the LRIP process, the park partnered with local educators to update the Education Planand align interpretive and educational goals and actions.

-BLRI: The BLRI interpretive and educational team used elements of the interpretive planning process to produce a division strategic plan.
Getting a Plan Done
The NPS has always used a variety of sources to develop interpretive plans. Parks may work with Harpers Ferry Center (HFC), a regional office, or independently contract interpretive planning services. When contracting services, a Contracting Officer's Representative (COR) is required. HFC, a regional office, or the park may provide the COR.

An effective interpretive planner must have meeting and facilitation, organizational, problem solving, team building, writing, and editing skills. The planner should have an understanding of the costs and choices available in current media applications and personal services. Depending on the goals for planning, a core park planning team may include the planner/facilitator, park superintendent, park chief of interpretation (or equivalent), other key park staff, and regional office staff. The larger planning group may include key partners, educators, media specialists, subject matter experts, and others.

While some parks may consider producing their plan in-house, most prefer to hire an outside interpretive planner (e.g., HFC, Region, or contract) to oversee and facilitate the process. Experience has shown that it is neither an easier task, nor a cheaper solution for parks to manage a planning process themselves. HFC and regional offices are available to provide additional technical expertise and guidance for parks that decide to develop interpretive plans on their own.

Planning takes a considerable time commitment (which most people underestimate). It takes expertise and experience to recommend a range of current media, approaches, and solutions, and it takes focus, flexibility, reflection, and adjustment to run a months-long planning process. A park interpretation leader who takes the role of facilitator and planner also agrees to be a neutral party managing the process, not a participant who is able to fully engage and share ideas. Many who take on this role find it challenging to maintain objectivity and perspective, and to manage peers (other division chiefs), supervisors, and superiors (superintendents) through the planning process. For these reasons, we? HFC? NPS? usually recommends using a facilitator/planner from outside the park.
While interpretive plans are required by policy, NPS has no single, dedicated fund source for interpretive planning. Parks have used ONPS funds, FLREA (100%, 80%, and 20%) funding, WASO IE&V funding, and donation funds.
Costs vary depending on circumstances related to who is producing the plan, the resources and expertise available to the planning team, and the availability of park and regional staff as well as partner organizations. Below is a table that outlines cost and schedule considerations along with some advantages and limitations for each option.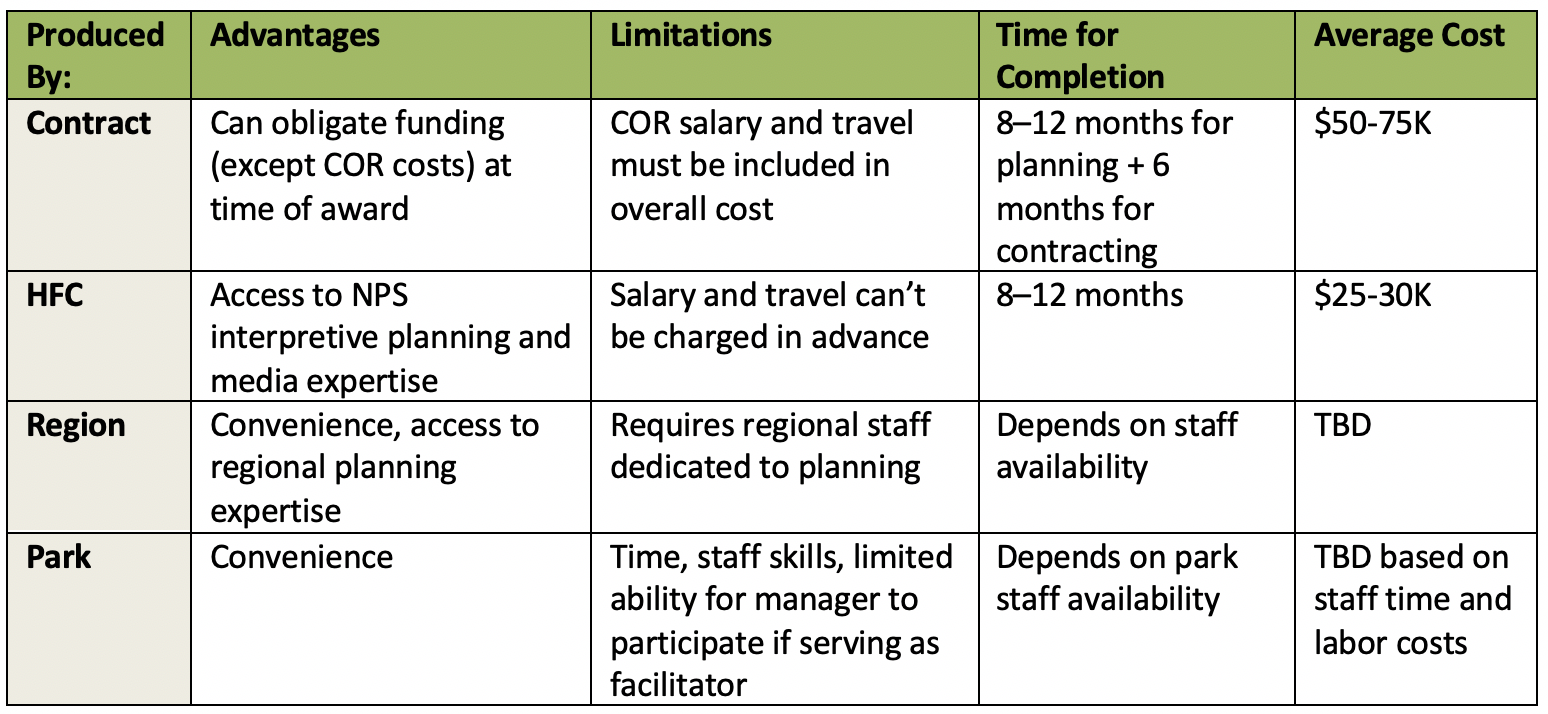 Above is a table that outlines cost and schedule considerations along with some advantages and limitations for each option.
Additional Information
Harpers Ferry Center interpretive planners are trained and experienced in interpretation planning, education planning, visitor experience planning, strategic planning, meeting facilitation, interpretive media effectiveness, and assessment and evaluation.

You will need to take the following steps to initiate an interpretive planning project:
Assess your needs and determine what you are planning for and what results you want to achieve

Talk to your regional interpretation and educational office team to discuss your needs and funding options

For more information on interpretive planning contact HFC.
All of the interpretive plans that HFC has helped parks complete since 2008 are available for download. These include both HFC-produced and contractor-produced plans. Each plan is listed under the region where the park is located.

Long-Range Interpretive Plans (LRIPs)
An NPS Evaluation of Interpretation and Education Services gives interpreters, interpretive programs and media, and park management credibility. In addition, evaluation makes them accountable and responsible for visitor experiences. Can NPS interpreters provide proof that their programs and media are accomplishing the goals they have set?
The National Education Council funded an Evaluation of Interpretation and Education Services (September 2010 - May 2012) conducted by MPR Museum Consulting. That allowed three parks to answer that question. The project included three pilot park and one service wide component. The parks that were selected to participate were Hawaii Volcanoes National Park (HAVO), Cuyahoga Valley National Park (CUVA), and Kennesaw Mountain National Battlefield Park (KEMO).
The three pilot park projects informed and improved the relevancy and effectiveness of programs and media for underserved audiences. All of the projects employed multiple evaluation methods. Park staff assisted MPR Museum Consulting. with some of the evaluation studies and conducted others themselves. All applied the results to create new and improve existing interpretive services.
A "Fearless Evaluation" webinar was presented on March 6, 7, and 8, 2012 and more than 60 NPS interpreters and educators participated. The webinar discussed the pilot park studies and revealed practical, economical, and useful evaluation methods that all parks can use. The "Fearless Evaluation" manual was a companion piece to the webinar.
A Literature Review was conducted and the Summary Report of the NPS Evaluation of Interpretation and Education Services Project was completed in May 2012.
Last updated: December 2, 2020