National Heritage Areas Podcast Season 2 (2018)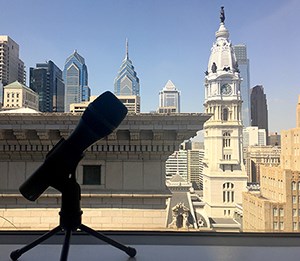 The National Heritage Areas Podcast returns in 2018 with a second season. Listen as Program Manager Peter Samuel and (SCA) Communications Coordinator Francesca Calarco discuss different types of arts, trails, and history programming in the country's heritage areas. In each episode, we dive into how National Heritage Areas (NHAs) operate and work to benefit their communities.

Stream and/or download the Season 2 episodes below.

Enjoying this podcast? Make sure to check out the other seasons!
1. Introduction - National Heritage Areas & Communities

In this episode, NHA Communications Coordinator, Francesca Calarco sits down with NHA Program Manager, Peter Samuel to discuss how heritage areas operate, how they can benefit their communities, and plans for up-coming episodes.

Credit / Author:

NPS Northeast Region

Date created:

10/14/2020
2. The Mastheads - Arts Programming in Upper Housatonic Valley National Heritage Area

In this episode, Francesca speaks with Upper Housatonic Valley's Executive Director, Dan Bolognani and The Mastheads' Architect and Co-Founder, Tessa Kelly. We discuss the Upper Housatonic Valley National Heritage Area, its involvement in The Mastheads program, as well as The Mastheads' role in interpreting the literary history of the heritage area.

Credit / Author:

NPS Northeast Region

Date created:

10/14/2020
3. Cycle the Erie Canal - Trails in New York State

In this episode, Francesca speaks with Andy Kitzmann, Assistant Director of the Erie Canalway National Heritage Corridor, and Jamie Meerdink, Project Director of Parks & Trails New York. We discuss the annual event Cycle the Erie Canal where cyclists traverse across New York from Buffalo to Albany, as well as the use and importance of trails in New York state.

Credit / Author:

NPS Northeast Region

Date created:

10/14/2020
4. Pedal and Paddle - Recreation in Schuylkill River Greenways National Heritage Area

In this episode, Francesca speaks with Deputy Director Tim Fenchel and Trail Program Coordinator Julia Hurle from Schuylkill River Greenways National Heritage Area. We discuss the heritage area's background, an overview of a biking and kayaking event series called 'Pedal and Paddle,' as well as other recreational opportunities within the heritage area.

Credit / Author:

NPS Northeast Region

Date created:

10/14/2020
5. History and Social Justice - Niagara Falls Underground Railroad Heritage Center

In this episode, Francesca speaks with Director & Curator Ally Spongr and Visitor Experience Specialist Saladin Allah of the Niagara Falls Underground Railroad Heritage Center. We cover the heritage center's connection to the Niagara Falls National Heritage Area, how the heritage center brings stories of the Underground Railroad to life, and how they work to connect narratives of the past to social justice efforts in the present.

Credit / Author:

NPS Northeast Region

Date created:

10/14/2020
6. Baltimore Immigration History Part 1

In this episode, Francesca speaks with Baltimore National Heritage Area's Director of Historic Preservation and Interpretation Jason Vaughan and Baltimore Immigration Museum's Historian Nick Fessenden. We discuss the heritage area's role in interpreting Baltimore's immigration history, background on the Baltimore Immigration Museum, and Baltimore's largest immigrant group in the 1800's, the Germans.

Credit / Author:

NPS Northeast Region

Date created:

10/14/2020
7. Baltimore Immigration History Part 2

In this episode, Francesca speaks with two more guest panelists at the Baltimore Immigration Museum. Conor Donnan, Board Member of the Irish Railroad Workers Museum, talks about Irish immigration history in Baltimore. Prof. Herbert Brewer from Morgan State University talks about how enslaved and freed African Americans, while not "immigrants," also shaped the city of Baltimore in the 1800s.

Credit / Author:

NPS Northeast Region

Date created:

10/14/2020
8. Baltimore Immigration History Part 3

In this episode, Francesca speaks with two more guest panelists. Historian Deborah Weiner discusses different waves of Jewish immigration from Germany and Eastern Europe in the 1800's and 1900's. Author Rafael Alvarez discusses Italian immigration into Baltimore in the 1800's, as well as present day Italian American experiences.

Credit / Author:

NPS Northeast Region

Date created:

10/14/2020
9. Conclusions & Thank You's

In this episode, Peter and Francesca reflect on this season's podcast series, and try to thank as many people as possible.

Credit / Author:

NPS Northeast Region

Date created:

10/14/2020
10. Bonus - NHA Podcast Theme Music

Produced by Suzie Calarco (Volunteer Audio Engineer) Performed by Suzie Calarco and Sam Wolf.

Credit / Author:

NPS Northeast Region

Date created:

10/14/2020
Last updated: April 12, 2019