Celebrate Success
National Heritage Areas are a grassroots, community-driven approach to heritage conservation and economic development. Through public-private partnerships, NHA entities support historic preservation, natural resource conservation, recreation, heritage tourism, and educational projects.
Check-out our
2015 impact numbers
and
2016 impact numbers
Leveraged $45.5 million in cash and in-kind support to carry out heritage projects and program, increasing the impact of the $18.8 million in federal Heritage Partnership Program funding received by 48 organizations.
Engaged 41,135 volunteers contributing over 660,401 hours for heritage area projects – a $14.6 million dollar value.
211 historic sites and 10,442 acres of cultural landscapes preserved and maintained, including battlefields.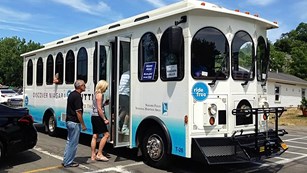 Niagara Falls National Heritage Area
Niagara Falls National Heritage Area launched the Discover Niagara Shuttle, connecting visitors to over 12 heritage area destinations.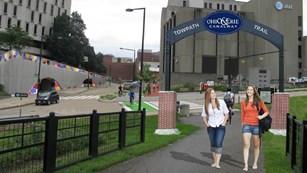 Ohio and Erie Canalway
Through the iTowpath project, Ohio and Erie Canalway National Heritage Area is enhancing the Towpath Trail with urban partners.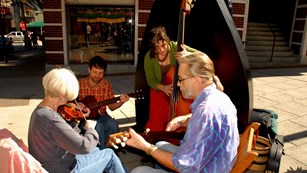 Blue Ridge National Heritage Area
The Blue Ridge Music Trail guides visitors through the traditional music of the North Carolina mountains and foothills.
National Heritage Areas Program
Last updated: June 7, 2018