Fossil Parks Master List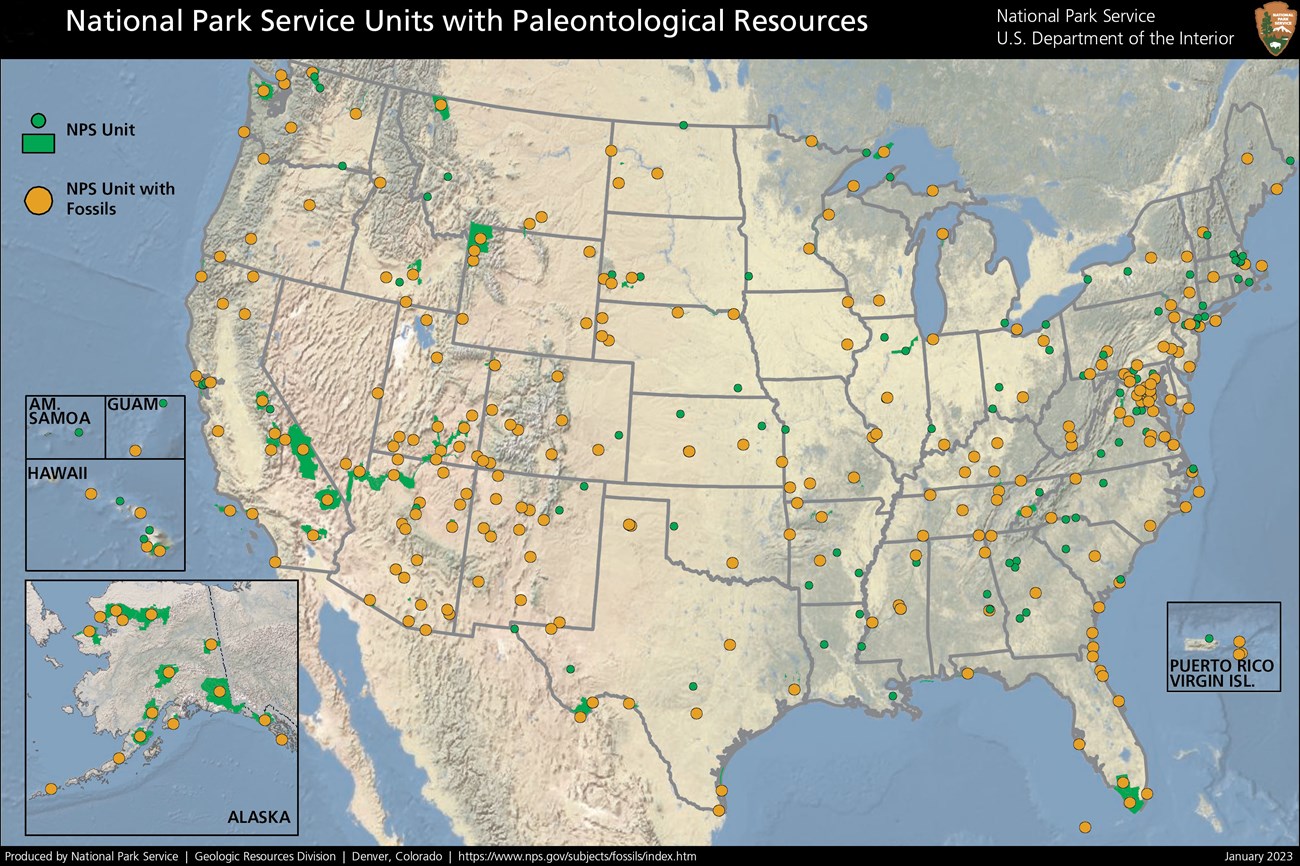 Master List of Parks with Fossil Resources
Use this sortable listing of park units to find fossil parks by Name, State, Region, or Network.
| Order | Park Unit (Code) | State | DOI Region | Former NPS Region | I&M Network | Geodiversity Atlas | Park Website | External History Site |
| --- | --- | --- | --- | --- | --- | --- | --- | --- |
Special Notations
"(affiliated)" is used with non-NPS area names that are linked in importance and purpose to places managed directly by the NPS. Affiliated Areas are designated by acts of Congress or by the Secretary of the Interior.

"MULTIPLE" is used for park units that span several regions

Singular regional designations for multi-region trails represent the location of the trail's headquarters.

"NONE-[network acronym]" is used for NPS units with no officially designated network association. The network most closely related to the unit's geographic location is noted in brackets.
Full Listing of Region and Network Names and Abreviations
Unified Interior Regions
Region 1a: North Atlantic – Appalachian

Region 1b: National Capital

Region 2: South Atlantic – Gulf

Region 3: Great Lakes

Region 4: Mississippi Basin

Region 5: Missouri Basin

Region 6: Arkansas – Rio Grande – Texas – Gulf

Region 7: Upper Colorado Basin

Region 8: Lower Colorado Basin

Region 9: Columbia – Pacific Northwest

Region 10: California – Great Basin

Region 11: Alaska

Region 12: Pacific Islands
 Old NPS Regions
AKR: Alaska Region

IMR: Intermountain Region

MWR: Midwest Region

NCR: National Capitol Region

NER: Northeast Region

PWR: Pacific West Region

SER: Southeast Region
Inventory & Monitoring Networks
Appalachian Inventory & Monitoring Network (APHN)

Arctic Inventory & Monitoring Network (ARCN)

Central Alaska Inventory & Monitoring Network (CAKN)

Chihuahuan Desert Inventory & Monitoring Network (CHDN)

Cumberland Piedmont Inventory & Monitoring Network (CUPN)

Eastern Rivers and Mountains Inventory & Monitoring Network (ERMN)

Great Lakes Inventory & Monitoring Network (GLKN)

Greater Yellowstone Inventory & Monitoring Network (GRYN)

Gulf Coast Inventory & Monitoring Network (GULN)

Heartland Inventory & Monitoring Network (HTLN)

Klamath Inventory & Monitoring Network (KLMN)

Mediterranean Coast Inventory & Monitoring Network (MEDN)

Mid-Atlantic Inventory & Monitoring Network (MIDN)

Mojave Desert Inventory & Monitoring Network (MOJN)

National Capital Region Inventory & Monitoring Network (NCRN)

North Coast and Cascades Inventory & Monitoring Network (NCCN)

Northeast Coastal and Barrier Inventory & Monitoring Network (NCBN)

Northeast Temperate Inventory & Monitoring Network (NETN)

Northern Colorado Plateau Inventory & Monitoring Network (NCPN)

Northern Great Plains Inventory & Monitoring Network (NGPN)

Pacific Island Inventory & Monitoring Network (PACN)

Rocky Mountain Inventory & Monitoring Network (ROMN)

San Francisco Bay Area Inventory & Monitoring Network (SFAN)

Sierra Nevada Inventory & Monitoring Network (SIEN)

Sonoran Desert Inventory & Monitoring Network (SODN)

South Florida/Caribbean Inventory & Monitoring Network (SFCN)

Southeast Alaska Inventory & Monitoring Network (SEAN)

Southeast Coast Inventory & Monitoring Network (SECN)

Southern Colorado Plateau Inventory & Monitoring Network (SCPN)

Southern Plains Inventory & Monitoring Network (SOPN)

Southwest Alaska Inventory & Monitoring Network (SWAN)

Upper Columbia Basin Inventory & Monitoring Network (UCBN)
Last updated: August 8, 2023