Other Energy and Mineral Development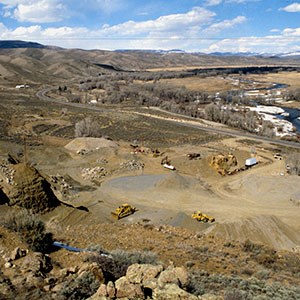 Other types of energy and mineral rights in park units may include precious metals, common variety minerals (sand and gravel), coal, and other types of minerals. Approximately 200 park units contain these types of nonfederal energy and mineral rights, generally because the rights already existed when the park unit was established but were not acquired by the U.S. The NPS may issue a Special Use Permit and ensures compliance with other applicable laws and regulations.
Nonfederal Minerals
The term "nonfederal minerals" refers to all minerals, mineral materials (such as sand and gravel), and geothermal resources within park boundaries that are owned by nonfederal parties. This term does not include nonfederal
oil and gas
, or the minerals on patented
mining claims
. Usually, nonfederal minerals in parks are sand and gravel deposits.
In some cases, the nonfederal mineral owner owns both the surface land and the subsurface mineral estate. In others, the nonfederal mineral owner owns only the subsurface mineral estate, while the federal government owns the surface estate.
For information about the permitting requirements associated with nonfederal energy and mineral operations in park units, see our
permits page
.
Last updated: November 16, 2016