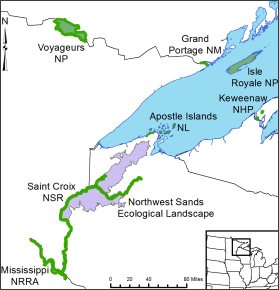 A new paper (
Tweiten et al. 2015
[PDF]) shows that soils and local climate can strongly influence how forests respond to climate change. This page briefly summarizes the findings, which are part of ongoing work of the National Park Service Climate Change Response Program and collaborators to support park adaptation to changing conditions. Consult the
full project brief
[PDF] for more in-depth information.
Background
Climate change impacts to North American forests are already evident, and act alongside – and sometimes amplify – impacts from nonnative pests and disease, pollution, and habitat fragmentation. Stewarding natural resources in an era of continuous change will require a long-term, strategic view that adapts management goals and approaches to the effects of both shifting climate baselines and increased variability. Better understanding of how local factors at the management-unit level influence climate change impacts can inform stewardship decisions.
Paleoecological studies based on pollen and charcoal records from lake-sediment cores can be used to reconstruct past responses to climate variability, and suggest where and how to focus monitoring, management, and research. This study characterized soils, modern climate, and differences in past fire regime around 12 lakes in northwestern Wisconsin (see Figure 1) to determine whether observed landscape patterns in geophysical factors or local climate correspond to differences in past variability in forest composition.