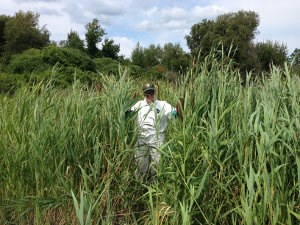 Rapid changes in climate and the introduction and spread of invasive species are fundamentally changing the natural and cultural landscapes of national parks. These factors have cascading effects on resource management, park operations, and visitor experience. Adapting management to continuously changing conditions requires understanding ecosystem dynamics and interactions among these global change stressors.
Invasive species include terrestrial and aquatic plants, animals, diseases, and other organisms and are defined as "those species that occupy or could occupy park lands directly or indirectly as a result of deliberate or accidental human activities" (NPS Management Policies 2006). Invasive species, commonly referred to as nonnative, alien, and exotic species, are defined as organisms that are not native to an ecosystem and whose introduction does or is likely to cause economic or environmental harm or harm to human health (EO 13112). Climate change refers to a significant long-term shift in weather variables and includes not only shifts in mean conditions (e.g., increasing mean annual temperature and sea level) but also changes in climate variability (e.g., more intense storms and flooding). Direct, indirect, and interactive effects of climate change and invasive species in parks include:
alteration of ecological processes

displacement or harm to native species

damage to cultural resources and disruption of cultural landscapes, and

creation of public safety hazards.