CLG Benefits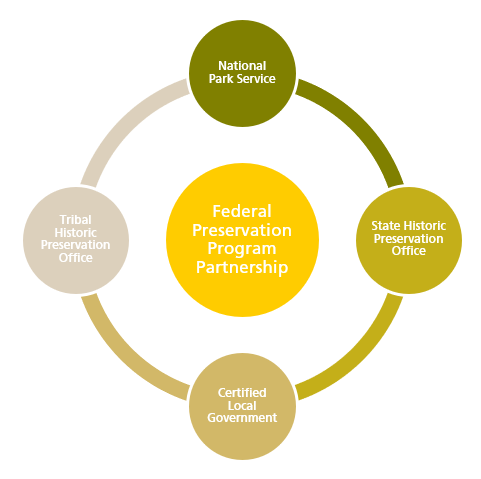 Why Become a Certified Local Government
Community certification opens doors to legal protection, funding, technical assistance, and other benefits related to historic preservation.
Protection: Certified Local Governments (CLGs) are all required to make a written, legal commitment to protect and designate a community's irreplaceable historic properties in accordance with State and local laws.

Funding: States receive annual appropriations from the Historic Preservation Fund. States are required to give at least 10% of their funding to CLGs as subgrants. These grants can fund a wide variety of projects including: surveys, National Register nominations, rehabilitation work, design guidelines, educational programs, training, structural assessments, and feasibility studies, to name a few.

Technical Assistance: As a CLG, communities have direct access to SHPO staff for assistance with their commission, building assessments, surveys and nominations, and general preservation assistance. State staff and the NPS offer regular training for CLGs as well, an added benefit of the partnership. Each SHPO has a designated CLG Coordinator.

Sustainability: Historic preservation has proven economic, environmental, and social benefits. Studies show that historic districts maintain higher property values, less population decline, more walkability and greater sense of community.
Being a CLG demonstrates your community's commitment to saving what is important from the past for future generations. As a certified community, it becomes easy to demonstrate a readiness to take on successful preservation projects, making your community able to compete for new opportunities!
Local Preservation Tools
Local preservation is the most powerful expression of a community's history—a history that is felt, seen, and heard every day by its citizens and visitors. Preservation efforts help define the community's identity and the way that people live in the community. Preservation ensures that the special places that tell the stories of a community's past and present are used, revitalized, and carefully tended for the future. Well-planned and implemented local preservation work results in economic, social, and environmental benefits that can transform communities into more prosperous, healthier places to live, work, and grow.

The National Park Service provides information about preservation planning, heritage tourism development, training for local preservation commissions, historic resource surveys and technologies, documenting and designating local resources, and preservation laws, regulations, and standards
Below are some examples of what Certified Local Governments (CLGs) have been able to produce with Historic Preservation Fund (HPF) assistance. Using HPF funds for their local projects, CLGs across the country have produced a wide variety of products to encourage stewardship of historic resources, raise public awareness for local historic landmarks, and prioritize specific preservation projects within their jurisdictions. Projects have included preservation newsletters, documentary movies, publically available brochures, local government websites, historic structure reports, local historic resource inventories, preservation guidelines, and multi-year historic preservation plans.

The links below connect to the NPS Integrated Resource Management Applications Portal (IRMA). The IRMA Portal is a web-based "one-stop" for data and information related to NPS natural and cultural resources. From IRMA you can search for, view, and download documents, reports, publications, and data sets in just a few clicks!

Check out the links to IRMA below to see some of the things your local community could produce as a CLG!
Last updated: November 19, 2021