Japanese Stone Lantern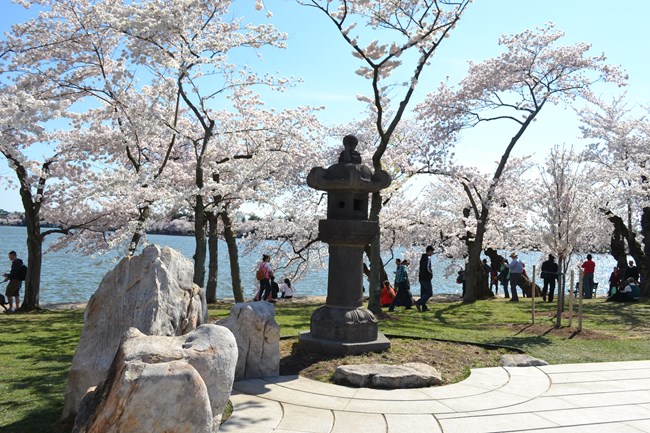 Originally offered by the Japanese in November 1921, a photograph was sent of the proposed lantern with a written proposal. The Commission of Fine Arts reviewed the photograph and proposal and suggested a smaller decorative lantern instead. Unfortunately, Japanese-American relations were then strained by confrontational meetings that occurred during the Washington Naval Conference, and the Japanese postponed the offer indefinitely. Further preempted by World War II, this stone lantern was finally dedicated on March 30, 1954.

Presented to the city of Washington on March 30, 1954, this stone lantern symbolizes the enduring cultural partnership that re-emerged between Japan and the United States after World War II. The lantern is one of two, memorializing Tokugawa Iemitsu, the third shogun, or military lord, of the Tokugawa Dynasty, under his posthumous name Daiyuinden. Carved in 1651, it stood for over 300 years on the grounds of the Toeizan Kan'eiji Temple which contained the remains of the Tokugawa Shoguns. The temple was located in the ancient city of Edo, present - day Tokyo, in Ueno Park, a place famous for its cherry blossoms. Its mate stands there to this day.

The stone lantern continued the gift giving cycle that began in 1912 with Japan's donation of cherry trees. Given to the United States in 1954, it commemorates the 100th anniversary of Commodore Matthew Perry's historic mission to Japan and stands as a gesture of everlasting peace and friendship. A representation of the concept of healed wounds, the lantern acknowledges the peaceful union between the Japan and the United States.

The granite lantern, older than the United States itself, stands eight and a half feet tall and weighs two tons (4,000 pounds). It resembles the lanterns that were introduced to Japan from China along with Buddhism. These lanterns initially adorned temple grounds and were later used decoratively in Japanese gardens. As the oldest free-standing, man-made stone structure standing outdoors in D.C., the lantern takes its place among the many natural and cultural treasures on the National Mall.

The Japanese lantern symbolizes open trade and friendship between nations and was gifted to commemorate the treaty of trade and friendship signed by the two nations exactly one century earlier. The symbolism is ironic because the lantern originally represented the opposite. The lantern and its twin still viewable in Tokyo, were created in 1651, as a funeral monument to Tokugawa Iemitsu, who expelled all foreigners from Japan, stopped foreign trade, and closed the borders. Tokugawa Iemitsu's policy was so strict that, if a Japanese person came into contact with Europeans, they would be arrested and executed if they returned to Japan. When shipwrecked Japanese sailors were occasionally rescued by European or American ships, they needed to restart their lives elsewhere, often in communities of Japanese expatriates around the Pacific. The closed door or "Sakoku Policy" remained in effect for over 200 years. It ended in 1854, when Admiral Perry convinced Japan to sign a trade agreement with the United States.
In the United States, the encounter is often depicted as Perry, commanding a "black fleet" of technologically advanced warships, forcing open the closed doors of Japan against its will, but for its own good. Not true. Perry did have a technological advantage, but Japan had repelled earlier European attempts to violate their closed door policy and establish trade and were prepared to expel Perry. The Japanese calculated the damage Perry's fleet could inflict and knew he could not conquer Japan with the 4 ships he commanded when he belligerently delivered his demands for a treaty. The United States succeeded where others had failed for two entirely different reasons. First, he made his demands when Japan, aware that they were falling behind other countries technologically, was already deciding to open their country. Second, unknown to Perry, Japanese leadership had a positive opinion of the United States due to the kindness shown a Japanese refugee.
Over a decade earlier, in 1841, an American whaler rescued a crew of shipwrecked Japanese fishermen. Now tainted by foreign contact, the crew could not return to Japan, so they were brought to Hawaii. However, the captain of the whaler was so impressed by 14 year old "John" Manjiro that he adopted him as a son and brought him back to his home in Fairhaven, Massachusetts. Captain Whitfield enrolled John in the Oxford School where he studied English and navigation. After graduating, he served on a whaler and then made a respectable strike in the California gold rush. With his small fortune, Manjiro financed his return to Japan with books and maps, especially concerning seafaring and navigation. He was arrested, but rather than being executed, he was treated well and questioned about the United States. One year later, in 1852, he was returned to his village and his mother. It had been 12 years since his departure.
When Perry delivered his treaty offer about a year later, John Manjiro was summoned to the capitol. The United States was not a super power and not a likely candidate with whom to enter into Japan's first international trade treaty. However, they had an offer in hand and an expert on American culture. Manjiro admitted Americans were barbaric, giving cows' milk to their children and kissing their women in public, but they were decent and honest and can be trusted to abide by a contract.
Proffessor Tetsuo Kawasumi of Keio University writes, "It is impossible to measure the service rendered by Manjiro in enabling Japan to accept the Japan-United States Friendship Treaty." Speaking at Captain Whitfield's home, now a museum, President Coolidge said, "When John Manjiro returned to Japan, it was as if America had sent its first ambassador. Our envoy Perry could enjoy so cordial a reception because John Manjiro had made Japan's central authorities understand the true face of America." Rescuing this one refugee has had a timeless impact.



The National Park Service and the National Conference of State Societies (NCSS) have conducted the Lantern Ceremony together since 1954. The lantern is lit by the Embassy of Japan's appointed Cherry Blossom Princess, as it has been done for over 50 years. The audience will count down from five, and like the Olympic torch, the lantern is lit in an exciting traditional event that signals the arrival of spring and represents one of the most beautiful times in the Nation's Capital.
Last updated: February 2, 2017