Directions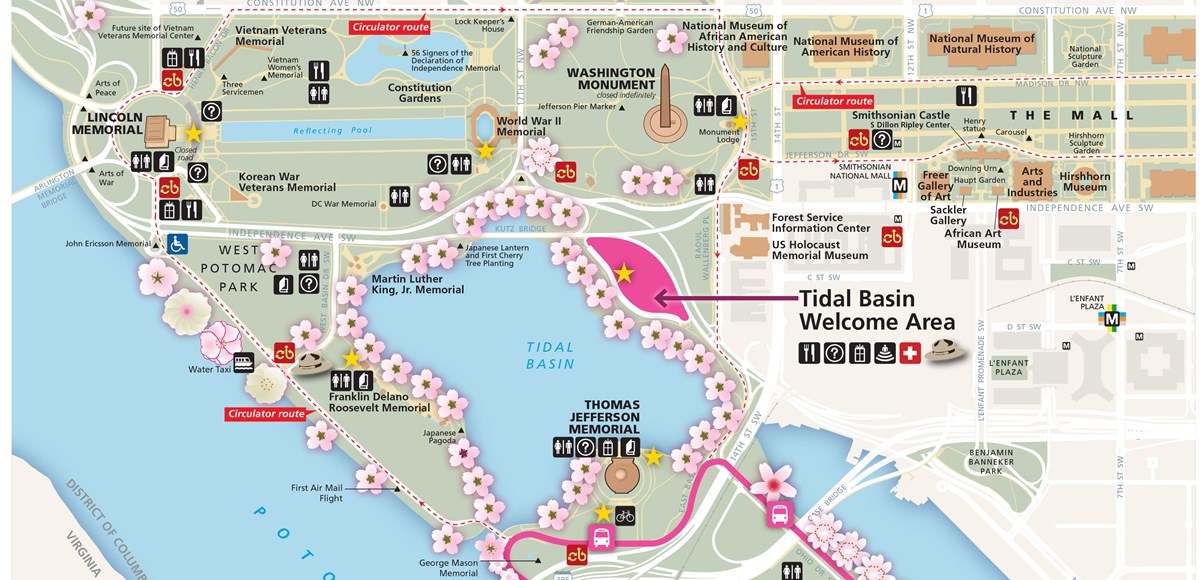 How to get to the National Cherry Blossom Festival:
Public Transportation is the best option for traveling to the National Mall and Memorial Parks during the Cherry Blossom Festival. If you choose to drive, be prepared for severe traffic congestion and scant parking availability.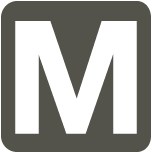 Metro
The Washington Metro Area Transit Authority (WMATA) provides metro (subway) and bus service in Washington, D.C. The nearest metro stop to the festival is Smithsonian on the Orange and Blue lines. The two entrances/exits to Smithsonian Metro are at 12th &Jefferson Drive SW and 12th & Independence Ave. SW. To avoid crowds, consider walking from Foggy Bottom (Orange and Blue lines), L'Enfant Plaza (Orange, Blue, Yellow, and Green lines), or Arlington Cemetery (Blue line).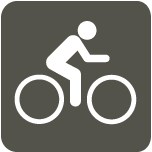 Bicycle
Bicycles provide an easy, no fuss way to get to and through the Cherry Blossom Festival. We will be offering designating bicycle parking areas at the Jefferson Memorial.
Capitol BikeShare will be having corrals during the three weekends of the Festival:TBD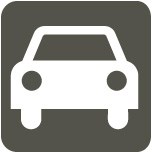 Driving
If you choose to drive, prepare for severe traffic congestion, extremely scarce parking, and altered traffic patterns including road closures and temporary one-way roads. Downtown Washington, D.C. is serviced by Interstate 395, Interstate 66, and U.S. Highways 1, 29, and 50. Consider parking at a metro station and using public transportation to reach the National Mall (see Public Transportation above).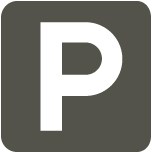 Parking
There is not enough parking to accommodate all the vehicles driven to the Cherry Blossom Festival. Visitor parking is available along Ohio Drive SW between the Lincoln and Thomas Jefferson Memorials. Bus parking is available primarily along Ohio Drive SW near the Lincoln and Thomas Jefferson Memorials.Limited handicapped parking is available near the memorials, but these fill quickly.
Record of Determination for Temporary Public Parking Closure
.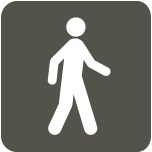 Walking
Visitors are often surprised how much walking they do in our park! Take care of your feet. Wear comfortable walking shoes so you don't get blisters. Smithsonian Metro is about 1/2 a mile from the Tidal Basin Welcome Area. The Tidal Basin is 1.8 miles in circumference. The Hains Point loop is approximately 4 miles. The distance from the Lincoln Memorial to the Capitol is 2 miles.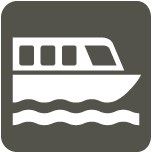 Water Taxi
Cruise past the Cherry Blossoms with the Potomac Riverboat Company Water Taxi to landmarks such as the Jefferson Memorial, Washington Monument, Memorial Bridge, and the14th St. Bridge. Potomac Riverboat Company is pleased to offer DIRECT service to the National Mall from the National Harbor, Maryland and Alexandria, Virginia. Docking at West Basin and Ohio Drives in SW Washington, a short walk to the Lincoln Memorial, the Franklin Roosevelt Memorial, the Martin Luther King Jr. Memorial and the Tidal Basin.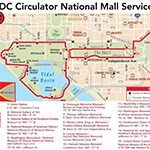 Circulator
Consider using the DC Circulator National Mall Loop... Click for the Route Map and DC Circulator Site.