Basic Facts
Bison (Bison bison) are the largest land mammal in North America. Prior to European settlement, millions of bison ranged more widely across the landscape than any other native large herbivore. No other wildlife species has had as much impact on humans and the ecosystems that they occupied than bison.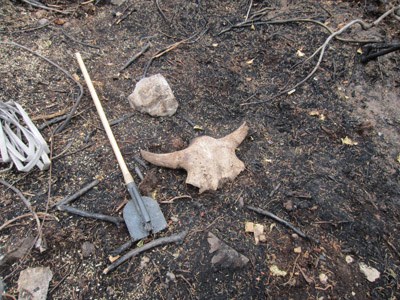 Predecessors of modern bison found their way from Asia to North America during the middle of the Pleistocene, about 300,000 to 130,000 years ago, when sea levels were low due to ice ages and the Bering Strait was a land bridge. The North American bison we know today appears in the fossil record about 5,000 years ago. Prior to European settlement, tens of millions of bison thrived across the largest original distribution of any native large herbivore in North America, ranging from northern Mexico to interior Alaska, California to New York to Georgia.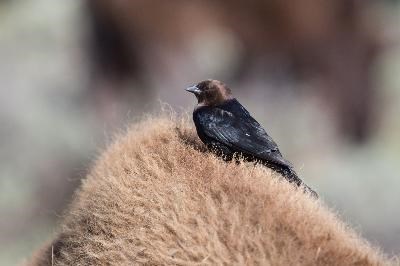 For thousands of years, millions of bison shaped ecological communities across North America. Bison adapted to thrive in a variety of ecosystems that offer a diet of grasses, sedges, forbs, and woody plants, and to endure harsh conditions such as drought and severe winter weather. When bison traveled across large landscapes in pursuit of food and water, their nomadic movements, grazing, and wallowing behaviors produced diversity in vegetation and soils, creating habitats that benefitted many plants and animals. Their shaggy coats picked up seeds that later fell off in new places, and insects and bacteria decomposed bison feces, helping to recycle nutrients back into the soil. Bison influenced the diversity and processes of ecosystems that they occupied more than any other large, grazing mammal in North America.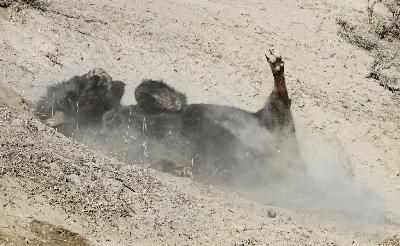 Bison are social animals that congregate in herds of varying size and composition. Herd dynamics are shaped by the age and sex of individual bison and seasonal changes that influence mating and rearing young. Bison move in response to changing conditions such as drought and deep snows that affect the availability of food and water, and to avoid threats such as hunting, predation, severe weather and biting insects.
Bison also engage in horning, rubbing their horns on an object such as a tree or shrub, and wallowing, rolling in dry loose ground or using their hooves to tear at the turf to create wallows in which they can roll; these behaviors may help avoid biting insects and display aggressive behaviors.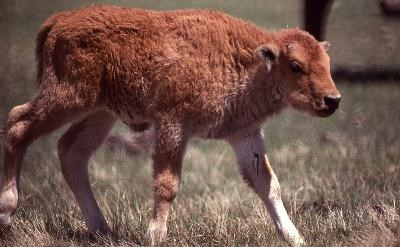 Bison may live in the wild for 15 years, in captivity, bison may live as long as 25 years. Bison females (cows) begin reproducing around 2-3 years of age, giving birth to a single calf each spring, after a 9.5 month gestation period. Calves may nurse for 7-8 months and are weaned by the end of their first year. Males (bulls) are reproductively mature by the age of 3 but often do not actively reproduce until they are 6 years old, when they are heavier and better able to compete with other bulls for opportunities to mate with cows. Bison mortality causes include predation (particularly of calves), hunting, disease, drought, severe weather and deep snow, drowning (often due to falling through ice), but healthy herds typically have high growth rates to offset these losses.
Last updated: November 1, 2018