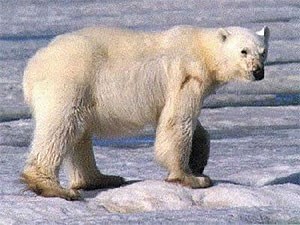 Quick Facts
Height: About feet at the shoulder and 7 to feet standing upright
Weight: Ranges from 400 to 1,200 pounds
Average Life Span: 25-30 years
Did You Know? Polar bears are the largest species of bear in North America.
Polar bears (Ursus maritimus) are closely related to brown bears but have adapted to life in the snow and ice and live in the coldest environments in the nation. They have black skin to better absorb heat and thick white coats that repel water and provide camouflage in the snow and ice. Their large webbed paws help make them excellent swimmers.
In the United States, polar bears are believed to be found only in Alaska. The Alaska polar bear population is estimated to be between 4,000 and 7,000 individuals. Only two national park units—Bering Land Bridge National Preserve and Cape Krusenstern National Monument—are reported to have polar bears living nearby with a home range reaching into park boundaries. If you'd like more information about polar bears in a specific national park, please contact that park.