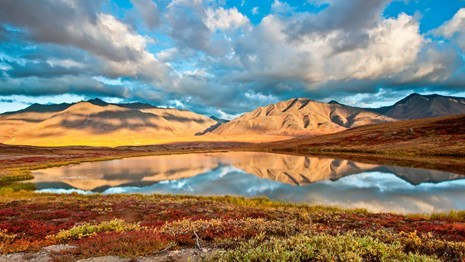 Natural resources in national park areas of Alaska provide opportunities for rural residents engaged in a subsistence way of life to continue to do so. Healthy populations of fish and wildlife, native plants, and clean air and water are essential for subsistence activities on park lands. Other environmental factors such as weather and climate patterns, snow and ice conditions, and wild land fires are also important components of natural processes affecting subsistence uses.
Customary and traditional uses of wild renewable resources include their consumption and uses as food, shelter, fuel, clothing, tools, or transportation, for the making and selling of handicrafts out of non-edible byproducts, and for barter, sharing, or customary trade. Subsistence harvests of natural resources tend to be greater than utilization of store-bought goods.
The Subsistence Division of the Alaska Department of Fish and Game produces community harvest reports and other research on subsistence, available in the
ADFG Technical Papers Database
.
Fish
Critical to subsistence users are five species of Pacific salmon, various species of whitefish, including Sheefish, and trout, char, Arctic Grayling, Eulachon (hooligan), and coastal marine fishes. Depending on the park area in Alaska, salmon tend to be an important food source. Whitefish and Arctic char are most important in areas where salmon are less common.