Subsistence Activities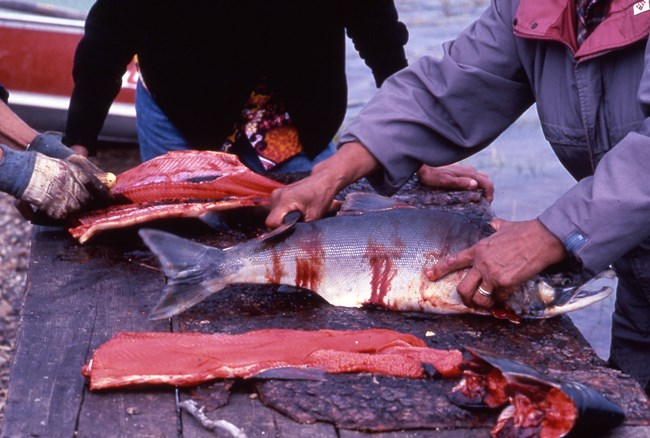 Subsistence users cut fish using both a knife and a vashla in Nondalton, Alaska.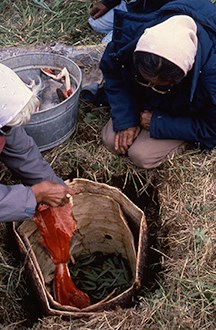 Two women preserve their harvested fish by placing the fish into a fish cache.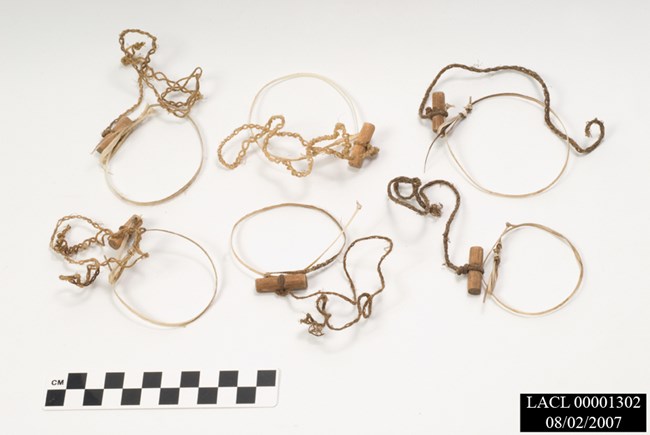 Used to capture birds like grouse and ptarmigan as well as ground squirrels, these small snares are made of bird feather shafts, sinew and wood. If snares like this were placed in a wet environment, they were sometimes waterproofed with spruce pitch. A Dena'ina Athabascan elder in Lime Village once commented that if a person is very hungry and they have no snares, they can remove the lines from their snowshoes to make snares, replacing them after they have caught the game.
Snaring, one of the most common methods of harvesting small game, was traditionally done during the fall by women and girls in the Lake Clark area. During fall hunting, local Dena'ina families went in to the mountains in search of caribou, Dall's sheep, and moose. While the men hunted big game, one woman would watch the infants and the rest of the women and children went out into the mountains, trapping ground squirrels and birds with snares such as these, or more recently, with small steel traps. Individual snares would be set where the birds tended to rest, land or feed.
Young Dena'ina girls were taught how to set snares for ground squirrels among other chores - this way they would never be totally dependent on males providing them food and raw materials. Ground squirrel meat was eaten, and their pelts were made into many things - parkas, underwear, pants, blankets, and other clothing.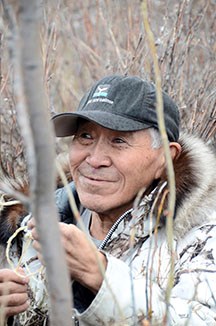 Raymond Paneak, of Anaktuvuk Pass, sets a ptarmigan snare.
Last updated: May 9, 2017