Coastal and Marine Habitats
Alaska's coastal and marine environments provide a wide range of habitats for marine mammals, seabirds, shorebirds, fish, plants, invertebrates, and many more. The rugged, wild coast of Alaska has fjords, rocky coasts, lagoons, salt marshes, intertidal zones, and tundra cliffs. Explore more about these interesting ecosystem features.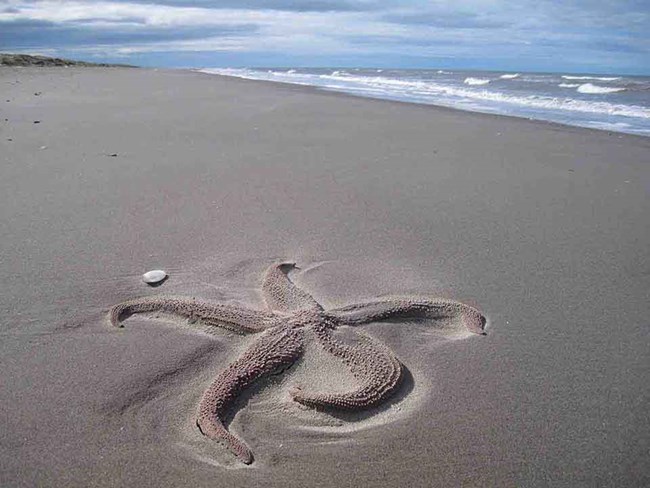 Beaches
Upon initial appearance, Alaska's national park beaches may seem rather barren. However, closer observation and a little time will reveal a very different story. Tiny holes in the sand, a bony fish carcass, meandering bear tracks or abandoned fishing line all hint at a dynamic and interconnected community. As the transition zone between land and sea, beaches, like those in
Glacier Bay National Park
, are rich feeding grounds for predators and scavengers. They make natural travel corridors for bears, river otters and wolves, and provide soft sediment for burrowing invertebrates. Rocky shores offer stability to sea urchins and sea stars, as well as hard surfaces for ravens and gulls looking to crack open mollusk shells.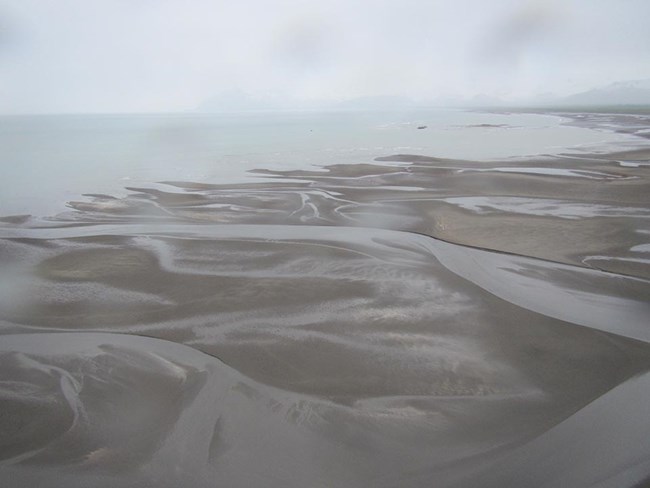 Mudflats
Mudflats are a muddy and often barren strip of land along a shore, typically flooded by tides twice a day. Many migratory birds visit mudflats, in search of the abundant crabs, fish and mollusks that make their homes there.
The mud flats of Cape Espenberg provide a calm sanctuary for wildlife where coast meets tundra in Bering Land Bridge National Monument.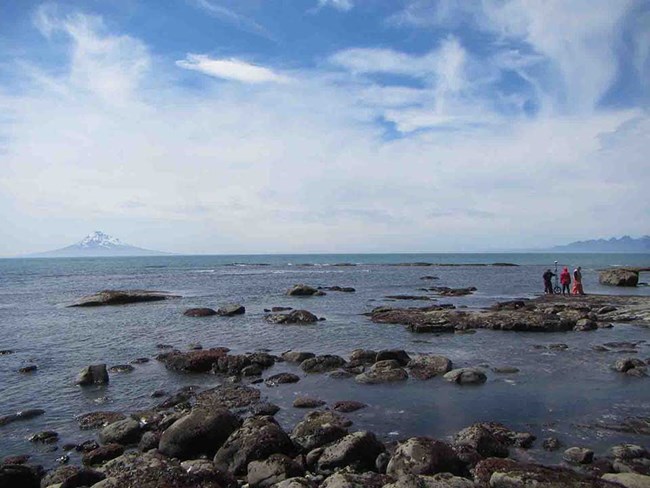 Rocky Intertidal
Rocky shores and rocky
intertidal
areas on the Alaska coast have resulted from rocks spewed from volcanoes, rocky cliffs exposed from erosion, and bedrock intertidal zones. These are extreme ecosystems with exposure to pounding waves and strong tides. They are also rich in life with the many cracks, crannies, and hiding places making perfect habitat for marine invertebrates.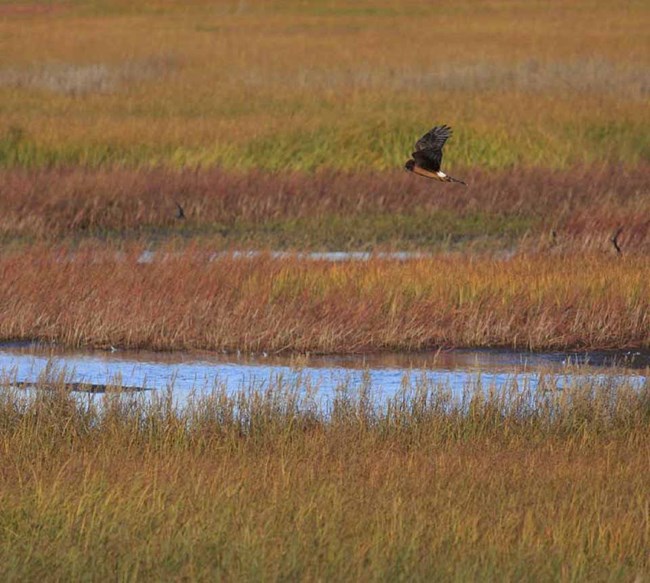 Salt Marshes
Salt marshes are coastal wetlands that are regularly flooded and drained by tides. They form in the area between land and salt or brackish water and support dense stands of grasses, herbs, and shrubs. Because they buffer wave action, salt marshes help protect shorelines from erosion and flooding. Their calm waters provide vital food, shelter and nesting grounds to thousands of fish, birds, and other wildlife species.
Lake Clark National Park and Preserve protects extensive salt marshes, such as Silver Salmon Creek, where bears feast on salmon each summer. These vibrant habitats also attract waterfowl and shorebirds, along with moose, river otters, and other wildlife species.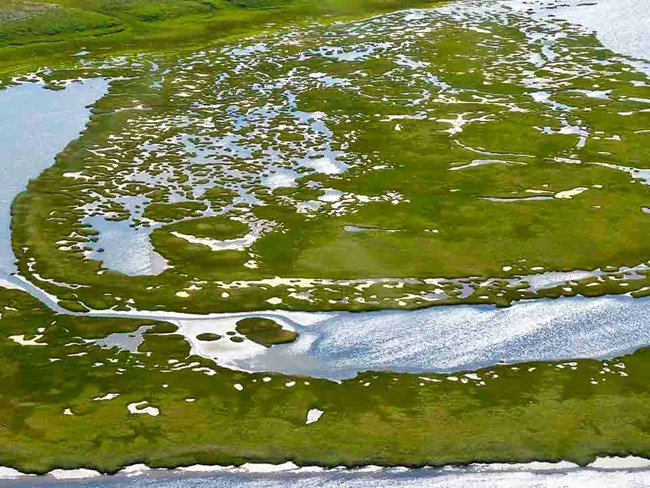 Lagoons
A lagoon is a shallow body of fresh or salt water isolated from a larger body of water by a barrier, such as a sand bar or bank. Many lagoons receive influxes of water from the larger source through a break in these barriers. These dynamic habitats teem with wildlife which has helped sustain Native peoples for thousands of years. However, their shallow condition makes them highly susceptible to pollution, drought, temperature change, and a host of other environmental factors.
Arctic lagoons are important nurseries for fish, as well as important bird habitat.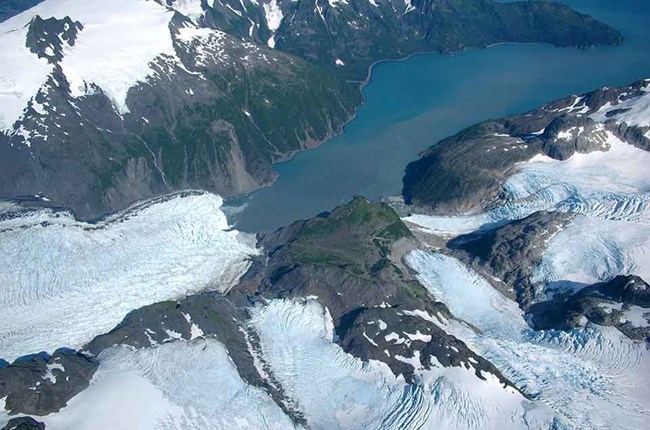 Fjords
Fjords (or fiords) are deep, narrow ocean inlets carved by glaciers and bordered by steep cliffs. Fjords are distinct from bays, in that they are longer than they are wide. Alaska's southern coastline boasts numerous fjords, lending to some of the state's most spectacular scenery and bearing witness to the unrelenting power of the ice that once dominated the landscape. Visitors can view these dramatic formations in Wrangell-St. Elias and Glacier Bay national parks and preserves, and
Kenai Fjords National Park
.
Last updated: July 13, 2017